It's the end of August! Even if you've just been cramming in summer activities by the kayak-load, don't fret. There'll still be plenty to read in the coming months. Portland Public Library's dedicated book groups continue to meet throughout September. On September 1st, the Peaks book group will discuss Crow Lake. On September 10th, Riverton's group will tackle Major Pettigrew's Last Stand. On September 18th, the Main Library's Friday Night Book will discuss Skippy Dies. And on September 19th, the LGBTQ Teen Book Group will discuss "I'll Give You the Sun."
 On September 15th at the Main Library, we'll also be starting a 5-book discussion series through the Maine Humanities Council with facilitator Michael Bachem, PhD. The series is called "Exploring Human Boundaries: Literary Perspectives on Health Care Providers and Their Patients."  From September-December, we'll be reading The Plague, Wit, The Yellow Wallpaper, The Spirit Catches You and You Fall Down, and The Diving Bell and The Butterfly. No need to check out the books: you can pick up copies of each title at the Reader's Advisory Desk at the Main Library or at each discussion group. To register for the group, contact Elizabeth Hartsig at hartsig@portlib.org or 871-1700 ext. 705. 
Read on for August Staff Picks: we've got Shakespeare-performing zoo animals, bumbling protagonists and famous writer's homes, an ominous forest, much coming of age, love in dystopia, and…how to hand-build a Cob Cottage.
---
 August Staff Picks
---
Children's Fiction
---
 Laura's Pick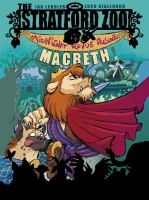 The Stratford Zoo Midnight Revue Presents Macbeth, by Ian Lendler and Zack Giallongo, Illustrator
How wonderful and refreshing it is to know that a story that has been re-told hundred of times before can still be presented in an unique and hilarious way! This book is a perfect introduction for young readers – the story of Macbeth is here, but told in a funny, engaging, and not-so-scary way. Packed with asides that would make The Bard himself proud, you will be left hoping this dynamic author and illustrator duo puts their spin on all of Shakespeare's work.
-Laura, Children's and Teen Services
---
Carrie's Pick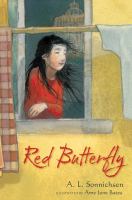 Red Butterfly, by A.L. Sonnichsen
If you loved Wonder and Brown Girl Dreaming you will be in for a treat when you read Red Butterfly, by A.L. Sonnichsen. A moving novel in verse, set in China, Sonnichsen's "Red Butterfly" allows us a window into the world of abandoned Chinese children. The heart of "Red Butterfly" is the story of 11-year-old Kara, a girl who is born with "one blunt hand/ with two short nubs/ instead of fingers," abandoned, and relegated to a secret life with the undocumented American woman who has raised her. Kara navigates her complex world with determination to live a "normal life" and a growing understanding of what that life may look like.  A story of identity and family, concise and lovingly written, Kara's honesty allows us to see the struggles of these forgotten children.
Clear
Now so clear,
all the hiding
and whispering
and bundling up
 to go
outside
so a foreign woman
wouldn't be recognized, 
wouldn't be asked 
for her paperwork.
Big love,
stupid love, 
just like Zhang Laoshi said.
-Carrie, Children's Services
---
Teen Fiction
---
Kelley's Pick
Simon Vs. the Homo Sapiens Agenda, by Becky Albertalli
I've been reading a lot of heavy stuff this summer, so it was a treat to pick up this sweet and smart novel about a young man outed before he's ready to be. Sixteen year old Simon Spier knows that he's gay, he just hasn't felt the need to tell anyone yet. His only confidant is his anonymous email pen pal, Blue. His exchanges with Blue are becoming so preoccupying that the very careful and private Simon risks using a public computer at his school library one day and then forgets to sign out of his email. It just so happens that the next person to use the computer is a classmate who is desperate to get a date with Simon's magnetic best friend, Abby. So begins a short tale of botched blackmail that lands Simon's most personal secrets on the school's Tumblr. What follows is the story of how Simon's coming-out impacts not just his relationship with Blue, but with each of his friends and family members.
Though completely current, there is something timeless about the way that Simon experiences high school, family, friendships, and first love. The only flaw I can find is that perhaps Simon is just a little too adjusted for your average teen? Is the adversity he faces realistic? Is the ending just a little too precious? That's probably just me… you'll eat this story up like a plate of waffles. Highly recommended for those who enjoy contemporary YA fiction with wit and heart a la John Green.
-Kelley, Teen Librarian
---
Adult Fiction
---
Ellen's Pick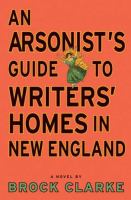 An Arsonist's Guide to Writers' Homes in New England, by Brock Clarke
I came across this title while surfing the Web. (Surfing is really the wrong word; what I do is more like water skiing and then falling off every few feet, swimming around looking at the underwater life, then popping back up to speed off before the next plunge!) The title was the first thing to catch my fancy — I mean, who wouldn't want to know where this might go?! — followed by a comparison of the hapless main character Sam Pulsifer with the "hero" one of my all-time favorite picaresque novels, Ignatius J. Reilly in John Kennedy Toole's A Confederacy of Dunces. The story opens with Pulcifer doing time for the accidental burning of Emily Dickenson's Amherst, MA house, a fire which took the life of two people who were making love on the poet's bed at the time. The writer takes the reader on a cockeyed trek through the mess of this clueless man's life as copycat arsonists takes up where he left off, setting fire to the houses of other literary figures. Will Pulsifer figure out who the real culprits are? Full of absurdist humor and literary allusions, this book is a fun summer escapade.
-Ellen, Burbank Branch Manager
---
Jim's Pick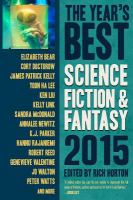 The Year's Best Science Fiction and Fantasy 2015 Edition, ed. by Rich Horton
Really enjoying the Year's Best Fantasy and Science Fiction stories 2015. One of my favorite compilations that happen annually.  The Elizabeth Bear entry is particularly strong. (Authors also include staff favorites Cory Doctorow, Kelly Link, Yoon Ha Lee, and Jo Walton).
-Jim, Head of Reference and Information Services
---
Emily R's Pick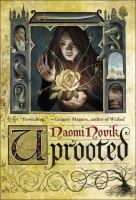 Uprooted, by Naomi Novik
This book is a great return to epic fantasy, complete with forbidding forests, unknown magics, political intrigue, and a dark history underlying the characters' day to day existence.  The friendship between two girls drives as much of the story as the search for answers about the forest and its ominous creep that occasionally eats villages overnight.  Vividly rendered, this is a lush novel that will sweep you off your feet, great for summer reading!
-Emily, Teen Services
---
Susanne's Pick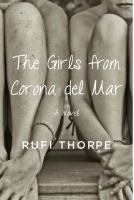 The Girls from Corona Del Mar, by Rufi Thorpe
I recommend the book The Girls from Corona Del Mar by Rufi Thorpe (2014). It is a coming of age story set in southern California. Two girls, Mia and Lorrie Ann, grow up together as best friends, in spite of different family backgrounds. Their upbringings shape their adult lives and the choices they make.
But as the story unfolds it turns out that everything isn't really as it first seems and this is reflected in the girls' different life paths. A book light enough for a day at the beach, but with enough substance for a rainy day.
-Susanne, Lending Services Supervisor
---
Brandie's Pick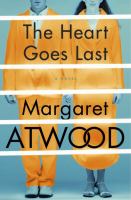 The Heart Goes Last, Margaret Atwood
I love the worlds that Margaret Atwood creates. I wasn't initially drawn to the characters but the story and setting were both so captivating that I was hooked from the first page.
Stan and Charmaine are living in their car and barely surviving after an economic collapse. When they hear about The Positron Project they are immediately intrigued, even though they have to sign up for life. Naturally, if something is too good to be true it usually is. In true Atwood fashion, this twisted dystopian love story has some interesting turns and all is not as it seemed. Though Positron at first appears as a Utopian society, as the story progresses much darker intentions are revealed.
For those who do not like comedies: "…comedy is so cold and heartless, it makes fun of people's sadness. She prefers the more dramatic shows where everyone's getting kidnapped…or shut up in a dark hole, and you aren't supposed to laugh at it. You're supposed to be upset, the way you'd be if it was happening to you. Being upset is a warmer, close-up feeling, not a chilly distant feeling like laughing at people." -from The Heart Goes Last 
-Brandie, Reference
---
Adult Non-Fiction
---
Zeb's Pick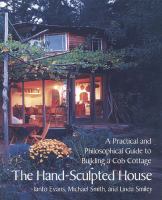 The Hand-Sculpted House: a Philosophical and Practical Guide to Building a Cob Cottage, by Ianto Evans, Linda Smiley, and Michael Smith
If you find that an inordinate number of your internet searches land you in the Mother Earth News archives, The Hand Sculpted House is probably your kind of book. (Inversely, if you like this book, we also keep plenty of Mother Earth News on hand).
The Hand-Sculpted House is a great handbook on many elements of DIY home construction. While the book is primarily about the creation and use of cob it touches on numerous materials, methods, and designs in the field of home construction. With an optimistic undertone of consumer consciousness and general thriftiness it makes for some pleasant reading. Start to finish, it does well in balancing the technical aspects of construction with a lighter philosophical side of home ownership. Even if you are not looking to go fully off the grid, thumb through and I bet you will find some welcome additions to your home life. I personally found this book to be a fresh break from the industry norms of synthetics, volatile organic compounds, and the generally hazardous materials that are predominantly available. Numerous times throughout this book I had to stop and ponder how effortlessly it made sense out of problems that I have always accepted as obstructions to deal with rather than solve. I hope you will find The Hand-Sculpted House equally as valuable.
-Zeb, Maintenance
---
Hazel's Pick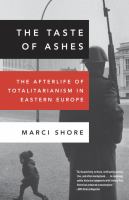 The Taste of Ashes: The Afterlife of Totalitarianism in Eastern Europe, by Marci Shore
The Taste of Ashes combines investigations into the tumultuous twentieth century history of Eastern Europe with an account of the author's experiences, primarily in Poland and the Czech Republic, and the death of a close friend that brought her there. If the meat of Shore's book is the letters pulled from freshly opened archives and interviews with political figures both detested and revered, then its spirit is her own narrative of loss and transience. In these more intimate moments, Shore's musings reflect the era of post-communist transition and the challenges faced by citizens seeking to reclaim and rebuild personal and national identities.
-Hazel, Reference
---
Elizabeth's Pick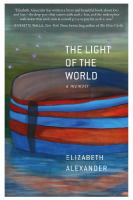 The Light of the World, by Elizabeth Alexander (2015)
More than anything so far this year, I loved The Light of the World, by Elizabeth Alexander. Her book is a memoir, and it remembers and celebrates her husband, Ficre Ghebreyesus, who died suddenly in 2012. It is love story and testimony: Ficre Ghebreyesus was a painter, father, chef, music-lover, book-lover, language-lover, and deeply good-hearted man. He was, warmly, "He who loved to wear the color pink. He whose children made him laugh until he cried."
With all the splits and separations of this life, it feels somehow rare to hear of a love that works through the years: years of laughter, coffee breaks, two beloved sons…Casa dolce casa was their home, and the portrait of this home, marriage, and family is so moving, and so full of light.
Poet and Professor Alexander's book is lyrical and slender- some chapters are just a few stark, cutting sentences- yet it's rich with culture, music, recipes, and bookish references, pointing rewardingly to the wondrous variety both of what this man loved and what Alexander loves: the "Fables of Faubus," Jimmy Scott's version of "Heaven," the writing of Yale art historian Sylvia Boone, fichi d'india (prickly pear fruit), the story of the magician Black Herman, pink shirts, shrimp barka, Lucille Clifton, Rilke's Book of Hours, Derek Walcott, Yusef Lateef's "The Plum Blossom," Melvin Dixon's poem "Fingering the Jagged Grains." Alexander and Ghebreyesus' collective loves and interests are a treasure trove for the curious reader. "He was a man of maps and atlas; he was a cartographer and a cataloguer; he was a squirrel with nuts in his cheeks." After her husband's death, Alexander writes, he becomes the "ghost of all bookstores," bookstores that she must enter, now, without him. Why isn't he there?
Alexander weighs in not just about love and art and music and memory but also on race and death, on subjects that are gripping our people. She transcribes a lecture she gives at Yale a week after Ficre dies: "It's a fact: black people in this country die more easily, at all ages, across genders. The black artist in some way, spoken or not, contends with death, races against it, writes amongst its ghosts who we call ancestors…The black folk poets who are our ancestors spoke true when they said every shut eye ain't asleep, every goodbye ain't gone."
I looked up Ghebreyesus' paintings online as I was reading, and they are beautiful. He subscribed to what a woman called in his work "tutto," as Alexander describes it, "an unshakeable belief in beauty, in overflow, in everythingness, the bursting, indelible beauty in a world where there is so much suffering and wounding and pain."  Some time after their father's death Alexander asks her sons: "How can we be so happy, when we have been through so much?" And she answers her question in the same breath:  "The forest is not denuded. The trees are standing tall."
Lest I write on…and on, in my enthusiasm forever, I'll wrap up, with the gratitude I have for all good books. (Gratitude I could not make any smaller). The Light of the World brims with joy and grief and celebration and wisdom, and most days in this life, when I get to read, tutto, that's all I could ever really want.
Thanks for reading.
-Elizabeth, Reference