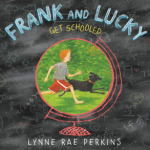 FRANK AND LUCKY GET SCHOOLED
by Lynne Rae Perkins
Published by Greenwillow Books (HarperCollins)
Frank has a bad day until he meets Lucky at the shelter and rescues him. This is the story of a boy and his dog and their loving relationship. Together they learn a lot – Lucky went to school 10 times and Frank went to school thousands of times. But their learning doesn't stop at school. Lucky loves science and enjoys the natural world immensely – he sees a squirrel ("can I catch it"), a bee ("can I eat it") and a mud puddle ("does it feel good"). Lucky even helps Frank learn about science – botany and entomology from the burrs and ticks he needs to pick off his dog, chemistry as he searches for the best way to get rid of skunk odor, astronomy as they are forced outside because of the skunk odor, math – infinity the number of biscuits that Lucky could eat and percentages to figure bed requirements for boy and dog. They look at reading, history, art and geography – but best of all they share the whole world with each other. The watercolor illustrations are expressive and the thought bubbles are a perfect addition.
This book is funny, entertaining, clever and informative. It is a positive treat!
Find it at the Portland Public Library today.