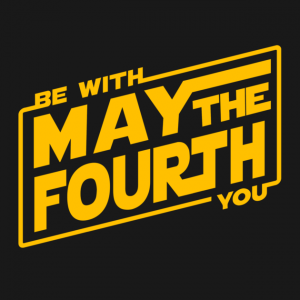 We hope you will enjoy these humorous book recommendations from some of our staff members who were hired a long time ago, in a galaxy far, far away…
---
Our Storm Trooper Book Club is currently reading The Five Second Rule: Transform Your Life, Work, and Confidence With Everyday Courage by Mel Robbins. This book promises to teach you how to overcome your fears and become your greatest self in the shortest amount of time possible.
---
Fans of the grotesque will love Naked Lunch by William S. Burroughs. It's gritty, erotic, twisted, and might scar you for life. Recommended for anyone who wants to see what is really wriggling at the end of their fork.
---
Being fluent in over 6,000,000 forms of communication is something that everyone should strive to achieve, otherwise we're doomed! Through the Language Glass: Why the World Looks Different in Other Languages by Guy Deutscher explores the relationship between language and culture. This is required reading for anyone who hopes to keep up when worlds collide.
---
Artoo usually reads technical manuals, blueprints, and maps, but lately he can't get enough of The Best Downloadable Star Wars 3D Printer Models & Files: The Ultimate Collection. This website has links to 3D printer models of the Millennium Falcon, BB-8, blasters, lightsabers, and more. Once you decide what to make, send your file to PPL's 3D printer to get your job started. You can thank Artoo later for saving your life.
---
The Hitchhiker's Guide to the Galaxy by Douglas Adams might be the best book ever written. Who wouldn't enjoy the story of a capable galactic traveler who meets unusual characters and encounters remarkable situations along the way? It's a delightful, handsome, humorous romp through space.
---
At its heart, Girl Waits with Gun by Amy Stewart is the story of a strong, determined young woman who must confront her past, discover the secrets of her family, and fight a gang of bullies to save what she loves most. Although the "girl" in this story has a rather ordinary hairstyle, she still manages to fight her way to the top. You can't help but root for this girl and are left longing for future episodes, I mean books.
---
In Age of Anger: A History of the Present, Pankaj Mishra explores the origins of the great wave of paranoid hatreds that seem inescapable in our close-knit world. Even those of us who are not susceptible to anger should keep in touch with our dark side to remain well-rounded.
---
Live as well as we can, we must. Read Living the Good Long Life: A Practical Guide to Caring for Yourself and Others by Martha Stewart, you should. Calmness, organization, perfection, Martha Stewart is. Do, or do not. There is no try.
---