"Where did all the books go?"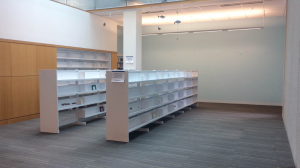 Have you seen this sight on the first floor of our Main Library recently? Don't panic – it's the future home of our City of Readers Store!
Your purchases at the store support critical PPL programs like Summer Reading. We're looking forward to making it easier for you to shop for high-quality used books and PPL swag – all while supporting the Library.
The current store is closed until Friday, Nov. 25 while we make the move. More info on the way, but we can't wait to see you at the reopening!
Interested in becoming a store volunteer? Find out what's involved, and fill out an application!