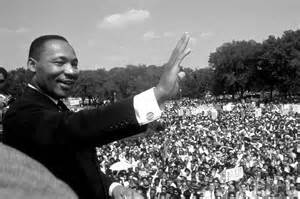 In 1979, eleven years after the death of Martin Luther King, Jr., U.S. Representative John Conyers (D-Michigan) and Senator Edward Brooke (R-Massachusetts) introduced the first bill in Congress to make Dr. King's birthday a federal holiday. The bill failed to pass by five votes. Arguments against the holiday included the fact that King was a private citizen, never elected to any office, and that the federal government could not afford to give its employees another paid holiday.
The bill came up again in 1983. Those of you who remember North Carolina Senator Jesse Helms will not be surprised to learn that he filibustered against it, alleging that King was unpatriotic–King had opposed the war in Vietnam–that King was a Marxist with Communist ties, and that King was simply not important enough to merit the honor of a federal holiday.
Despite all of Helms's efforts, the bill passed the House of Representatives with a vote of 338-90, and President Ronald Reagan signed it into law on November 2, 1983. Martin Luther King, Jr. Day was first celebrated on January 20th, 1986.
Several states refused to honor Dr. King, and got around it by calling their holiday Civil Rights Day, or Human Rights Day; in the deep South, some states combined the new holiday with existing Confederate holidays, giving citizens the option to celebrate Robert E. Lee's birthday, Stonewall Jackson's, and/or Martin Luther King's.
As recently as 1993, the people of Arizona voted down proposals to make MLK Day a paid state holiday. This decision cost them the chance to host Superbowl XVII, as the NFL moved the game to Pasadena in protest.
The last state to make MLK Day an official state holiday was South Carolina, in 2000, and today Dr. King's memory is honored in all fifty states, as well as in Toronto, Canada, and Hiroshima, Japan. The day has become a Day of Service, during which people volunteer to help others in their community.
You can kill the dreamer, but you can't kill the dream.
Here at the Portland Public Library, we celebrate Dr. King's legacy with the Civil Rights Film Series. Each Thursday in January we show a film from our California Newsreel Collection documenting the people and events of the Civil Rights Movement. On January 14, 2016, at 6:30 pm in the Rines Auditorium, we'll be showing At the River I Stand, an account of the sanitation workers' strike that led up to King's fateful visit to Memphis.
For a list of the Library's California Newsreel holdings, click here.