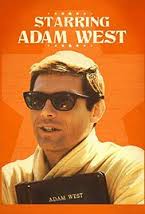 He was born William West Anderson in Walla Walla, Washington.
He starred opposite the Three Stooges in The Outlaws is Coming.
He turned down the lead role in Diamonds Are Forever because he thought James Bond should always be played by a British actor.
He hosted a children's show in Hawaii in which his sidekick was a chimp.
His voice work includes The Simpsons, Spongebob Squarepants, Scooby-Doo, Meet the Robinsons (both the movie and the video game) and, of course, Mayor Adam West of Quahog, Rhode Island, in Family Guy.
He passed away today, June 10, 2017, at the age of 88.
R.I.P.
For a list of PPL's videos featuring Adam West, click here.