As part of the planned renovation of the facility that houses both our Peaks Island branch and the attached community room, we at Portland Public Library (PPL) were delighted to work with the Peaks Environmental Action Team (PEAT) and Holbrook Engineering to develop an Energy Model for the building.
Holbrook Engineering developed an energy model which can now be used to inform the final selection of building envelope choices (walls, windows, floors, ceilings, insulation) as well as choices of mechanical equipment (heating, cooling, ventilation), and lighting choices.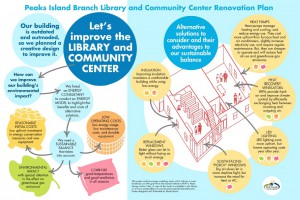 Peaks Island-based artist Marty Braun worked with the Library to develop a poster illustrating the decision factors that were brought forward in the energy model. The poster is now hanging in the lobby of the Peaks Island community center and appears below. A larger copy of the poster can be downloaded here.
As part of the PPL/PEAT collaboration, an energy monitor has been purchased that shows show real-time electrical use of the facility. Installation of this monitor is nearly complete in a temporary location, pending re-installation in a permanent location after renovations are complete. There will ultimately be a small display that will illustrate the components of the building envelope, and we look forward to working with PEAT to develop educational programming related to this Energy Model and the energy efficiencies that become part of the renovation.
As we enter the phase of the project where we can begin to formalize renovation plans and make choices around energy use improvements, the Library/City Planning Committee looks forward to using this data to make the informed decisions for the renovation.