PBS To Air Documentary "The Lavender Scare"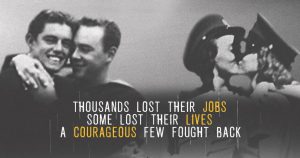 On Tuesday, June 18th, at 9 pm, PBS will air a documentary called The Lavender Scare, about the purge of homosexuals from government jobs in the 1950s. President Dwight Eisenhower deemed LGBTQ people to be "security risks" due to the possibility that they might be subject to blackmail.
Narrated by Glenn Close and featuring the voices of Cynthia Nixon and David Hyde Pierce, based on David K. Johnson's book The Lavender Scare, the film was directed by Josh Howard, who has won two dozen Emmy Awards, mostly for his work on 60 Minutes.
PBS partners with the Portland Public Library to present the POV film series, a program that allows the Library to screen documentaries prior to their official air dates on PBS. Unfortunately The Lavender Scare is not a part of that series, and although it has played at various film festivals, for most of us, our first chance to see it will be on our local PBS station on June 18th.
For a press release about the film, click here. For a review by film critic Godfrey Cheshire, click on this link.
Here is a list of past POV films held by the Library. Please watch our calendar for the POV films we'll be showing this summer.
posted: , by Patti DeLois
tags:
Library Collections
|
Adults
|
Seniors
|
Art & Culture