Portland Public Library Welcomes New Executive Director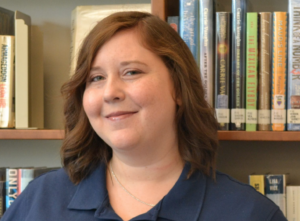 The Board of Trustees at Portland Public Library is pleased to announce the appointment of a new Executive Director, Sarah Moore, who will begin her new role on April 19, 2023. 
"Sarah brings immense library experience – from initiating and implementing a campaign to expand the branch system and establishing a human resources department. We were particularly impressed with how she builds creative partnerships that extend the library's reach into the community. We are eager to welcome her to Portland." – Anne Dalton, Board President
Moore arrives from Zionsville, IN where she has served as Executive Director of the Hussey-Mayfield Memorial Public Library since 2018. She earned her master's degree in Library and Information Science at Indiana University-Bloomington and for the past 21 years has held a variety of positions in both public and academic libraries in Ohio, Colorado, and Indiana. Moore is also passionate about conservation and outdoor spaces and sees plenty of opportunities for libraries to work together with other organizations in these areas. Her experience also includes expanding services for underserved communities. 
"I am excited to join the community of Portland and lead the Portland Public Library into its next chapter. I know that together we will continue to develop resources and services that connect, engage, and enrich this diverse community." 
Moore has a family history in Maine that dates back before the Revolutionary War and looks forward to discovering more about that heritage as she explores her new city. In her spare time, she is an animal lover who enjoys painting, lapidary, exploring the outdoors, reading, and attending live music events. She will be relocating along with her rescue family. 
"As we welcome Sarah Moore to lead PPL, I want to offer my deepest gratitude to both the library staff and the interim leadership who have ensured that PPL continues to be a vital resource in our community. We are extremely fortunate to have such dedicated and caring people at our library." – Anne Dalton, Board President
Welcome to Portland, Maine and Portland Public Library, Sarah!
A Board-led committee at PPL completed the nationwide five-month search for a new Executive Director with the help of Boston-based consultant Isaacson-Miller. 
posted: , by Heather Wasklewicz
tags:
About the Library
|
Director's Updates
|
Adults
|
Teens
|
Parents & Teachers
|
Discover Portland
|
Seniors
|
Careers & Jobs
|
News