PPL's hosts Shakespeare's First Folio!
Portland Public Library will Host Shakespeare's First Folio Exhibition in 2016 – dates to be announced in April 2015.

Portland Public Library in partnership with USM Libraries and Maine Humanities Council has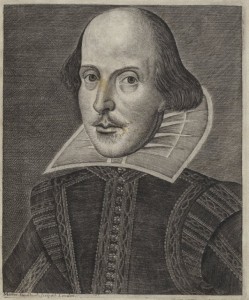 been selected as the host site for the state of Maine for First Folio! The Book that Gave Us Shakespeare, a national traveling exhibition of the Shakespeare First Folio, one of the world's most treasured books. The Folger Shakespeare Library, in partnership with Cincinnati Museum Center and the American Library Association, is touring a First Folio of Shakespeare in 2016 to all 50 states, Washington, DC, and Puerto Rico.
Many of Shakespeare's plays, which were written to be performed, were not published during his lifetime. The First Folio is the first collected edition of Shakespeare's plays. It was published in 1623, seven years after Shakespeare's death. Two of Shakespeare's fellow actors compiled 36 of his plays, hoping to preserve them for future generations. Without it, we would not have 18 of Shakespeare's plays, including Macbeth, Julius Caesar, Twelfth Night, The Tempest, Antony and Cleopatra, The Comedy of Errors, and As You Like It. All 18 appear for the first time in print in the First Folio, and would otherwise have been lost.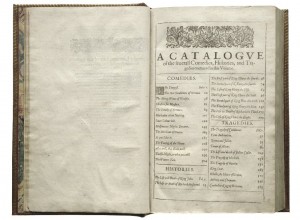 The Folger Shakespeare Library holds 82 copies of the First Folio, by far the largest collection in the world and more than a third of the 233 known copies in the world today. It is believed that 750 copies were originally printed.
The Shakespeare First Folio is one of the most valuable printed books in the world; a First Folio sold for $6.2 million in 2001 at Christie's and another one for $5.2 million in 2006 in London. It originally sold for one British pound (20 shillings)—about $200 today.
When the First Folio arrives in Portland, its pages will be opened to the most quoted line from Shakespeare and one of the most quoted lines in the world, "to be or not to be" from Hamlet. Accompanying the rare book will be a multi-panel exhibition exploring the significance of Shakespeare, then and now, with additional digital content and interactive activities. During the exhibition, Portland Public Library is planning numerous programs for the public and families around the First Folio exhibition.
Final touring dates for First Folio! The Book that Gave Us Shakespeare will be announced in April 2015.
posted: , by Rachael Weyand
tags:
Exhibits & Displays
|
Adults
|
Art & Culture