Remarkably Bright Creatures: PPL Pet Picks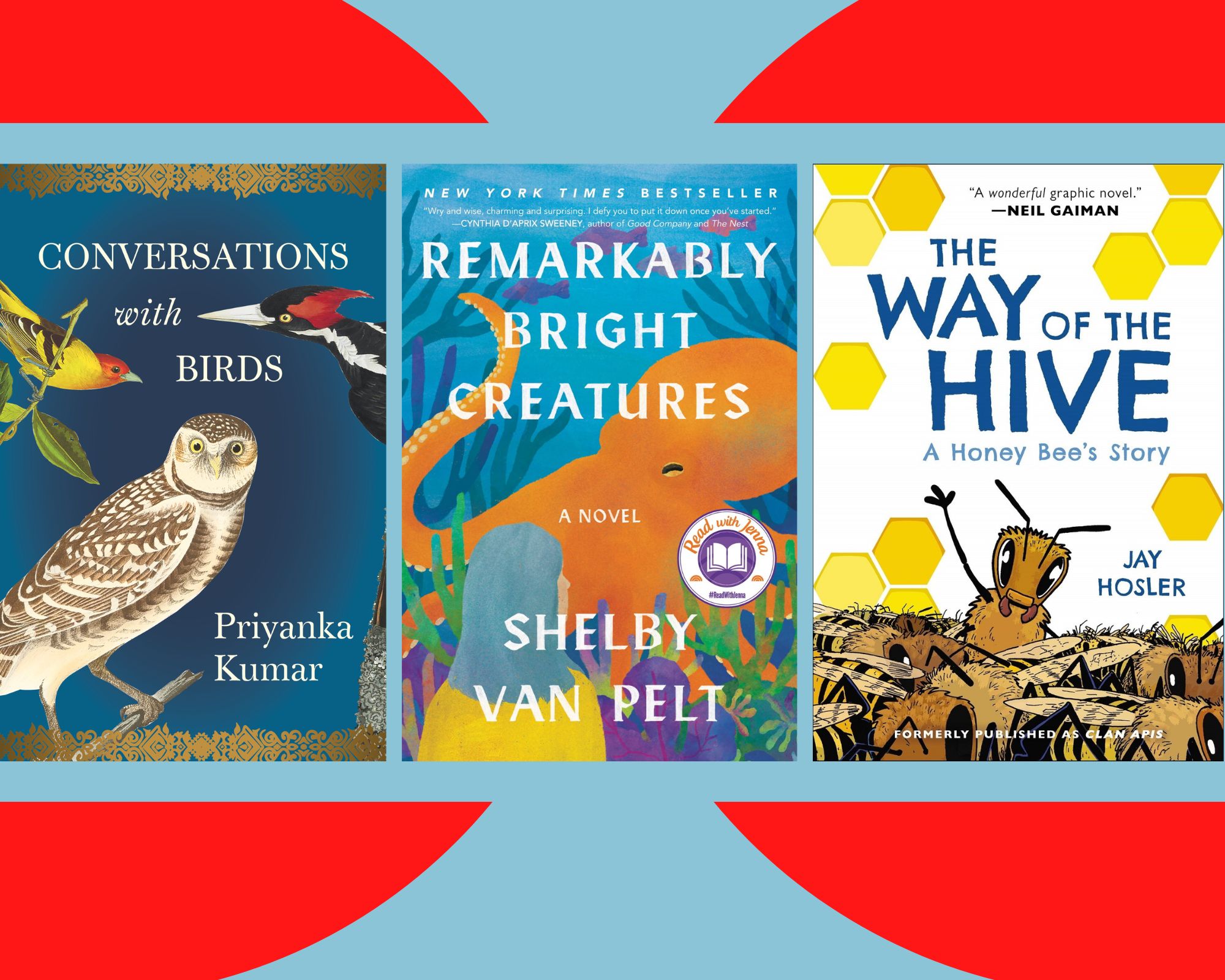 We share our lives with people—and sometimes also dogs and cats and ferrets and honeybees, remarkable creatures with personalities and dreams of their own. (Vito loves the beach. Raven is a devoted birdwatcher. Ori is a fuzzy genius, intent on escape!)
In January we take a break from our regularly scheduled Staff Picks to delve into the minds and potential picks of our pets (and other animals around us). Here's to furry friends everywhere and all the library books we think they'd love.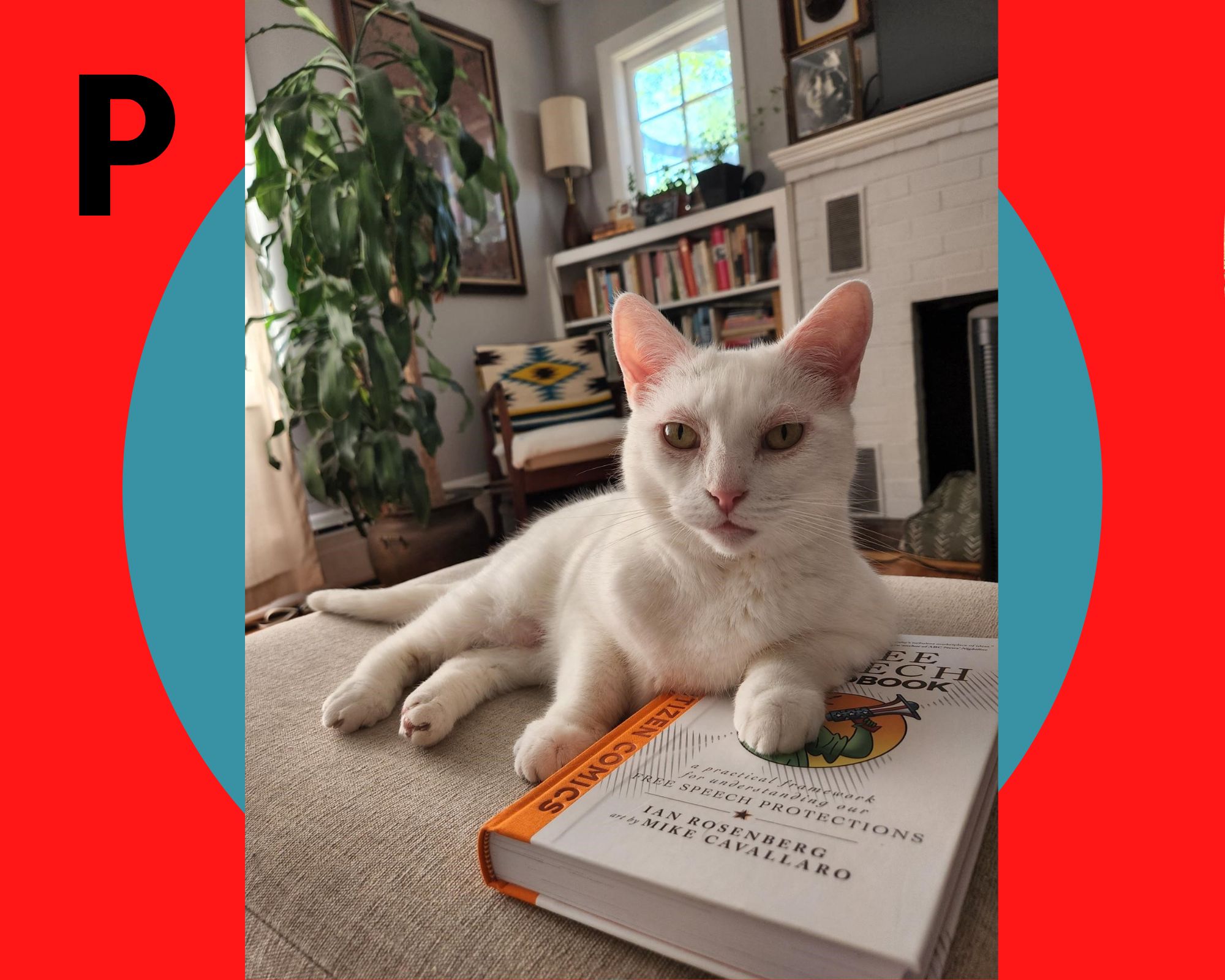 P's Picks 
Hi, I'm P. That's right, my name is just the letter P. My pick is the Free Speech Handbook, a graphic novel in the World Citizen Comics series! I noticed that my mom is always reading comics. I like the corners of hardcover books like this because it feels good to rub my face on them. My mom likes this book because it answers FAQ about the First Amendment through comics illustrating important court cases and historical events. Personally, I like to exercise my First Amendment right to protest every night when it's time for my wet food. —P (and Kelley)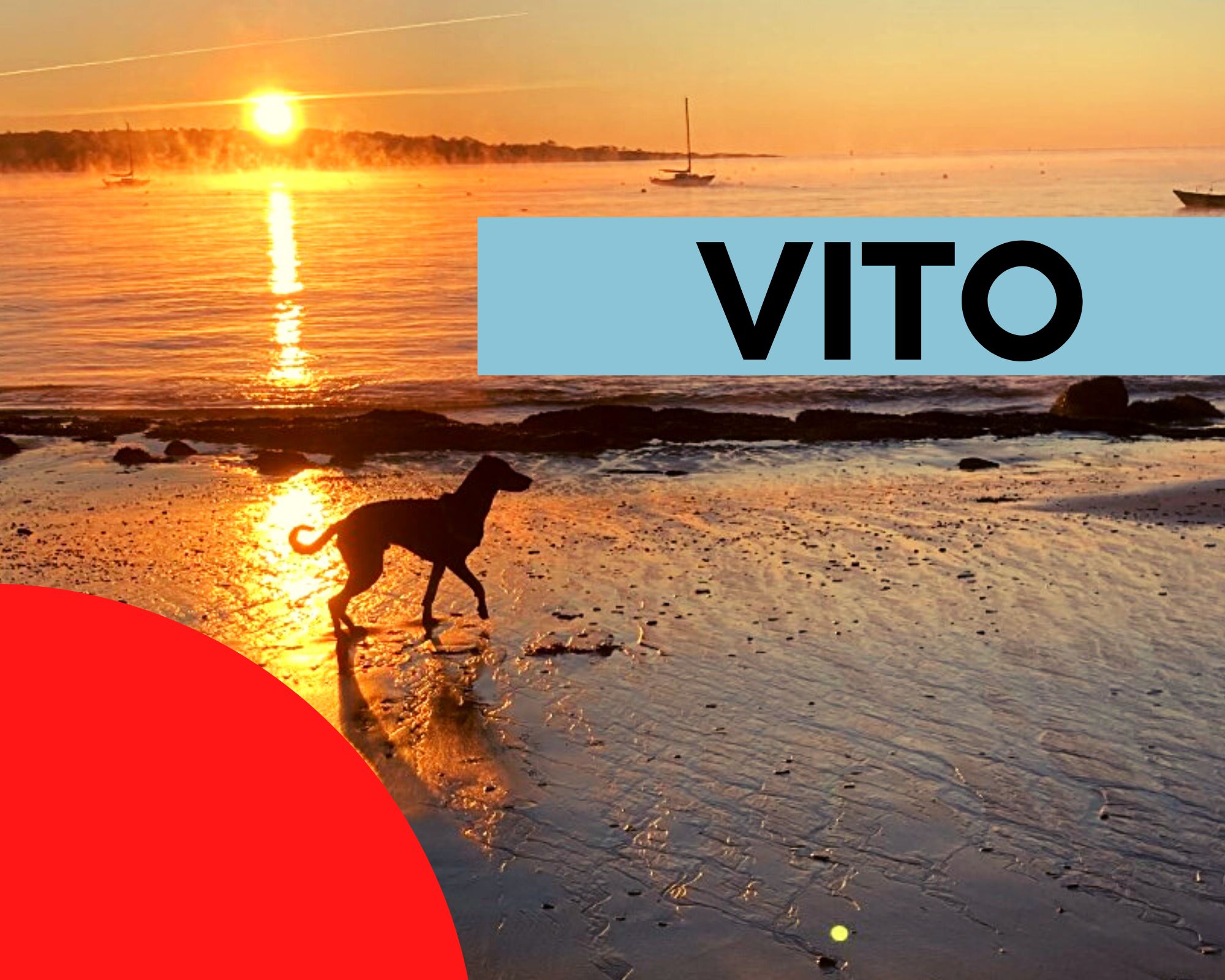 Vito's Picks 
Are we going to the beach??? I'm Vito. Kathleen takes me on all my beach walks. Beach dog picture books are good for beach dogs! Try Fetch, Hoppy and Joe, or Shark Dog. —Vito (and Kathleen)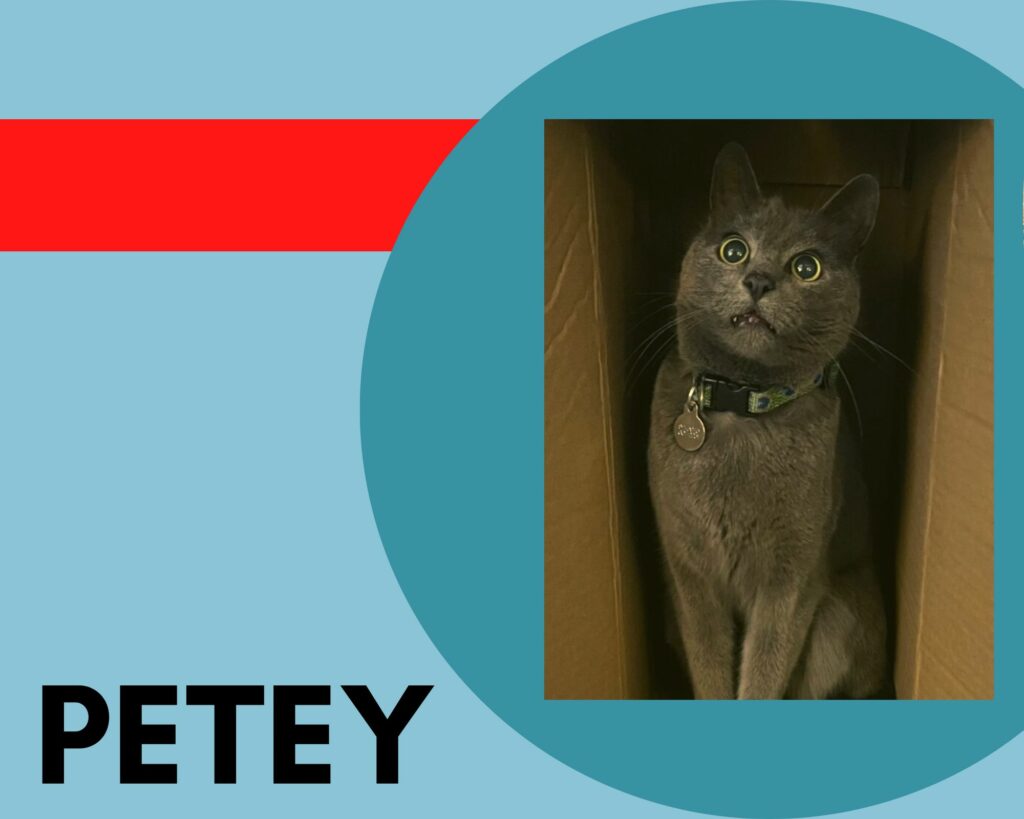 Petey's Picks 
Salutations, kind readers!  My name is Petey, and I have been trying to get my human, Cindy, to read the most wonderful book, Fearless Felines: 30 True Tales of Courageous Cats by Kimberlie Hamilton.  I mean, how could you NOT want to run to the library and check out such an exciting book?  
Not only does this amazing book tell the pawsitively riveting stories of 30 different brave cats, but at the end, you get to learn why we cats do what we do.  My favorite question is: Why do cats like boxes?  "They're a safe hiding place.  Cats like places that make them feel protected, especially when they can see out.  This explains why cats LOVE boxes with a few holes cut out of them."  
I haven't read the entire book, but I'm hoping that somewhere it recommends giving your cat as many fishy treats as they want and always making time to pet your cat every day.  Because sometimes, it seems like Cindy feels that she has other things she needs to do instead, like folding clothes and going to work.  Clearly, she needs to re-evaluate her priorities! —Petey (and Cindy)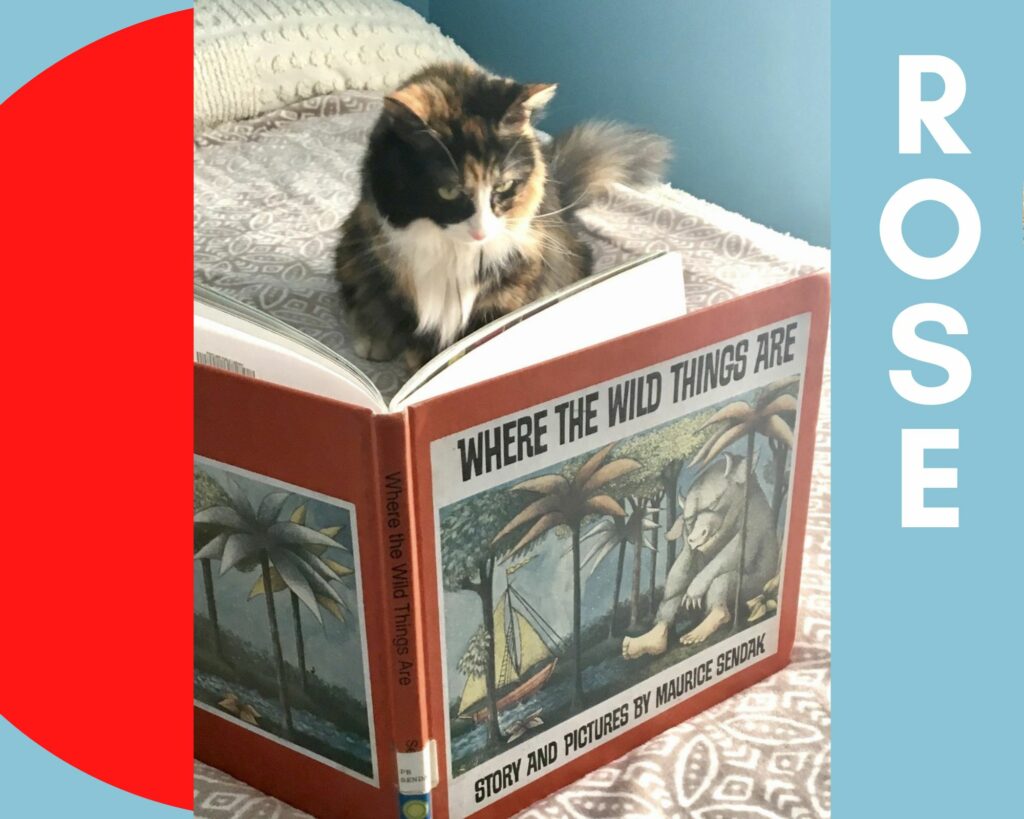 Rose's Pick 
Where the Wild Things Are! This is Rose studying for her nightly wild rumpus.  —Sarah S. (and Rose)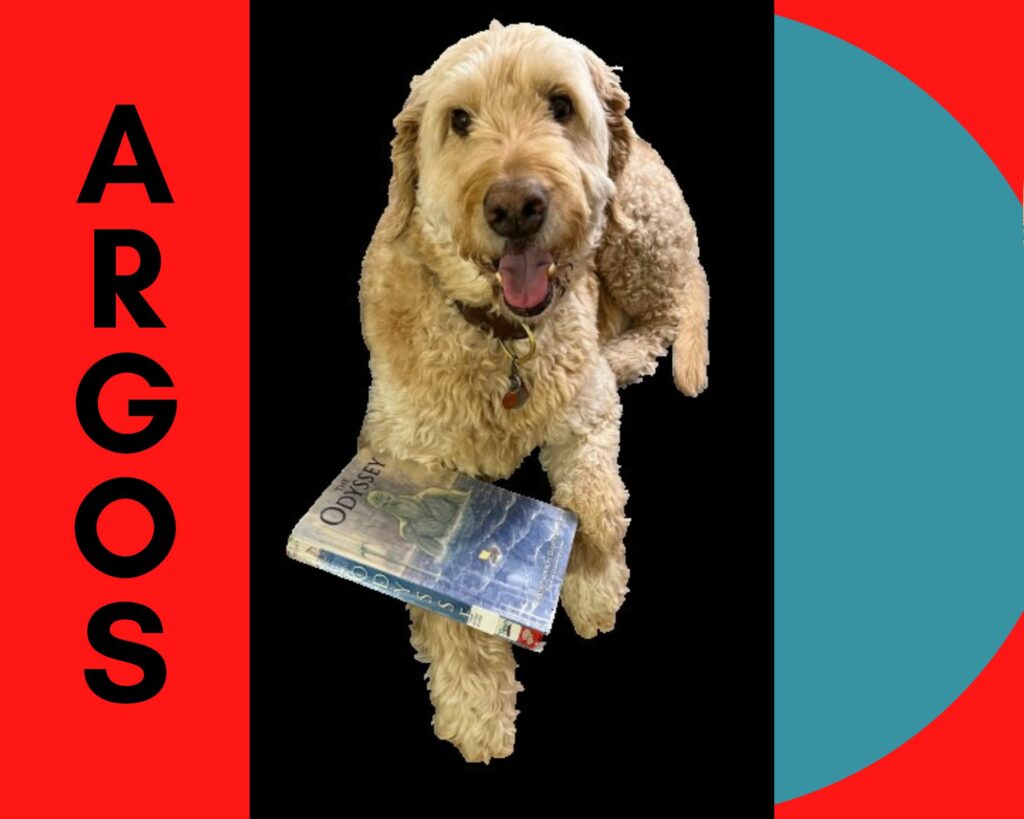 Argos' Pick 
Just like in The Odyssey, Argos is a loyal and ever-faithful companion! —Milo (and Argos)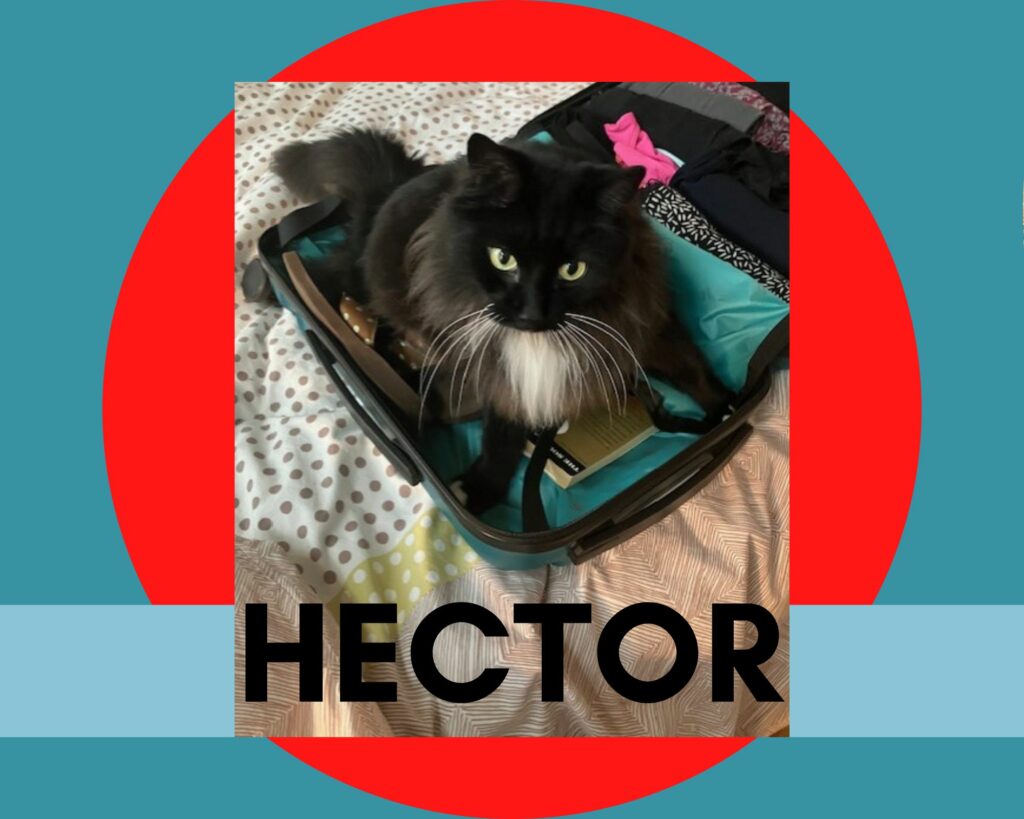 Hector's Pick 
Hector saw my copy of Faulkner's The Sound and the Fury go in my suitcase … and he wanted to finish reading it first! I promised to leave him with Shirley Hazzard's The Great Fire, but there was no compromise! — Zoë (and Hector)
Trixie's Pick 
Hi, my name is Trixie, I own my home and my human mom, Nina. My favorite place to hang is in her ukulele case. She hates that, says my fur is all over her uke, and I say back, "And the problem with that is??…" I digress. My favorite time of day (and night) is when mom sits and reads…she doesn't move…for hours. That's heaven. One of her favorite books is titled Homer's Odyssey: A Fearless Feline Tale, or How I Learned about Love and Life with a Blind Wonder Cat by Gwen Cooper. She read it to me—we laughed, we cried, we fell in love with "fearless" Homer. I hope you have a chance to read it during this long, cold winter. It will warm your heart! —Trixie (and Nina)
Mine and Arrow's Pick 
We have selected Patricia Wants to Cuddle as our January pick. Our Auntie Becca loves this humorous tale of Bachelor-style antics, queerness, and cryptids…but we want to remind you that we also want cuddles. We get NO CUDDLES from our family, as well as no food and no treats and no toys. Our family NEVER lets us lie directly on top of them and stick our pointy elbows directly into their most sensitive people parts. If you cuddle us, we will NOT get hair all over your clothes. And, if you stop cuddling us, we will absolutely NEVER whine incessantly and repeatedly lick your face. Don't believe the slander! Anyway…what were we saying? Something about a book? —Mine and Arrow (and Becca)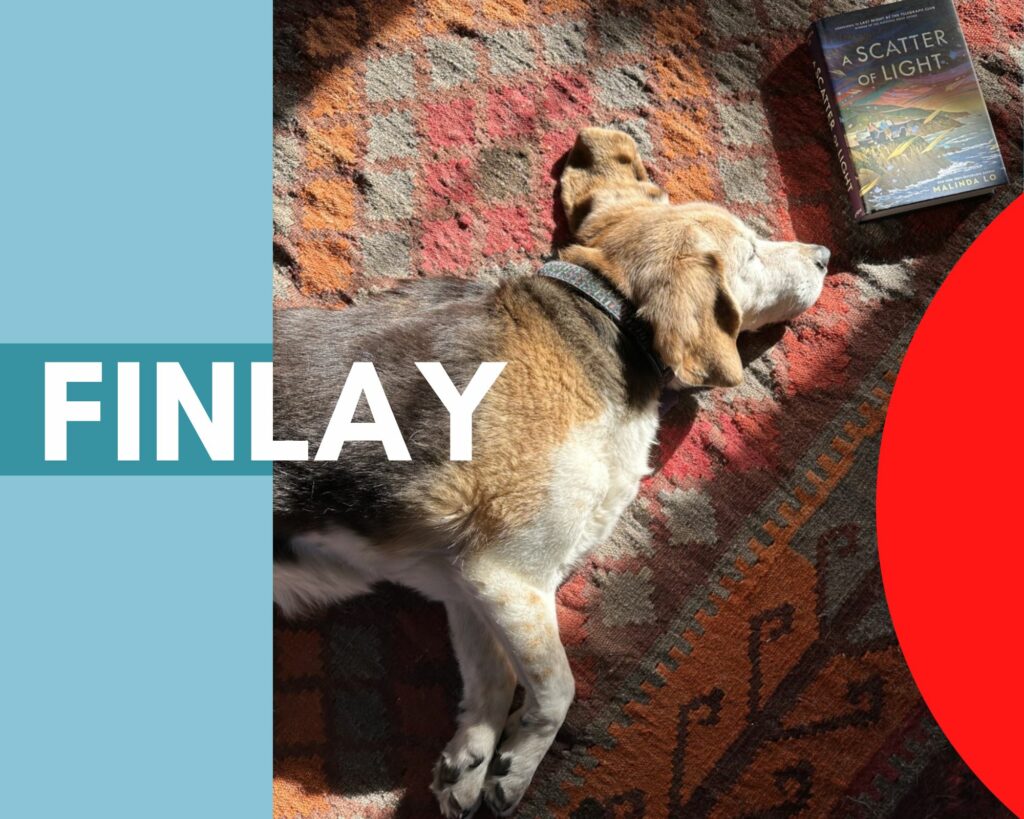 Finlay's Pick 
Finlay recommends curling up in a nice patch of sunshine with a good book to keep you company — and A Scatter of Light by Malinda Lo is perfect for the job. It's a compelling companion book to Last Night at the Telegraph Club, but contemporary this time. Finlay can confirm that Emily flew right through it, but fair warning, she definitely cried. As an added bonus, it does contain a Very Good Dog with an intriguing name, Analemma. — Finlay (and Emily)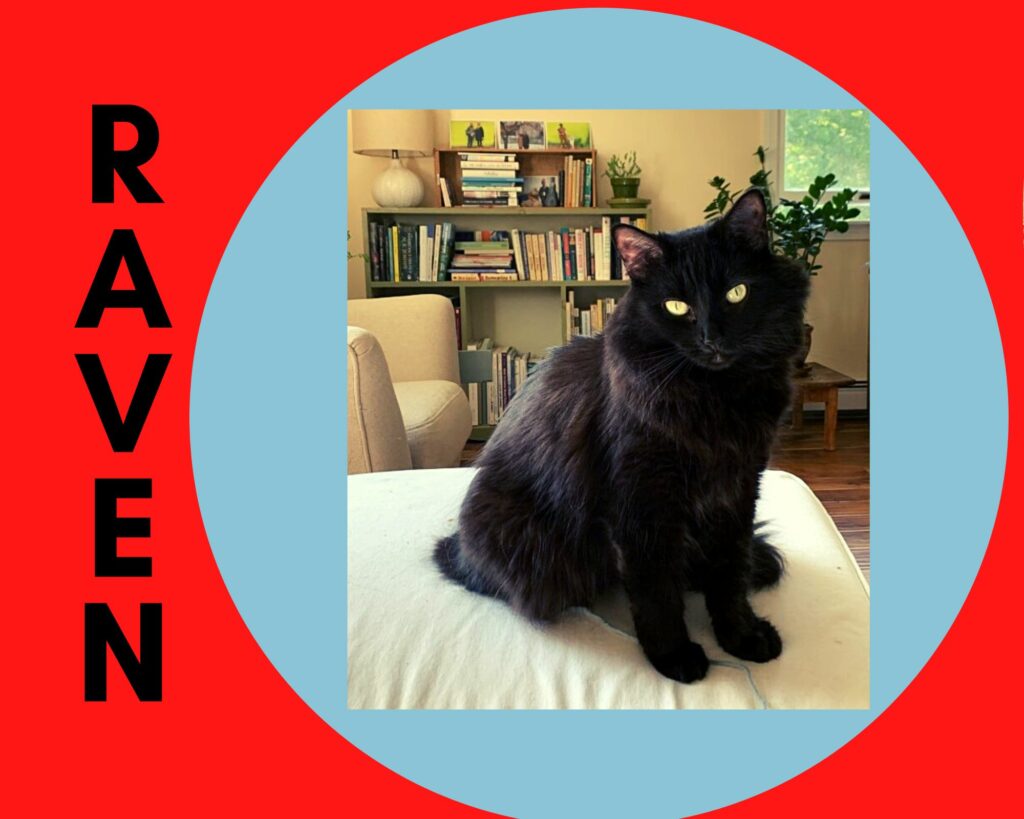 Raven's Picks 
Prrrrrrrrt? I'm Raven. I'm fierce and serious, like an ornithologist. My humans love the magical cat Jiji of Kiki's Delivery Service and all the cats of Istanbul in the documentary Kedi, but I never watch movies:  I'm having Conversations with Birds.
All day I'm Slow Birding. I peer out the winter window. I ponder Sparrow Envy. I chirp at cardinals, chickadees, and crows. I follow Vesper Flights through the sky. I dream of Birds, Art, and Life.  And then when the sun sets, and the stars come out, and the owls call in the woods, I play pounce-on-the-yarn and blink at my humans and get face scratches and close my eyes and purr. —Raven (and Elizabeth)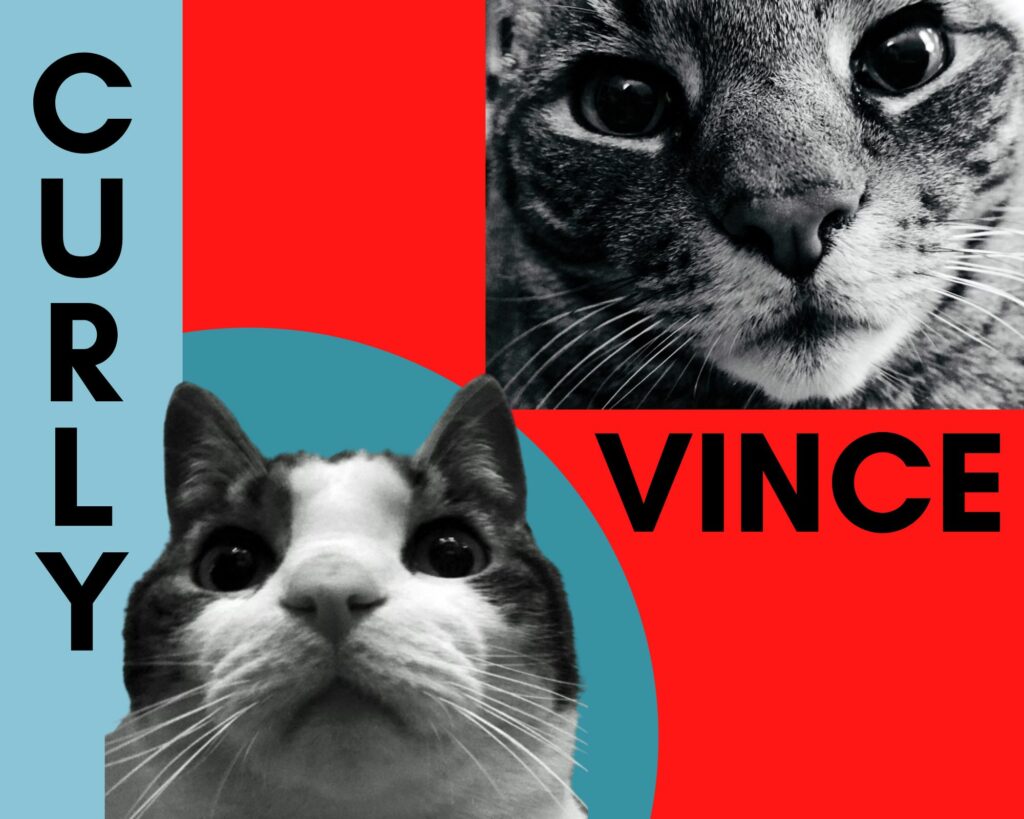 Vince and Curly's Pick 
Vince and Curly enjoyed Remarkably Bright Creatures: "Reading a book partly narrated by a fellow genius animal was refreshing." —Vince and Curly (and Lisa)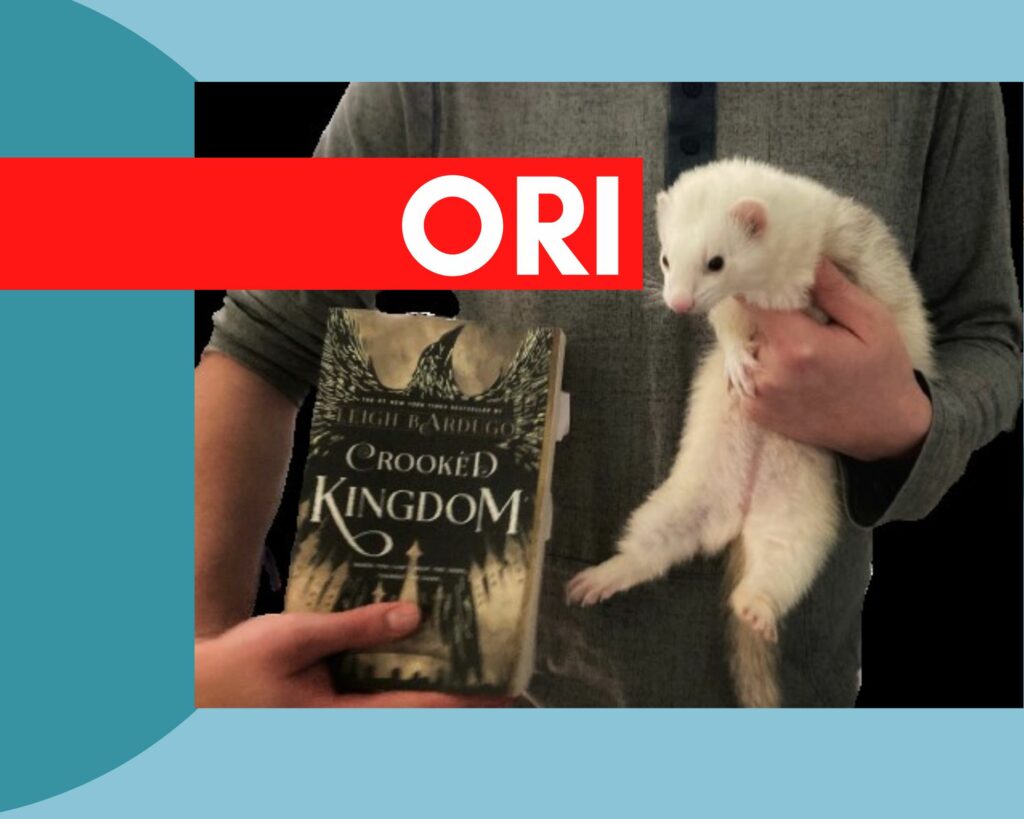 Ori's Pick 
Ori here! I picked Crooked Kingdom because it's a book about people who commit crimes and I, too, commit crimes. When I wake up in my hammock all I want to do is commit crimes and wreak chaos. Sometimes, I commit so many crimes that the person I live with locks me up. The first book in this series, Six of Crows, is about a group of people who need to break out of a highly secure place. I relate to this, as I have come up with a lot of different ways to get out of the office to explore the entire house. The person I live with says I am a "scarily genius" ferret, but that's just because of my co-ferret Ahri, who is not as smart as me. She ruins a lot of my criminal activity by getting in the way, which makes the humans notice our shenanigans. They also call me a "crime bean," and I'm not entirely sure what that means, but if that's what I am then this book is full of crime beans. Highly recommend. —Ori (and Arwyn)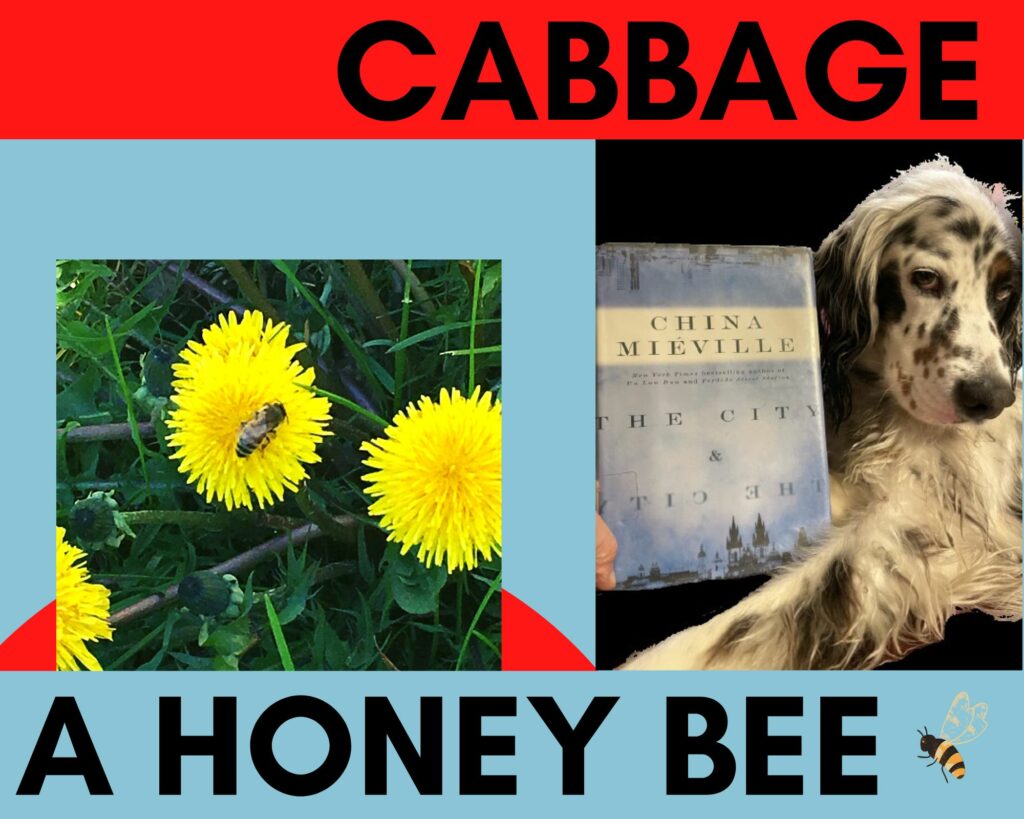 A Honey Bee's Pick 
Reading-schmeading. Who has time to read? I don't even have time to have a name. If you want to read, though, I hear that The Way of the Hive combines amazingly accurate bee facts with a surprisingly funny and moving story. —A Honey Bee (and Vicky)
Cabbage's Pick 
I have a name! It's Cabbage! I don't know how to read, but I love walks! My boss listens to books when we walk, and she couldn't shut up about The City & the City—kept telling my other boss how "cool" and "weird" and "mind-bending" it is and how great the narration was. I don't know about that, but we took extra walks, so I think it's great too! —Cabbage (and Vicky)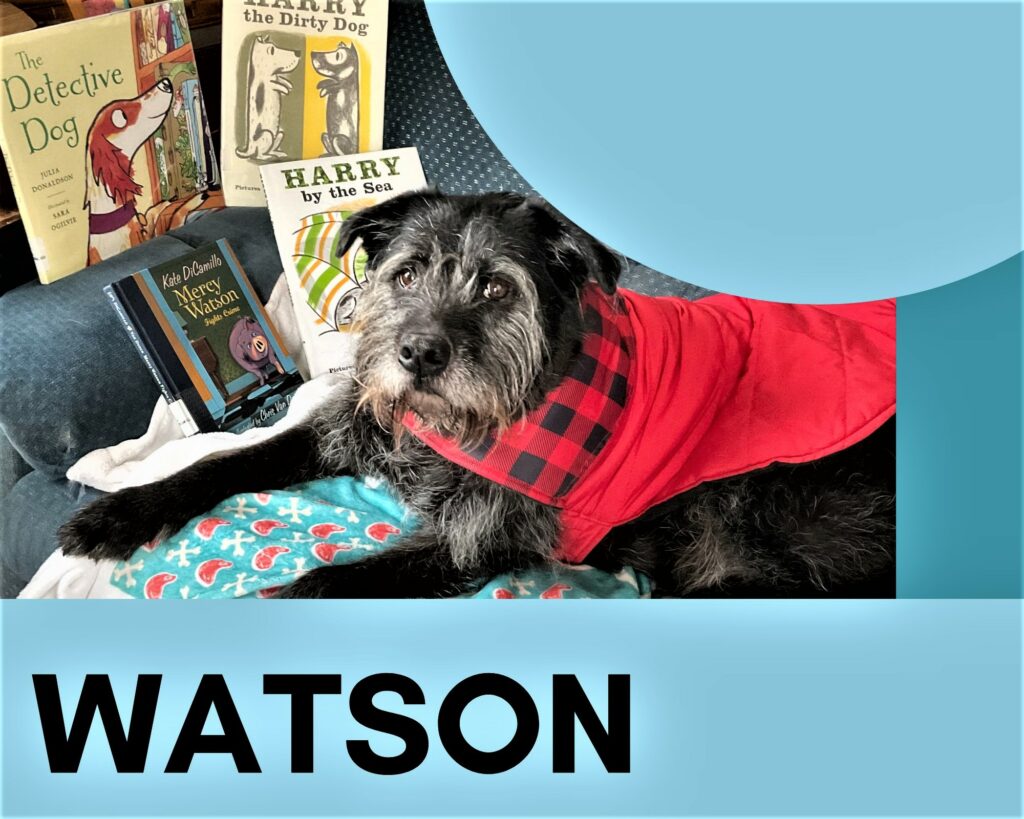 Watson's Picks
My name is Watson. I love to eat, play, bark in my backyard, and lounge around. You can often find me on the couch with a stack of picture books. The Harry books by Gene Zion and illustrated by Margaret Bloy Graham are some of my favorites. Harry often gets himself into unexpected situations, but he always finds his way back home. He's a family dog, just like me. I also love the Mercy Watson books by Kate DiCamillo and illustrated by Chris Van Dusen.  It's fun to see my name on the cover of a book! —Watson (and Rose Ann)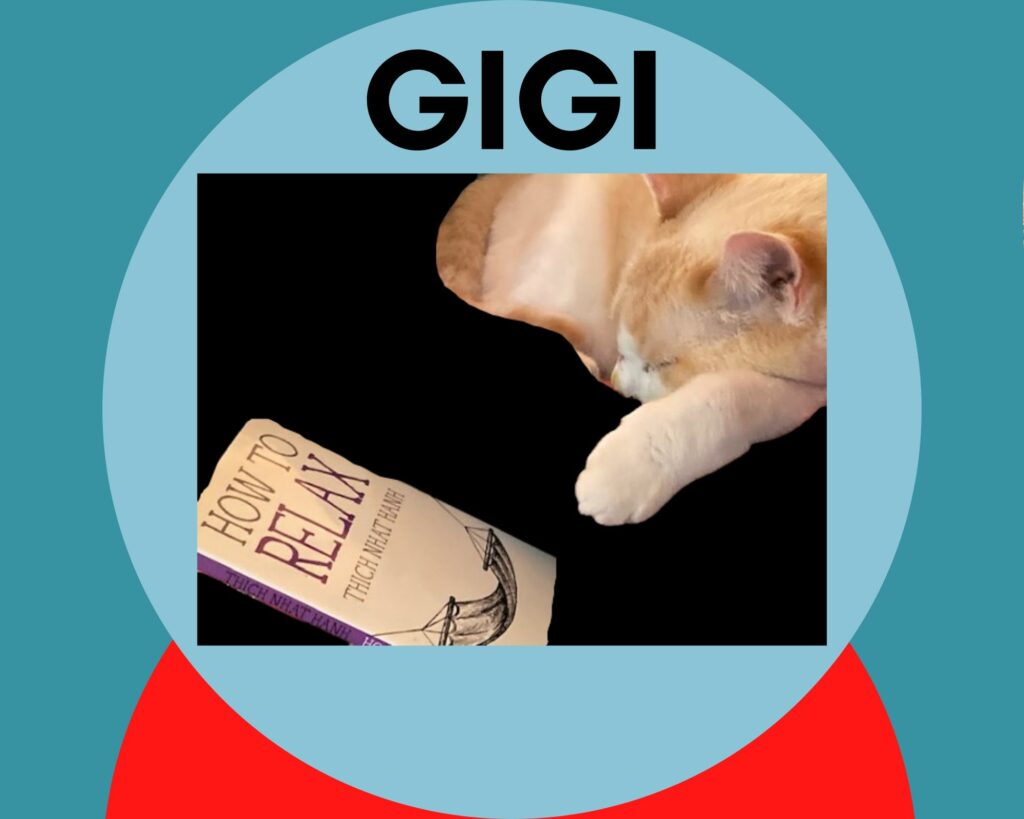 Gigi's Pick 
Recommended by Gigi, 12-year-old blue-eyed strawberry-blonde domestic shorthair.  Originally found orphaned on the New Hampshire/Vermont border, more recently a Mainer.  Likes to sit by the wood stove & watch snow fall from the roof in winter.  Summer interests include windowsill naps & eating bugs.  She reads a couple of pages of many books year-round: 
"In the interest of complete transparency, I have never made it to the end of How to Relax by the late (and great) Thich Nhat Hanh, but I am certain that if I didn't go all boneless and sleepy-eyed a couple of pages in, I would love it. 
Eileen assures me that there are many wise words contained therein, very helpful if you are tightly wound.  Which, if I am being honest with you, she would know.  I guess I can be tightly wound, too, like when I am playing handball with the folks, tracking a bug across the floor, or pointing out that one of my meals is due in the next couple of hours.  But once those obligations are out of the way, relaxing is not a problem.  I settle in, watch my wheezy breaths go out… in… out… in… out… in… and then I am totally out. 
If you are not so lucky and need some coaching to achieve a bit of peace, this is a great little book.  Trust me.  Eileen wouldn't lie to me and I wouldn't lie to you." —Gigi (and Eileen)
---
As ever, thanks for reading! You can find all the books that pets and people talk about here in the booklist Remarkably Bright Creatures: PPL Pet Picks.
If you're looking for more reading ideas, that is our very favorite thing! Check out our Your Next Great Read service for readers of all ages, or simply reach out to our staff at readersadvisory@portlib.org for your own personalized booklist of reading suggestions.
posted: , by Elizabeth
tags:
Library Collections
|
Recommended Reads
|
Adults
|
Seniors
|
Readers Writers