NEW UPDATE JUNE 1: PPL bookdrops are open! Materials are due June 29 and no overdue fees will be incurred until after that date including MaineCat and ILL items.
See our
FAQ page
for more details. We are developing plans for re-establishing services at our locations in conjunction with city and state authorities. We look forward to being able to welcome you to the Library again, and we will make a public announcement when our re-open date is set. See our
COVID-19 information page
for links to current health information in multiple languages.
Reference will be answering questions Mon-Fri, 10am-4pm, 871-1700 x725.
If you would like to open a temporary eResource library card, please email us at lending@portlib.org
X
RIP Scott Wilson, 1942-2018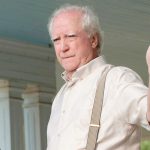 You've seen him. Maybe you know him as Hershel Greene from the Walking Dead, or as Sam Braun from the original CSI series. You may remember him as Judd Travers from the Shiloh movies, or as George Wilson in the 1974 movie The Great Gatsby. He was the one truly innocent victim of Charlize Theron in the 2003 movie Monster. He was a sheriff in Clay Pigeons, a chaplain in Dead Man Walking, a C.O. in G.I. Jane.
He made over 50 films in a career spanning four decades; chances are you've seen Scott Wilson in something. If not, it's not too late. Check out one of these films from our collection, and prepare to be impressed by this remarkable talent.
posted: , by Patti DeLois
tags:
Library Collections
|
Adults
|
Seniors
|
Art & Culture