RIP Scott Wilson, 1942-2018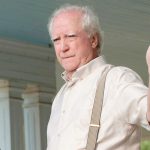 You've seen him. Maybe you know him as Hershel Greene from the Walking Dead, or as Sam Braun from the original CSI series. You may remember him as Judd Travers from the Shiloh movies, or as George Wilson in the 1974 movie The Great Gatsby. He was the one truly innocent victim of Charlize Theron in the 2003 movie Monster. He was a sheriff in Clay Pigeons, a chaplain in Dead Man Walking, a C.O. in G.I. Jane.
He made over 50 films in a career spanning four decades; chances are you've seen Scott Wilson in something. If not, it's not too late. Check out one of these films from our collection, and prepare to be impressed by this remarkable talent.
posted: , by Patti DeLois
tags:
Library Collections
|
Adults
|
Seniors
|
Art & Culture