Sharpen the Bread Knife! November Staff Picks
"Sharpen the bread knife and poise the toaster for action: the long, cold winter is looking better already!"

—from Eileen's Picks 
In November our hardworking library workers turns their thoughts to recent reads plus baking, birdwatching, painting, sewing, and preparing to romp around in Maine's great snowy outdoors. It may be sunny and 60 degrees (today), but we're ready for blizzards.  
Hope these ideas inspire you to fill your own bags with books! 
---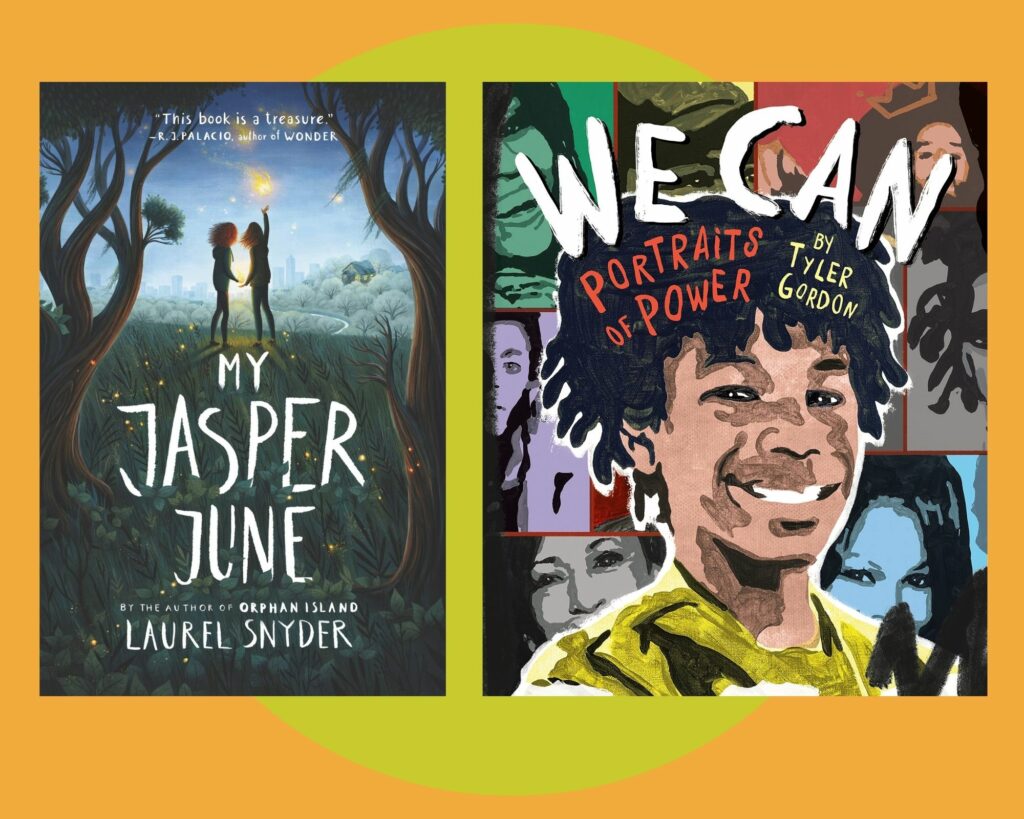 Cindy's Picks 
I was very excited to discover that Rainbow Rowell's wonderful novel Fangirl has been turned into a manga series, adapted by Sam Maggs and illustrated by Gabi Nam. It's fun to see the characters I imagined come to life in the illustrations. "Cath doesn't need friends IRL.  She has her twin sister, Wren, and she's a popular fanfic writer in the Simon Snow community with thousands of fans online.  But now that she's in college, Cath is completely outside of her comfort zone.  There are suddenly all these new people in her life…" 
Also in my pile of books I can't wait to read is My Jasper June, a middle grade novel by Laurel Snyder, the author of Orphan Island.  This is a book about finding one's way through a devastating loss for one young teen. 
Finally, a new nonfiction book: WE CAN: Portraits of Power by Tyler Gordon, a fifteen-year-old painter whose work has been featured in Time and Essence magazines as well as on Good Morning America and ABC News.  
Tyler paints dynamic portraits of his favorite people, like basketball player LeBron James, Vice President Kamala Harris and Colin Kaepernick.  What I liked best about each portrait was that he explains why he likes each person that he paints and how they positively affect his life: "Like me, President Biden has a stutter.  I was often bullied at school because of this and would pour myself into my art as an outlet for my sadness and frustration.  After learning that President Biden also has a stutter, I felt empowered."
---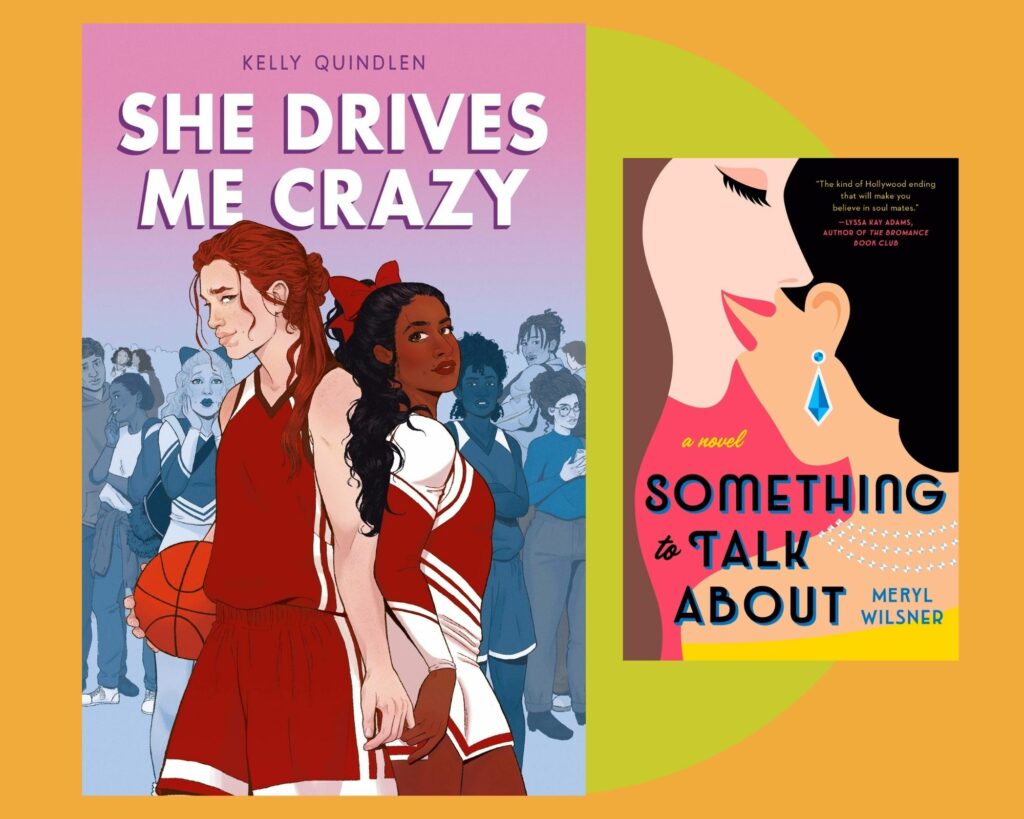 Sarah Mari's Picks 
Two cozy romances for cold nights, both full of classic romance tropes that will hit the spot!  
The first is She Drives Me Crazy by Kelly Quindlen, a YA rom-com where the Fighting Reindeer's basketball star, Scottie, and head cheerleader, Irene, are intense rivals, forced to carpool after a fender bender puts Irene's car in the shop. The pair begin to pretend to date to get back at Scottie's ex, but, of course, things don't stay simple for long…Vibrant side characters, atmospheric descriptions, and swoon-worthy romance abound. 
The second is Something to Talk About by Meryl Wilsner, where famous actor-turned-producer, Jo, and her assistant, Emma, are photographed whispering and laughing on the red carpet of a premiere. The resulting picture catapults them into the spotlight when everyone assumes that there must be something going on between them. The slowest of slow-burns makes this book a can't-put-down sort of read! 
---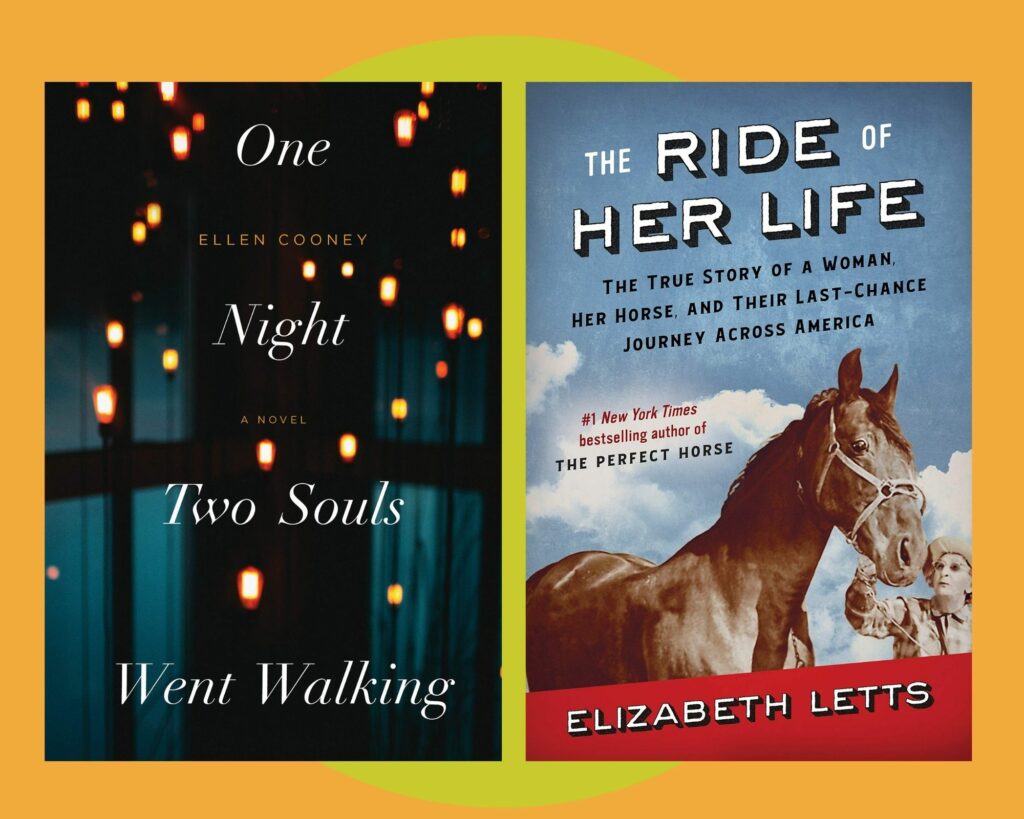 Gabrielle's Pick 
"My prayer for them came to me like words of a song I'd already known the melody of.

I was telling them all that I hoped they did not have the sense, in their not-cages, they would be there for the rest of their lives…" 

—from One Night Two Souls Went Walking by Ellen Cooney 
The unnamed narrator, a hospital chaplain on the night shift, goes about her rounds, sitting with patients, listening, remembering, wondering about the soul. It's a small, dreamy, intense, quiet novel that left me feeling full and hopeful. 
Stephanie's Pick 
In The Ride of Her Life author Elizabeth Letts takes us on an amazing journey with Annie Wilkins, a 65- year-old Mainer from Minot with health problems, little money, and no real map. It's 1954 when she decides to ride a horse to California and figures if she heads Southwest, she'll avoid bad weather. Letts paints a vivid portrait of a determined woman, a country shifting from small-town roads to superhighways, and the souls of some special animals (two horses and a little dog). Sheer grit and the kindness of strangers propel Annie to her destination, the ride of her life, and a very good read. 
---
Becca's Picks 
As I write this, I am exhausted. This is because I was up late last night reading Margaret and the Missing Body, by Megan Milks. Do you love The Babysitter's Club and Scooby-Do? You will love this darkly humorous story about friendship, queerness, and tweens who solve mysteries. While it's classified as fiction for adults, teens may also enjoy the subject matter and pacing. (This book does have a plotline about eating disorders.)  
Here are some more gems that will arrive at the library soon: 
The Cat Who Saved Books

, by Sosuke Natsukawa: Rintaro, an introverted teen who inherits his grandfather's bookstore, meets a talking cat named Tiger. Tiger is on a mission to save "imprisoned" books, and he wants Rintaro's help. 

Kirkus

 describes this book as a "tale of gentle wholesomeness," which is something many of us need right now. Sign me up!

 

The Fortune Men

, by Nadifa Mohamed: Booker Prize shortlist alert! Nadifa Mohamed tells the fictionalized story of Mahmood Mattan, a father and merchant seaman from Somalia living in Cardiff in the 1950s. Mattan was wrongfully convicted of murder and was subsequently executed. The book moves between the perspectives of Mattan and the murdered shopkeeper, giving readers a thorough account of this tragedy.

 

A Single Rose

, by Muriel Barbery: This book by the author of 

The Elegance of the Hedgehog

 

was quietly released back in September. (Thank you to the patron who alerted me!) Rose, a botanist living in France, is summoned to Japan for the reading of her estranged father's will. This begins her journey around her father's Kyoto, which has much in store for Rose. This short and quiet read with lush descriptions of gardens might be just the thing for the start of winter.

 
---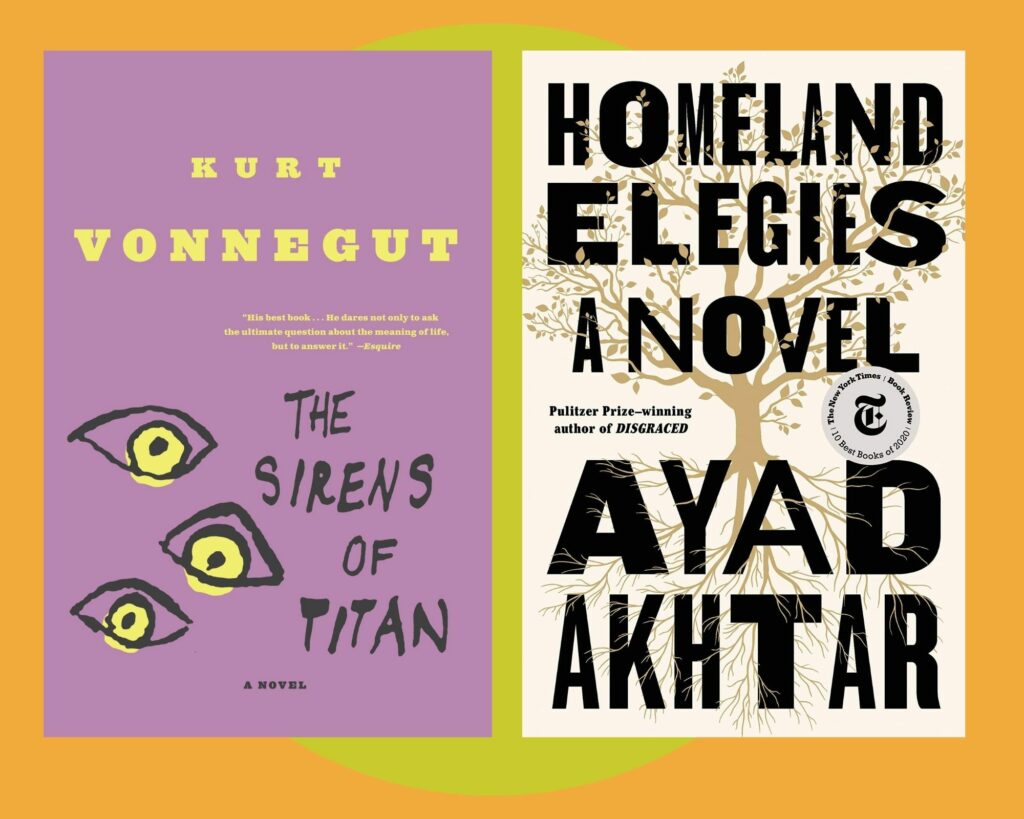 Cy's Pick 
To celebrate the birthday of the late Kurt Vonnegut (November 11), I'd like to recommend The Sirens of Titan. This sci-fi/fantasy/adventure follows Malachi Constant on a journey that explores free will, morality, privilege, luck, and the space-time continuum. Two of my favorite lines from Vonnegut come from this novel: "I was a victim of a series of accidents, as are we all" and "A purpose of human life, no matter who is controlling it, is to love whoever is around to be loved." 
Rachael's Pick 
I'm reading Homeland Elegies by Ayad Akhtar and would love to recommend it.  It's a fictional memoir portraying the life of a Muslim American writer whose family is grappling with identity and belonging in the United States post-911 and during the Trump era.  It's a fascinating and devastating look at this country and exceptionally well written. 
---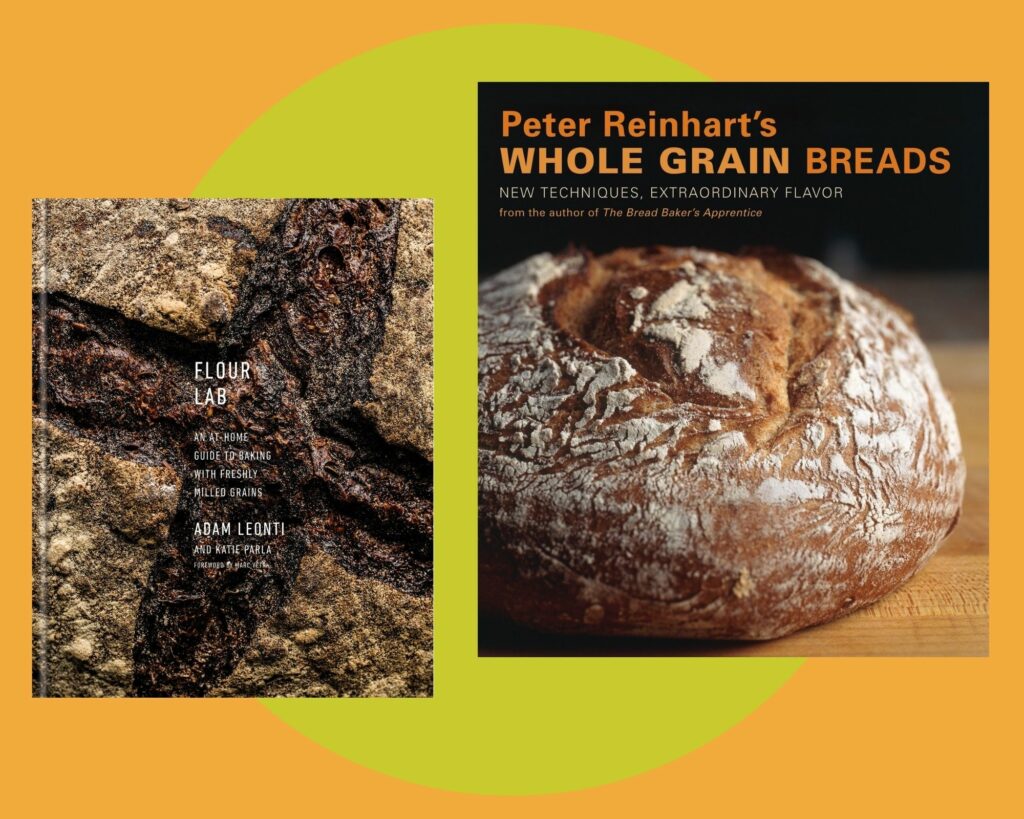 Eileen's Picks 
I assumed ownership of a counter-top grain mill a few weeks ago and have been exploring what that might mean for our health and my weekend downtime. Browsing PPL's stacks, I happened upon Flour Lab: An At-home Guide to Milling Grains, Making Flour, Baking, and Cooking by Adam Leonti with Katie Parla, which was satisfyingly informative on different varieties of wheat (Did you know there is a variety called Warthog? And another named Frederick? I didn't) and other grains. If you fancy grinding your own flour, give it a spin and see what you think. 
Martin Philip, head bread baker at King Arthur Baking Company, wrote Breaking Bread: A Baker's Journey in 75 Recipes (2018) which I read and enjoyed. But what was I looking for and not finding in these and several other good books I optimistically carted home? I didn't know. 
And then I found Peter Reinhart's Whole Grain Breads: New Techniques, Extraordinary Flavor from 2007. Bingo! Lots of background information, terrific commentary 'longside the recipes, wherefores and whys in profusion, all presented in a way suited to my learning style. I was absolutely certain I didn't want to get into the custodial responsibilities of feeding and caring for a starter, but here I am fermenting soakers and bigas, an enthusiastic mash-cultured mother-starter bubbling away on the counter and my precious home-milled flours making our kitchen a happy haven for hardworking microbes and yeasts! Rye, wheat, barley, corn, spelt, oats, einkorn, buckwheat…sharpen the bread knife and poise the toaster for action: the long, cold winter is looking better already! 
So much more work to do to get it right, but Peter Reinhart will see me through. I just know it. 
---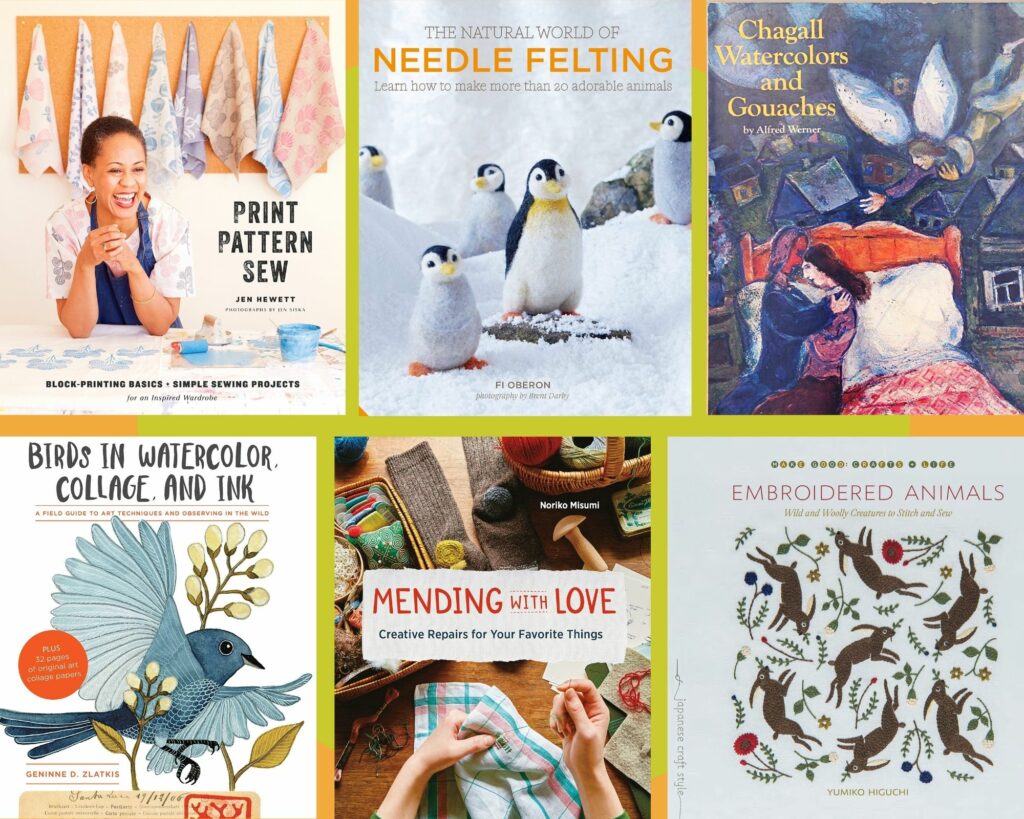 Elizabeth's Picks 
November's long nights have me curled up with books about artists and their work, and I'm also gathering project ideas to share with crafty, creative friends. 
Four beautiful art books, old and new: 

 

Bisa Butler: Portraits

. 

Mamma Andersson: The Lost Paradise.

 

Chagall: Watercolors and Gouaches

. 

Jeanne Morningstar Kent's

 

The Visual Language of Wabanaki Art

. 

 

Four how-to books for artists who love nature:  

The Complete Book of Drawing Nature

, 

Watercolor Botanicals

, 

Nature Painting in Watercolor

, and 

Birds in Watercolor, Collage, and Ink

.

 

For fans of the art of needle and thread, four books on embroidery, block printing, felting, and mending:

Embroidered Animals

 by Yumiko Higuchi. Jen Hewett's 

Print, Pattern, Sew

. Fi Oberon's 

The Natural World of Needle Felting

, and Noriko Misumi's 

Mending With Love

. 

 
We have so many books on art, artists, painting, mixed media, fiber arts, and more, so please reach out to our staff if you're looking for a great book to inspire you.  
---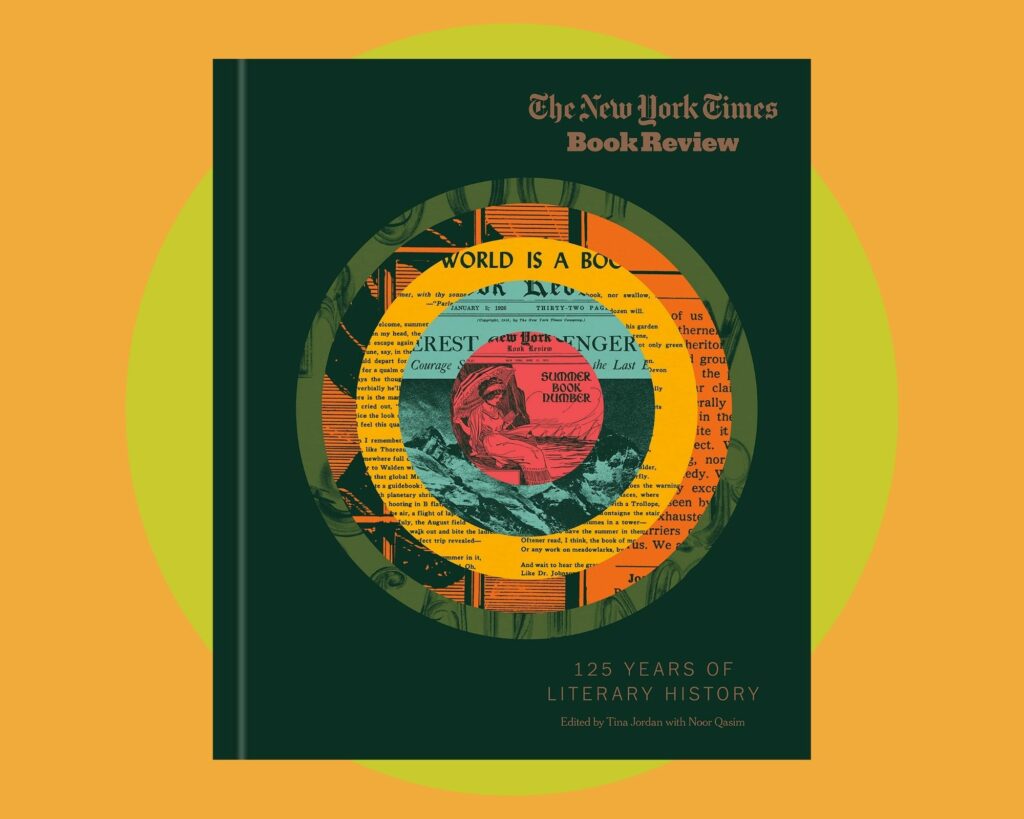 Sarah S's Picks 
Literature lovers, rejoice! In honor of their 125th anniversary, NYTBR bring us The New York Times Book Review: 125 Years of Literary History. According to the blurb, "this beautiful book collects interesting reviews, never-before-heard anecdotes about famous writers, and spicy letter exchanges. Here are the first takes on novels we now consider masterpieces, including a long-forgotten pan of Anne of Green Gables and a rave of Mrs. Dalloway, along with reviews and essays by Langston Hughes, Eudora Welty, James Baldwin, Nora Ephron, and more." Sounds like a dreamy way to spend the cold, darkening evenings of November. 
---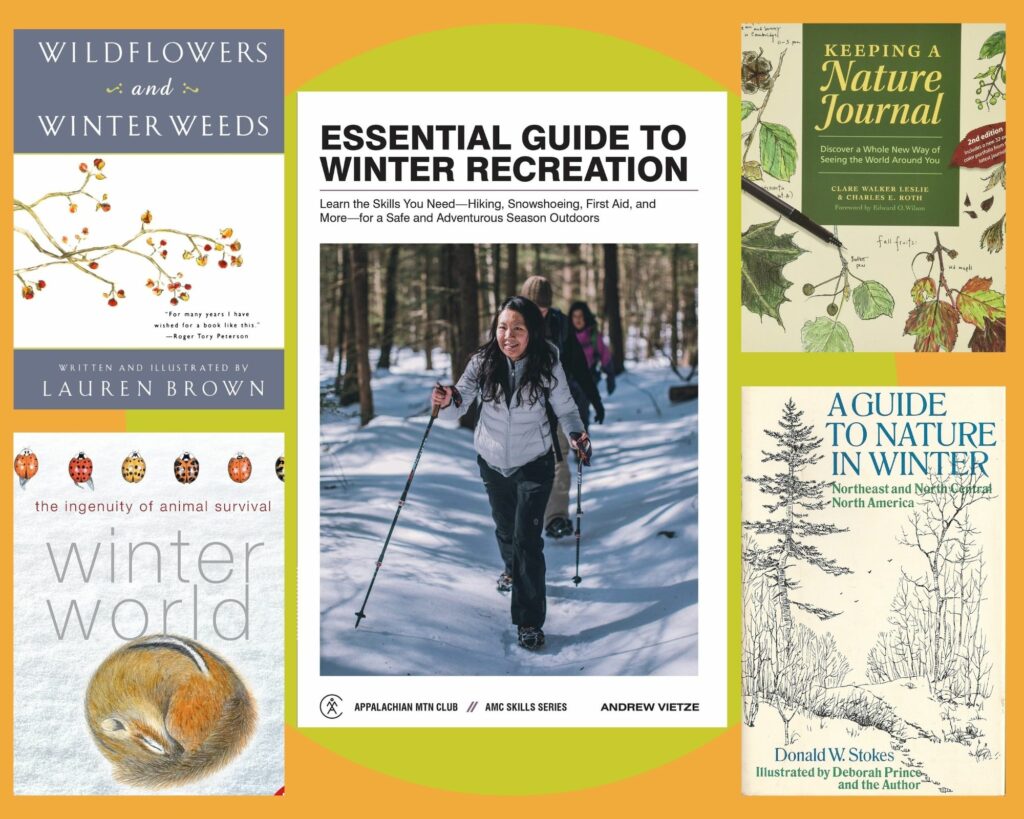 Myles' Picks 
Maine's winter birds are starting to appear. Hello Snow Buntings! This is a great time to go outside and explore, now that there are no more ticks and mosquitoes. These books will help pique your curiosity as you navigate our unique winter landscape.  
---
As ever, thanks for reading! Here's a link to a list of the books we talk about in this post: Sharpen the Bread Knife: November Staff Picks. If you're looking for more reading ideas, we'd love to help. Try Your Next (Great!) Read to get your own personalized booklist of ideas from our staff. 
posted: , by Elizabeth
tags:
Library Collections
|
Recommended Reads
|
Adults
|
Seniors
|
Readers Writers