January: Staff Picks for a New Year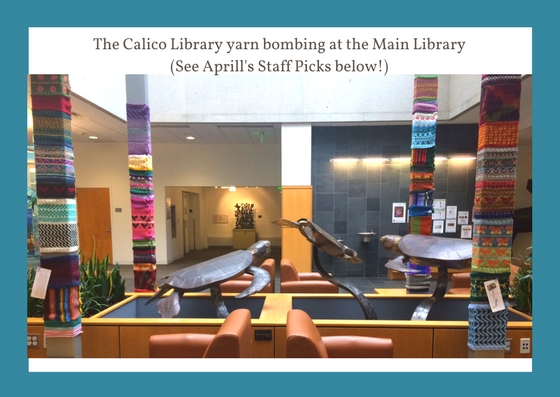 It's January again! Through snow, through sleet, through freezing rain…whether you're hibernating, feeling invigorated, or dreaming of change, the start of a new year is always a good time to take stock of what's new. Our staff explores some of the titles that are newly arrived, on order, or that will come out later in 2018.  
From our library catalog, try searching on-order titles before they even arrive at the library, and place your holds early.
---
 Youth Services
---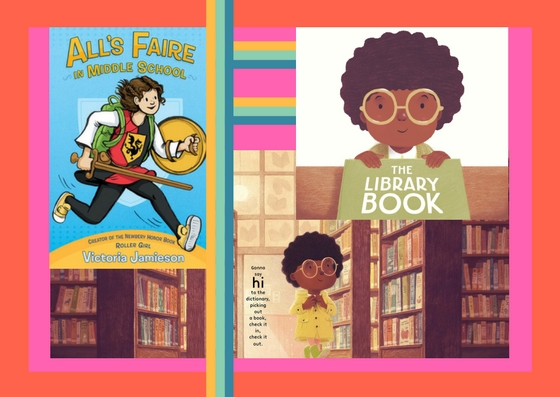 Carrie's Pick 
I am excited for a sweet little picture book about a visit to the library where the characters come alive!  
In The Library Book, Tom Chapin has put the text to a melody entitled The Library Song: "I'm going down to the library, picking out a book, check it in, check it out," and the song's words and music are printed in the endpapers. The shushing librarian even gets into the rhythm in this rousing celebration of The Library. 
---
Cindy's Pick 
I really liked the book I hosted in January for the Smart Girls Read Book Club.  It's a graphic novel for middle-grade level:  All's Faire in Middle School by Victoria Jamieson. We all liked (in our book club conversation) how the main character ended up realizing that popularity at the expense of being kind to others wasn't worth it. And overall, we liked that it was a book about realizing who your real friends are and who you want to be as a person.  
---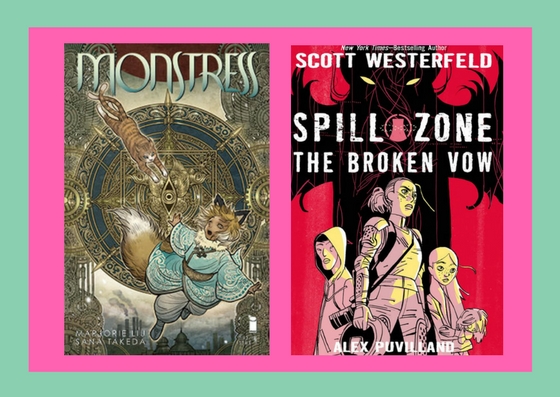 Kelley's (Teen Librarian) Picks  
The bad news (for me) is that the YA books I am most anticipating in 2018 are sequels. The good news (for you) is that you can start at the beginning.  
Thunderhead (Scythe #2) by Neal Shusterman |Jan 2018
Scythe was one of my absolute favorite books of 2016/2017, so I can't wait to find out what happens to our newly licensed grim reapers in this utopian/dystopian world created by a master of YA science fiction. 
Spill Zone 2: The Broken Vow by Scott Westerfeld and Alex Puvilland |July 2018
Teen Library staff universally loved this post-disaster thriller about things in Poughkeepsie going mysteriously and totally wrong. Check volume one out now, which was one of our favorite graphic novels of 2017. 
Monstress, Vol. 3 by Margorie Liu and Sana Takeda | August 2018
We all have our "inner demons" but Maika literally has a monster living inside her. The anti-hero of this graphic series has all sorts of problems, but at least she has the company of a sweet half-fox girl and a three tailed magus cat on her adventures. Those who can handle ultra-violence and unending backstabbing are in for some beautiful and dark storytelling in volumes one and two. If you are squeamish about horror or Game of Thrones level fantasy violence, this might not be for you.  
The Lady's Guide to Petticoats and Piracy by Mackenzi Lee |Oct 2018
A literal sister book to one of 2017's most popular teen titles, The Gentleman's Guide to Vice and Virtue. This Goodreads description says it all: "A sequel to The Gentleman's Guide to Vice and Virtue, narrated by Felicity and featuring travel, pirates, and a science girl gang." Fingers crossed for more snark and steam from Mackenzie Lee, who is also working on a YA book about Loki! 
---
Adult Fiction
---
Nate's Pick 
I'm eagerly anticipating the arrival of Peter Kimani's Dance of the Jakaranda.  This intergenerational tale of love and rebellion is set against two significant points of time in Kenya's recent history.  Bound together by a shared locale, the story alternates between two eras: the time of the construction of the "Iron Snake" rail line (which connected Lake Victoria with the coastal city of Mombasa in the late 1800's), and the early 1960's era leading up to Kenyan independence from Britain.  Of late I have been increasingly interested in tales focusing on the rise and fall of the British Empire. This fascination has brought me to shows such as the BBC's The Last Post, which is about the Yemeni port of Aden, and to books like Orwell's Burmese Days.  Most stories about the Empire written or acted in English are told from the point of view of British characters. Dance of the Jakaranda—told from the point of view of two Kenyans of Indian descent—brings an exciting, vital depth and perspective to an understanding of the British Empire and all those impacted by it.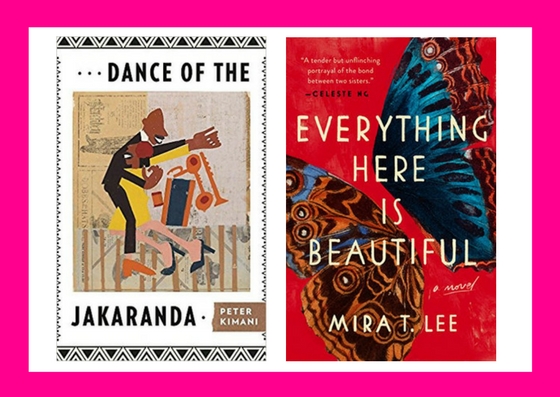 Sarah's Pick 
 I am really looking forward to reading Everything Here Is Beautiful by Mira T. Lee. Library Journal writes, "spun from an award-winning short story that originally appeared in the Missouri Review, this debut features Chinese-American sisters Miranda and Lucia. Lucia, who starts hearing voices when their mother dies, marries an older man, then leaves him and has a baby with a young Latino immigrant even as Miranda tries to help her from afar." It's a story of sadness, love, and the bond between sisters by a promising new literary voice. The book will be out in January, and the author will be at PPL on March 28 to discuss her book—plenty of time to read it twice! 
---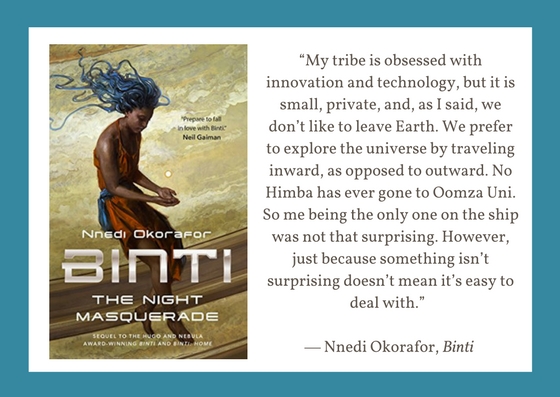 Harper's Pick 
This winter I have found myself in the mood for fast, exciting reads and dramatic adventures. If you're feeling the same and also happen to like sci-fi, space politics, and humans learning to navigate alien cultures, look no further than Nnedi Okorafor's Binti trilogy. With Binti already under my belt, Binti: Home in my backpack, and Binti: The Night Masquerade coming out later this month, I'm prepared for my past, present, and future to be filled with interstellar travel, alien jellyfish that communicate through their tentacles, and a girl from earth who is the first of her people to attend the galaxy's most prestigious university.
---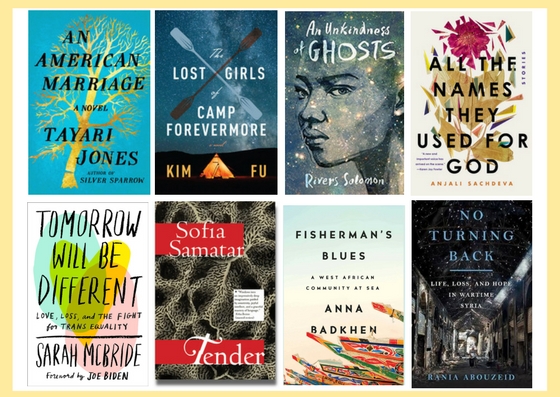 Elizabeth's Picks 
Books book books! Here are just a few of the new and on-order (fiction and nonfiction) titles I'm curious about.  
All The Names They Used for God by Anjali Sachdeva| An Unkindness of Ghosts by Rivers Solomon| Winter by Ali Smith| Red Clocks by Leni Zumas| The Lost Girls of Camp Forevermore by Kim Fu| An American Marriage by Tayari Jones| Eternal Life by Dara Horn| Song of a Captive Bird by Jasmine Darznik| Tender: Stories by Sofia Samatar | Tears of Salt: A Doctor's Story by Pietro Bartolo| Fisherman's Blues: A West African Community At Sea by Anna Badkhen| No Turning Back: Life, Loss, and Hope in Wartime Syria by Rania Abouzied| The Line Becomes a River: Dispatches from the Border by Francisco Cantú| This Will Be My Undoing by Morgan Jerkins| Tomorrow Will Be Different: Love, Loss, and the Fight for Trans Equality by Sarah McBride | So You Want to Talk About Race by Ijeoma Uluo 
---
 Nonfiction and Music
---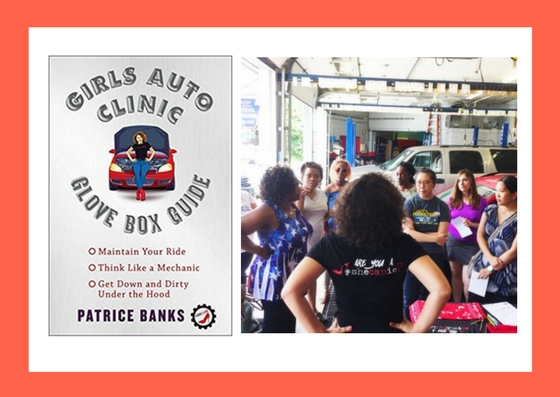 Meg's Pick 
 I just ordered the Girls Auto Clinic Glove Box Guide. I hadn't originally seen it when it came out in 2017, but we recently got two requests in a single day, so it's in my cart! I think it will be a tremendous asset in our automotive repair section. 
---
Raminta's Picks 
 There is some great new music coming to PPL in the coming weeks. New albums by First Aid Kit, Emenem, Brandi Carlile, Justin Timberlake, They Might Be Giants, Vance Joy, Tune-Yards, Jimi Hendrix, and more! Also keep your eyes pealed for the Grammy nominated Hello Dolly! Cast Recording, starring Bette Midler, and the soundtrack to The Greatest Showman starring Hugh Jackman.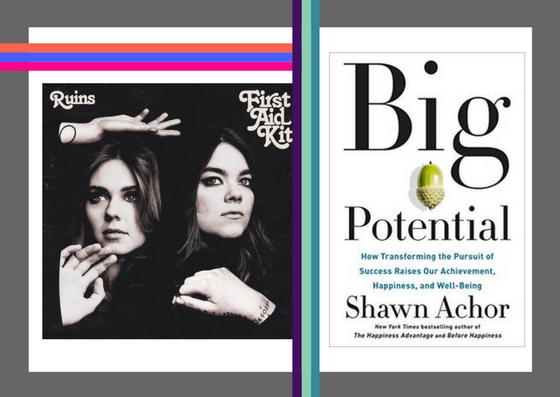 Will's Pick 
 Shawn Achor's Big Potential reveals why our potential is not limited by what we on our own can achieve; rather, our success is amplified by the successes of those around us. It offers five strategies for exponentially raising our achievement and performance by helping others—colleagues, teams, and employees—be better. For decades, most people have thought about potential as being a constellation of individual traits: your creativity, your abilities, your intelligence. Achor explores new research showing that this version of potential (what Achor calls Small Potential) is deeply flawed, and it places a ceiling on the level of success we can achieve. If individual traits are in fact interconnected with others, we can see that by pursuing success individually, we have been leaving much of our greater potential untapped. Big Potential works not in isolation, but rather as part of an ecosystem. Achor suggests that when we help those around us succeed, we not only raise the performance of the group, but we also create a positive cycle by which we in turn become more successful ourselves. It's of no surprise that the Reference staff of PPL works as a team!
---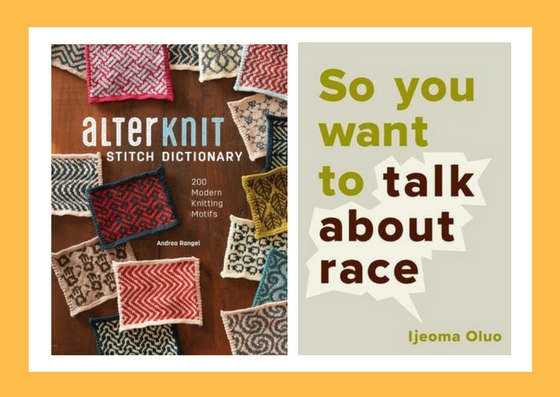 Aprill's Picks 
I'm really excited to get my hands on Alterknit Stitch Dictionary: 200 Modern Knitting Motifs. Andrea Rangel's new collection of knitting motifs looks so fresh, fun, and innovative.  Since participating in the PPL's Calico Library yarn bombing installation, I have been inspired to add more colorwork to my knitting.  This stitch dictionary has my imagination fired up: I see socks with tiny skulls, hats with sweet little mushrooms, and scarves with bold geometric leaf patterns in my future!
 
I am also echoing excitement for So You Want to Talk About Race, by Ijeoma Oluo. I've followed Oluo's writing on various platforms for some time now and can't wait to access her brave, brilliant voice on the pages of her book. 
---
As always, thanks for reading! Hope you found some inspiration here: to fill your wintry days, or to go sleuthing for your own new reads…and if you're still looking for ideas, you might try our 2018 Reading Challenge.
posted: , by Elizabeth Hartsig
tags:
Library Collections
|
Recommended Reads
|
Adults
|
Readers Writers