Weathering With You: December Staff Picks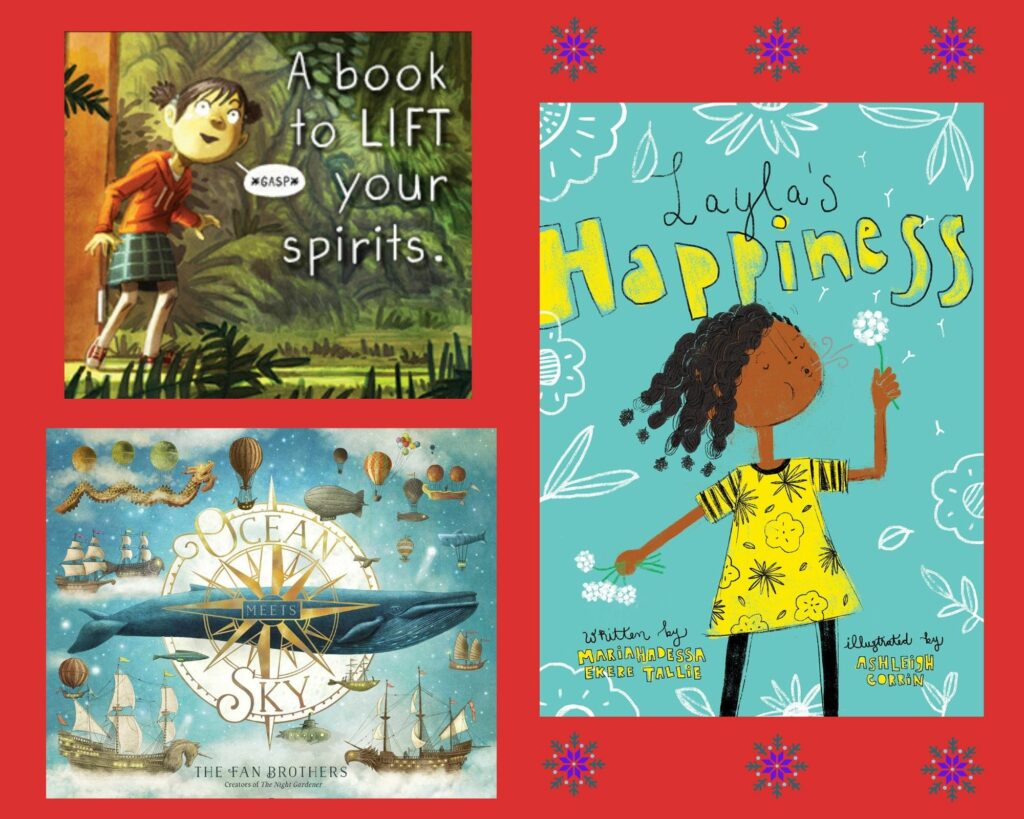 "It's cool to make cheese. It's more than a distraction. There are big pots and thermometers, curd knives and skimmers, cultures, colanders. It is all about patience and alchemy, and yards and yards of cheesecloth. It's hard to be sad when there is so much happening, most of it slow and magical. And it ends with cheese!" -from Eileen's Picks

Is the sun back yet? We keep staring at the calendar! As we near the winter solstice, our staff members weigh in with a few ideas—novels, nonfiction, movies, graphic novels, video games, picture books, new books—to help us through the snow. You can also check out the Teen Holiday Gift Guide, and if you're looking for eBooks, try our cloudLibrary list (Staying) Home for the Holidays.  
 Elizabeth's Picks 
What would my far-away nephews like to read this December? I settled in for a long winter's night of research recently, dreaming of a list of picture books to sail them (and their parents) through the winter. Here are just a few from the idea pile: my nephews love rich pictures and all the details, so my picks skewed that way, as well as towards journeys and joy.   
Ocean Meets Sky by the Fan Brothers has a dreamy, imaginative voyage and may be a special story for young ones who are missing someone—which it feels like we all are, these days.  
Lift has a magical transporting elevator, but who gets to push the button? It's a sweet story as an older sibling learns she wants to share an adventure with her younger brother. (Lift is worth requesting from MaineCat, but you can also find author Mînh Le and illustrator Dan Santat's great picture book "Drawn Together" at PPL or on cloudLibrary).  
Layla's Happiness, written by Mariahadessa Ekere Tallie, shines with love of family and a garden as Layla shares her delight in the profound riches around her: stars! seeds! spaghetti! music! poetry! I love the rollicking movement and great perspectives of Ashleigh Corrin's illustrations, like when I'm looking down through glowing fireflies at Layla dreamily looking up. 
Pokko and the Drum by Matthew Forsythe made me smile this year with its mushroom house, beautiful colors, beleaguered frog parents, the determined, talented Pokko and a wonderful animal parade: it's a really fun read-aloud, too.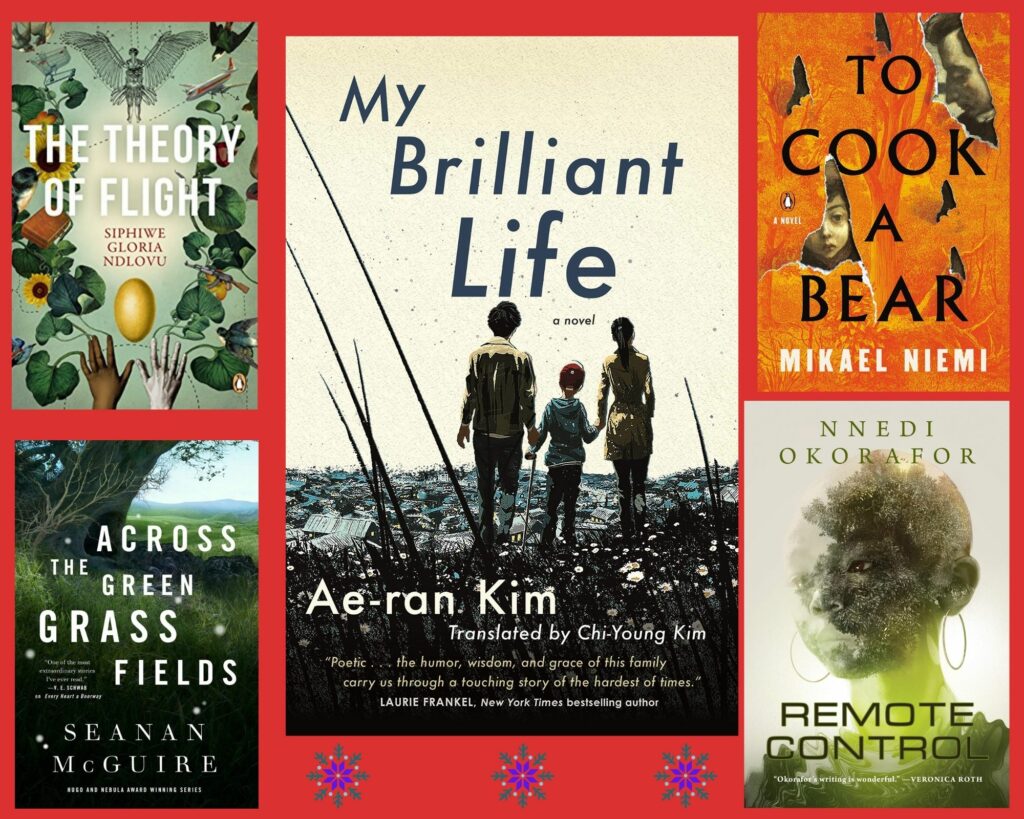 And…2021, I'm looking forward to you. There are a lot of new novels for adults headed our way (find them under our "Explore" tab and click "New Titles") and I'm curious about The Theory of Flight, City Of A Thousand Gates, Remote Control, Across the Green Grass Fields, My Brilliant Life, To Cook a Bear, The Ruthless Lady's Guide to Wizardry, and so many more.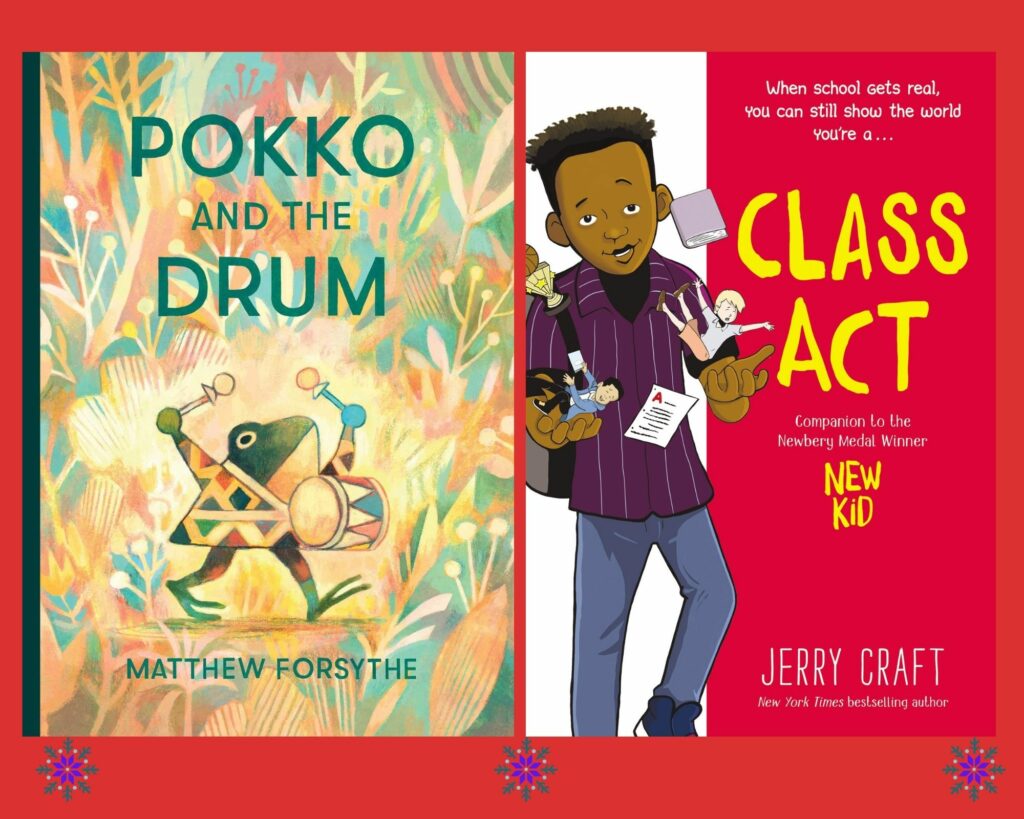 Mary's Pick  
Class Act by Jerry Craft  
This graphic novel is a sequel to New Kid (winner of the 2020 Newbery Medal). Jordan Banks is returning to the upper-crust (and mostly white) Riverdale Academy Day School for eighth grade. This title focuses more on his friend, Drew. The two are now in their second year, and the racial issues continue to be complicated. Drew—who has darker skin than his friend Jordan—is treated differently by fellow students, and teachers. His new haircut causes unwanted touching by other students. The complications of race and economic complexities run through the story, from Jordan's dad being pulled over by the police to students from a poor inner-city school coming for an eye-opening tour to Drew and Jordan going to wealthy Liam's mansion. Jordan and Drew need to navigate the feelings of friends in their neighborhoods. Craft tackles all of this with honesty, empathy, and humor. Each chapter opens with parodies of covers of popular graphic novels such as Amulet and Diary of a Wimpy Kid. (Scattered throughout the book in a Where's Waldo kind of way are sketches of young adult authors like Jason Reynolds and Jacqueline Woodson.) Craft has created another winner – hopefully there will be a volume 3.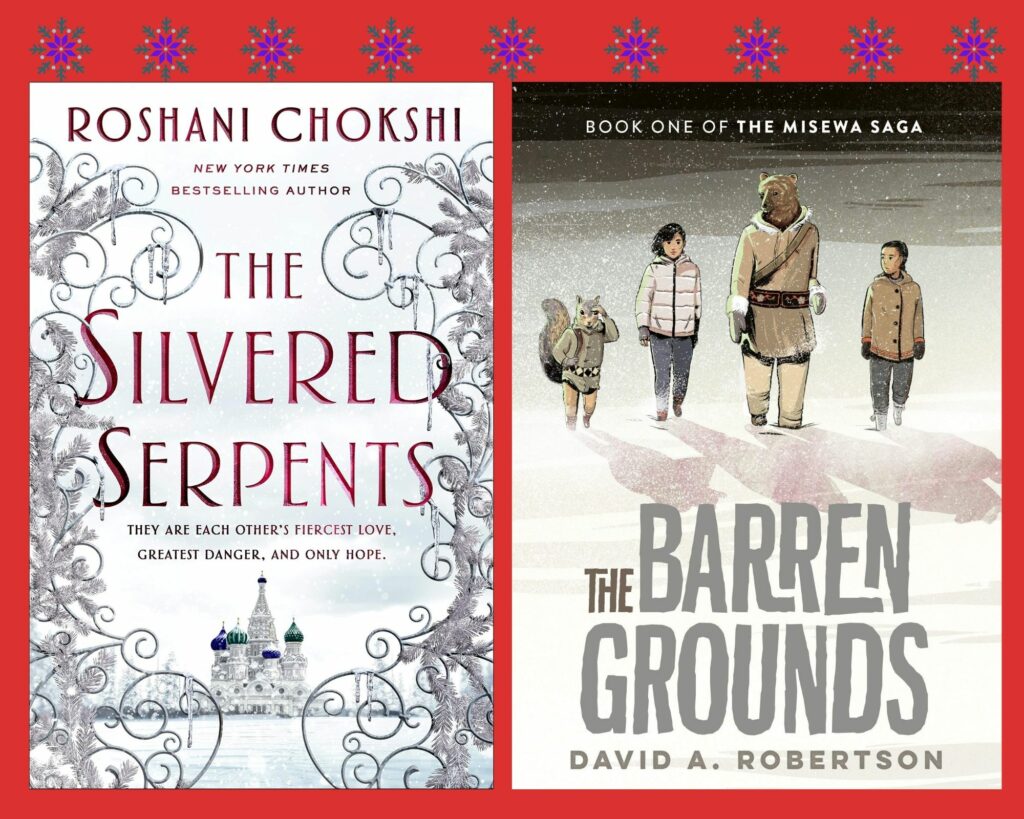 Kelley's Picks
The Silvered Serpents (Book #2 in the Gilded Wolves series) by Roshani Chokshi 
This sequel to 2018's The Gilded Wolves was one of my most anticipated releases this year and did not disappoint in delivering non-stop action, decadent settings, and careening romance. After the dramatic conclusion of the first book, Séverin's team has nearly fallen apart. Out of desperation, Séverin whisks his team from Paris to Siberia in a race to uncover a mysterious and powerful artifact. What they find is an untouched, abandoned ice palace full of frozen animals, broken goddesses, and deadly traps. Could this forgotten place be the answer to a series of disappearances and grisly murders? At the center of all the heady action, fantasy and romance is a quieter story of five unique, troubled young people who need each other to survive in more ways than one. This is not a standalone book, so be sure to check out the The Gilded Wolves, too!  
The Barren Grounds (Book #1 in the Misewa Saga) by David A. Robinson 
Morgan and Eli are two indigenous children who meet in foster care at the beginning of this new series, hailed as "Narnia meets traditional Indigenous stories of the sky and constellations in an epic middle grade fantasy." For Morgan, this might be just another stop in an endless series of homes since she was taken away from her mother as a baby. For Eli, it's his first time away from the home he has always known. On the very night Morgan promises her new family she won't run away again Eli disappears through a portal in their attic. Determined to bring him home before her foster parents wake up, Morgan steps into a world where winter may never end, and where the last inhabitants need her help.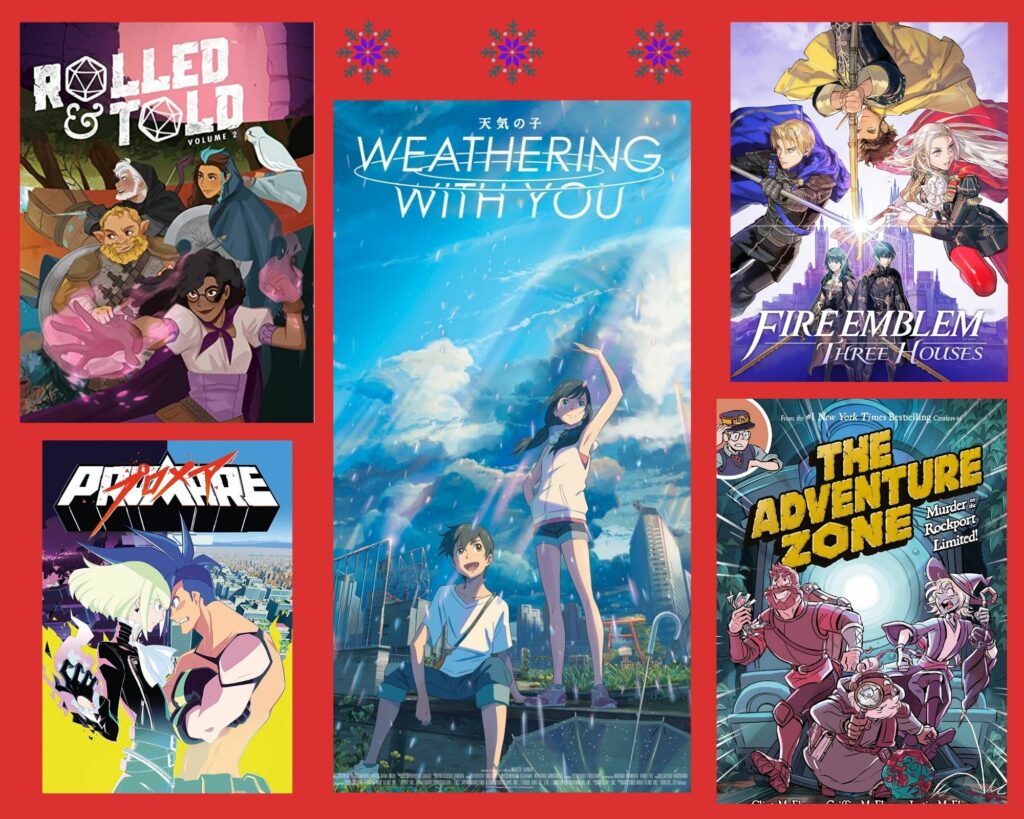 Megan's Escapism Picks for 2020 
Want to forget about everything terrible? Yeah, me too. I recommend removing yourself from reality entirely with these tried and tested fantasy faves. 
Another gem from Makoto Shinkai of Your Name, Weathering with You is an animated movie about Hodaka, a runaway teen boy, and Hina, a newfound friend, who begin a business magically manipulating the weather. Tokyo is going through an unnaturally long streak of constant rain, but Hina is able to summon the sun with prayer. I loved the ending to this one and the animation is gorgeous as always.  
Promare is the first feature length movie by Studio Trigger, known for shows like Kill la Kill and Little Witch Academia.  I went into this expecting intense, dramatic visuals with zany colors and exaggerated expressions and Promare delivers wholeheartedly. After a worldwide calamity of spontaneous human combustion, those who have the power of fire – the "Burnish" – are feared for their destructive abilities. The movie begins at full throttle with a dramatic fight between a heroic firefighting brigade (with mechs!) and militant pyrokinetic fighters and keeps the action high throughout.   
I've adored the Fire Emblem series since I played my first one, Fire Emblem: The Blazing Blade. The games have the perfect blend of tactical thinking and fantasy-fueled story. The latest installment, Fire Emblem: Three Houses, is impossible to put down. There's a wizard knight school, tight-lipped mercenaries, branching story paths, and character backstory up to your ears. As a professor at the monastery, the player guides their class of students as they train to become knights while investigating unknown agents working against the archbishop and their own mysterious past. This came out in July of 2019 and I'm still playing it a year and a half later! 
Rolled & Told is a great resource for the Dungeons and Dragons enthusiast. These books combine short adventures, new items and monsters, comics, art, and articles in a very approachable format. I'm always impressed with the variety of content. The book itself is also just a joy to flip through – the many contributors' love of D&D just pours out of it. Check it out if you already like 5th edition Dungeons and Dragons and want to pick up some new tricks, or if you're interested in the game and want to dip your toe into the worlds and stories it has to offer! 
This series is the graphic novel adaptation of a Dungeons and Dragons podcast by the McElroy family. Let's get this out of the way: I don't love podcasts and I've barely listened to the first adventure of The Adventure Zone. But even if you aren't already a fan, these books are pure goofy fun, with the bonus addition of some delightful art. My favorite so far is the second book, Murder on the Rockport Limited – I just love a good train mystery and whiz kid detective combo.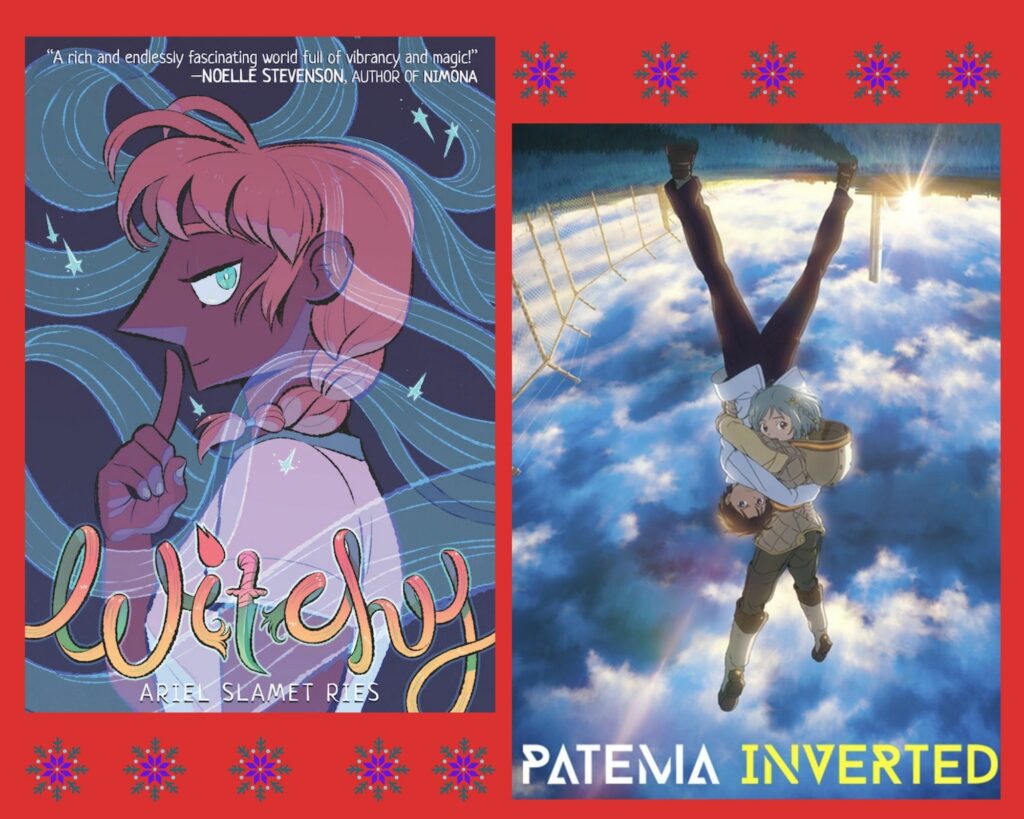 Nyneve, a young witch, casts a glamour on herself every day to hide her incredibly long hair. In this world, the length of your hair determines the power of your magic, and those with powerful magic are conscripted into the Witch Guard. Though her peers all fight to prove themselves the strongest and become one of the guard, Nyneve holds a deep grudge against the order and would do anything to stay out of their clutches – even, in a moment of desperation, cut off her hair and throw away all her magical power. The hook for this one grabbed me immediately and I was amazed by the art once I started reading. Out of all the witchy graphic novels I've read recently (and there are a lot!) this one is a star. 
Patema, a teen girl who lives in a underground community, goes looking for a missing friend and falls down a hole… into the sky. She is saved by Eiji, a boy who lives in the above-ground world. With opposite gravity, ground, and sky, they have trouble connecting, but the two join forces when the leader of the above-ground world hears about the "invert" girl and tries to capture her. Though not as visually impressive as Weathering with You or Promare, my partners and I got a kick out of the cartoonishly evil villain. This was my first watch of 2020 and I still remember it fondly.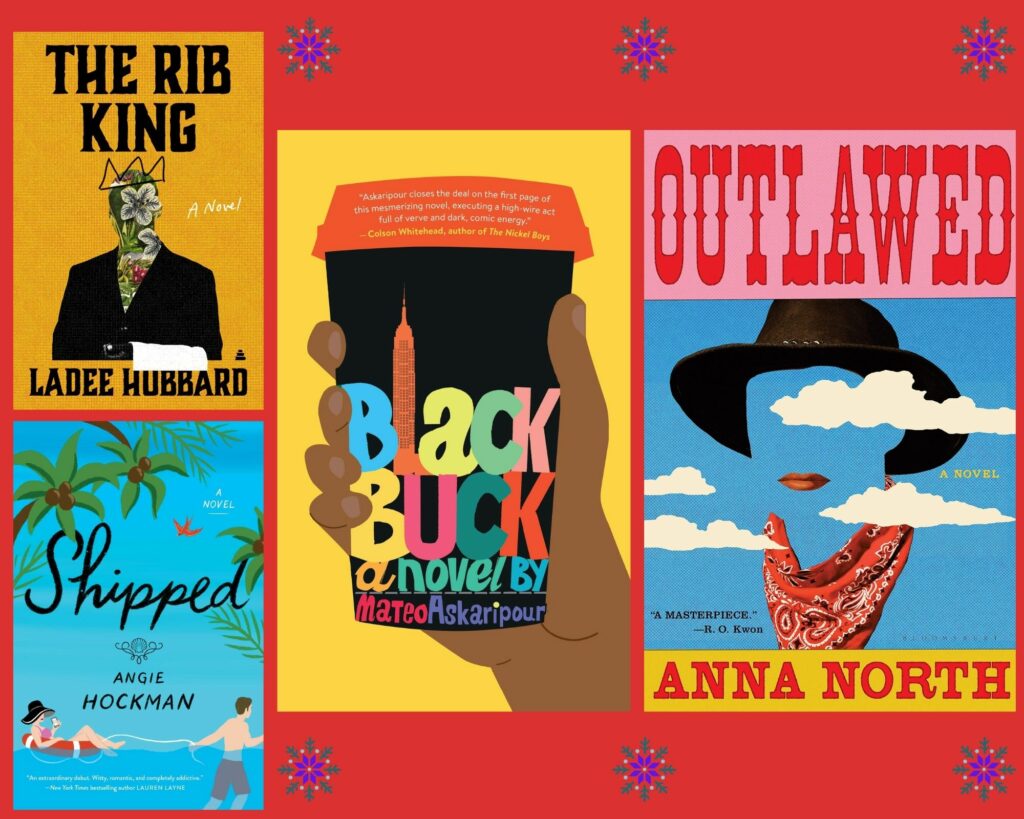 Becca's Picks 
While it's good to see the other side of 2020, we are headed for quite a bit of change. One way we can take care of ourselves during times of uncertainty – especially during those dark winter months – is to find a comforting distraction. Here are a few exciting books set for release in January 2021: 
Outlawed, by Anna North: Horse-roving lesbian and nonbinary bank robbers in the Old West…need I say more?  
The Rib King, by Ladee Hubbard: A once-wealthy white family with an all-Black household staff decides to market the scrumptious rib sauce of the cook…using a caricature of the groundskeeper. What can go wrong? 
Shipped, by Angie Hockman: Two professional rivals at a cruise line are up for the same promotion. When they are tasked to boost reservations for the company's Galapagos Island cruise, the rivals find themselves stuck on the same ship. 
Black Buck, by Mateo Askaripour: The only Black employee at a New York City startup hatches a plan to channel his disillusionment and help other Black salespeople.  
Perhaps one of these new releases will help you start the 2021 PPL Reading Challenge?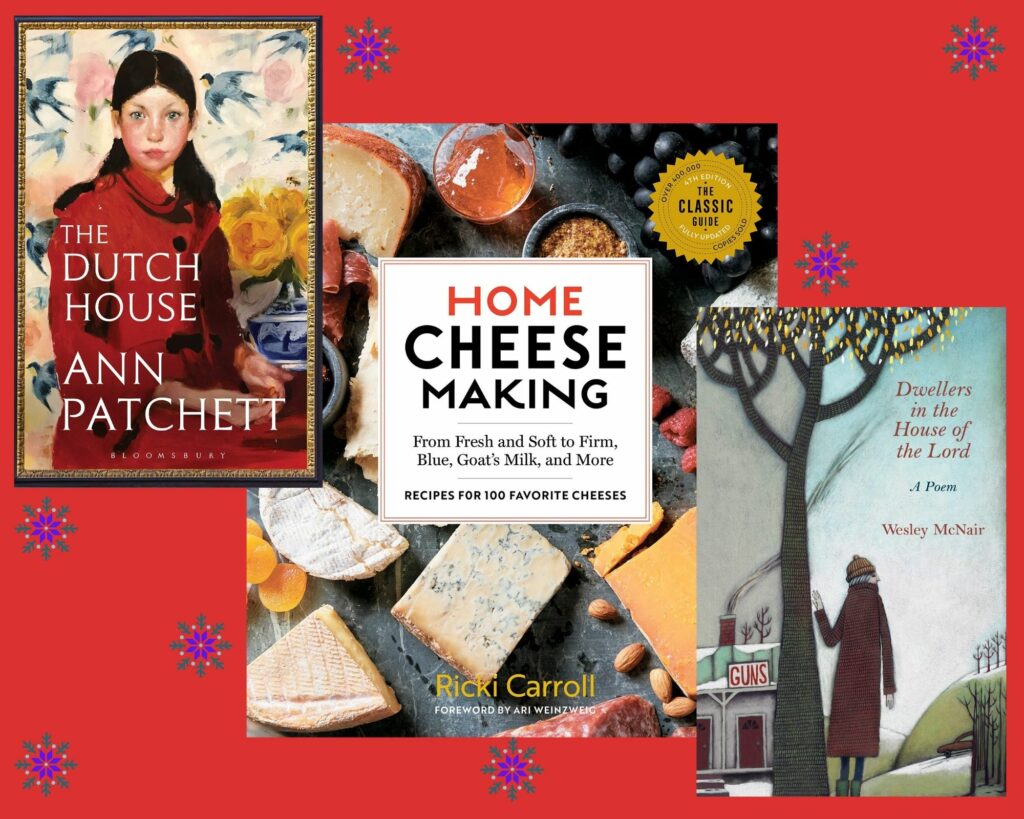 Cindy's Pick 
" 'I see the past as it actually was,' Maeve said. She was looking at the trees. 'But we overlay the present onto the past. We look back through the lens of what we know now, so we're not seeing it as the people we were, we're seeing it as the people we are, and that means the past has been radically altered.' " ― Ann Patchett, The Dutch House  
I am listening to Tom Hanks narrating Ann Patchett's beautiful novel, The Dutch House.  A sprawling novel, it takes place over five decades, following the paths of deeply-bonded siblings Danny and Maeve, who grew up in a house that is more a work of art than cozy haven.  Abandoned early on by their beloved mother and forgotten in many ways by their father, they try to make their way in the world, always together. 
Tom Hanks' well-known voice is a comfort and a joy to hear.  He is a fantastic reader and does different voices for every character.  I don't usually stray outside reading teen and middle grade fiction, working in the Children's Room as I do, but I feel that I have become an instant Ann Patchett fan, listening to this mysterious and beautiful book.   
Eileen's Picks 
It's cold. It's dark. The danger of wallowing is real, but distractions abound.  
Wesley McNair's prose poetry Dwellers in the House of the Lord, a haunting and affecting story of the author's family in a haunted and affected state, is beautiful and disturbing. I am glad to have read it and urge you to pick it up, but it isn't what I am looking for to comfort me as I anticipate my annual winter tailspin.  
Learning something new and productive usually helps me put the brakes on that. Hopefully in lieu of the blues, I've been slowly, ponderously, oh-so-cautiously making some simple cheeses with the help of Home Cheese Making: from fresh and soft to firm, blue, goat's milk, and more: recipes for 100 favorite cheeses by Ricki Carroll. I have thought about making cheese for years and now I have, several times. Delicious halloumi, tasty paneer, some surprising goat cheese that exceeded expectations by a mile. Bookmarks and sticky notes sprout from its pages, ideas and aspirations for next time, advice and admonitions, lessons learned from the last endeavors. 
It's cool to make cheese. It's more than a distraction. There are big pots and thermometers, curd knives and skimmers, cultures, colanders. It is all about patience and alchemy, and yards and yards of cheesecloth. It's hard to be sad when there is so much happening, most of it slow and magical. And it ends with cheese! That's okay by me.  
If cheese doesn't hold my attention this weekend, I have an ace up my sleeve. My turn on the waiting list has finally come up and I have a week with something I have been anxious to get: the dvd A Beautiful Day in the Neighborhood is mine for 7 whole days! I get to spend that time with Mr Rogers AND Tom Hanks. That is bound to warm up the cold and brighten up the dark. And all I have to do is watch. 
---
 As ever, thanks for reading—and our warm wishes to you for a safe and healthy New Year. 
posted: , by Elizabeth
tags:
Library Collections
|
Recommended Reads
|
Adults
|
Kids & Families
|
Seniors
|
Readers Writers