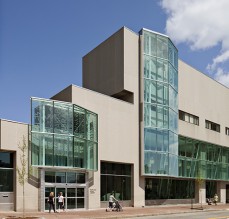 CANCELLED due to illness 10/14/15: Toddler Story Time at Burbank
10:15am - 11:00am
Location: Burbank Branch
Audience: Kids & Families
Our friend Phyllis will lead us in song and dance. We'll hear a short story or two, roll the ball & "ring around the rosie." Come see what your toddler can do!
Rhythm & Rhymes for Babies
10:30am - 11:00am
Location: Main Library, Sam L. Cohen Children's Library
Audience: Kids & Families
Children ages birth-24 months and their caregivers are invited to join us for songs, rhymes, finger plays and stories every Wednesday.
"Choose Your Own Craft" Day at Riverton
11:00am - 12:30pm
Location: Riverton Branch
Audience: Kids & Families
Choose from an array of stimulating projects to craft with your kids. All the tricky cutting parts will already be done so that it's sure to be nothing but FUN!
Legos @ PPL for Teens
2:30pm - 4:00pm
Location: Main Library
Audience: Teens
Stop by the Teen Library every Wednesday for Lego creation, exploration, and challenges. A different theme each week!
Previous
Next
:
Filter Programs & Events:
Connect with the Library: