Connect with the Library:
Singing Through Your Day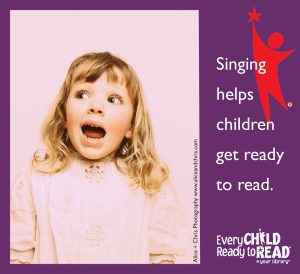 Reading, playing, talking, singing, and writing are the five practices that stimulate the growth of a child's brain and make the connections that will become the foundation for reading. The Sam L. Cohen Children's Library will be presenting Singing Through Your Day, a series of programs and workshops for parents and caregivers and their young children which will focus on the practice of singing. According to Every Child Ready @ Your Library:
Singing helps children hear the distinct sounds that make up words. Songs also teach new vocabulary and introduce new ideas and concepts.

Sing with your children any chance you have: at home, in the car, during a walk. You don't need a perfect voice, just some enthusiasm.

Move to the music. Children develop motor skills as they clap, jump, twirl and spin to music.

Sing nursery rhymes or sing instead of reading a book. Find a book that is based on a song or make up a simple tune for one of your child's favorite books.
Upcoming Events:
Emilia Dahlin: Singing Through Your Day
10:30am - 11:00am
Location: Main Library, Sam L. Cohen Children's Library
Audience: Kids & Families
Singer songwriter Emilia Dahlin will be our very special guest ) and demonstrate how parents and caregivers can sing through the day with their young children!