Connect with the Library:
Sing Into Reading!
Music powers the brain, it builds memory. Music builds a strong sense of rhythm, which leads to a better ability to understand and produce language. Singing develops spatial reason, which allows children to recognize patterns and helps in problem-solving.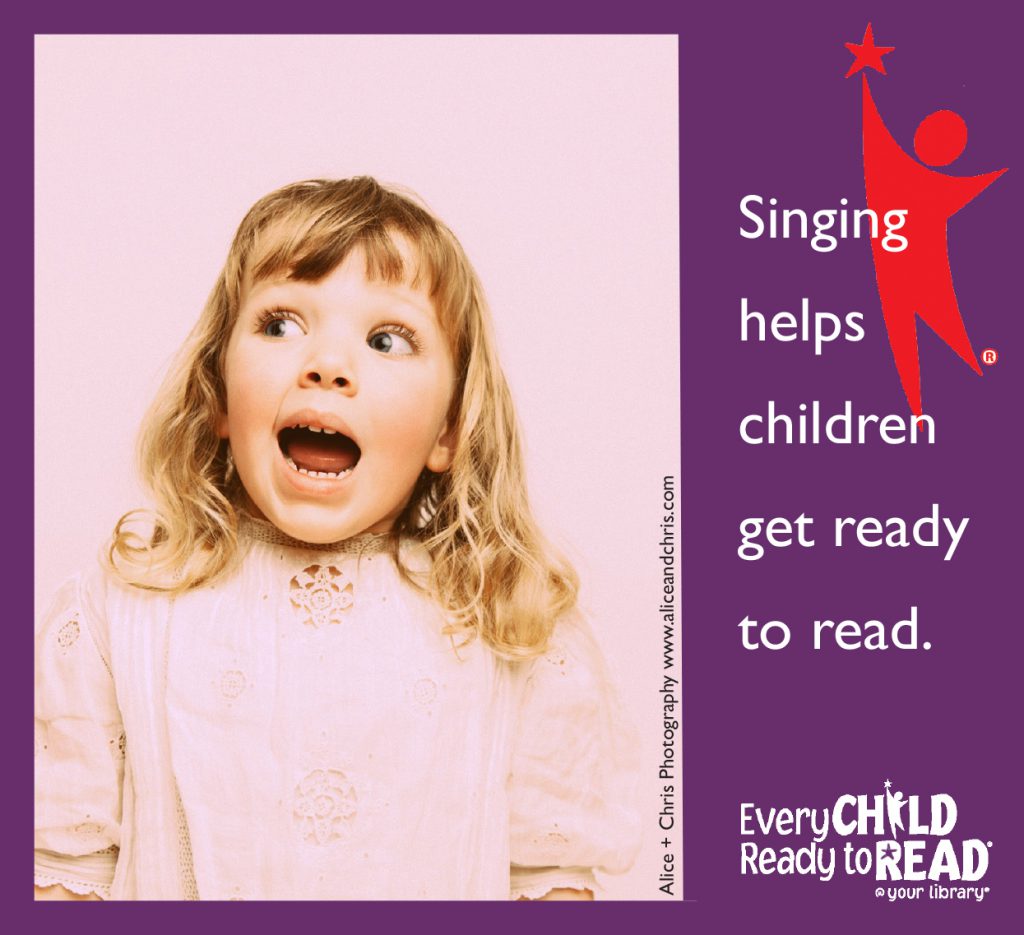 Music influences us, it can change a mood, stimulate creativity, and direct energy toward movement or stillness.
Music connects us, it can bring together a group of diverse people by creating a shared experience.
Music transports us in time and emotion. It can take us to far away lands, or back into our own childhoods.
Music comforts us. Repeating the same songs gives children security and memories.
How does singing help teach reading skills?
Children learn language through repetition, and as songs are repeated the rhythm of the words is internalized.
The things we remember word-for-word from childhood are songs and some rhymes.
Singing brings a natural awareness of words, as each syllable or sound in a word gets a different note.
Children learn oral language before written language, so the more experience they have with singing, the better prepared they will be for learning to read.
Singing increases retention, builds memory, and helps grow the brain in children!
Because children naturally love to sing, there is no "teaching," just doing!
How can I help children build reading skills through Singing?
This is the fun part! Just sing and have fun!
Sing throughout the day. The more singing, the greater the benefit.
Sing traditional songs, as they bring with a knowledge of your culture and language.
Make up songs or add new verses.
Make up songs about the foods you are cooking.
Collect or make rhythm instruments and use them to reinforce syllables and keep a steady beat as you sing. Clapping does the same thing.
---
Every Child Ready to Read @ Your Library

Afsoomaali  |  Arabic  |  Español  |  Français  |  Lingala  |  Português
---
Afsoomaali  |  Arabic  |  Español  |  Français  |  Lingala  |  Português
---
Building Early Literacy Through Play
Afsoomaali  |  Arabic  |  Español  |  Français  |  Lingala  |  Português
---
Read to Me: Read Aloud Tips for Parents
Afsoomaali  |  Arabic  |  Español  |  Français  |  Lingala  |  Português
---
Afsoomaali  |  Arabic  |  Español  |  Français  |  Lingala  |  Português
---
Copyright 2008 Nancy Stewart