Introducing Artist Series PPL150 Commemorative Bookmarks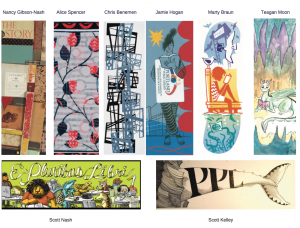 In honor of our 150th anniversary, we asked local artists to share artwork that celebrates the Library's connection to art and culture. We are delighted to share their beautiful designs with our patrons.
A set of 8 designs are now available for purchase online individually or as sets.*
Proceeds from the sale of bookmarks will support Library programming such as
 *  Literary Lunch Series  *  Noonday Concerts in the Gallery  *  Film Series  *  Family Programming  *  and much more!
$1.50 each /  $14 per set of 8
*  Bookmarks can also be purchased at the City Of Readers Bookstore at the Main Library.
Thank you for your support of Portland Public Library!