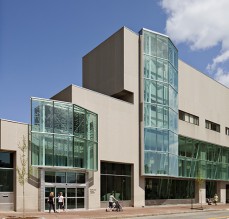 Toddler Story Time at Burbank
10:15am - 11:00am
Location: Burbank Branch
Audience: Kids & Families
Our friend Phyllis will lead us in song and dance. We'll hear a short story or two, roll the ball & "ring around the rosie." Come see what your toddler can do!
Veterans Legal Clinic
1:00pm - 3:00pm
Location: Main Library, meeting room (4)
Audience: Adults
The Volunteers Lawyer Project and the veterans' benefits attorneys are pleased to provide this service to help guide our respected veterans through the VA benefits process.
Rhythm & Rhymes for Babies
4:00pm - 4:30pm
Location: Main Library, Sam L. Cohen Children's Library
Audience: Kids & Families
Stories, songs, finger rhymes, music and movement for babies from birth to 24 months and their parents/caregivers. The activities promote language development and pre-literacy skills.
Previous
Next
:
Filter Programs & Events:
Connect with the Library: