About the Riverton Branch
Riverton Branch is located in the Riverton Community Center, 1600 Forest Avenue. The 3,500 sq. ft. branch holds nearly 25,000 books, audiobooks, movies, and more for all ages. The branch is open 23 hours weekly, including Saturday hours to coincide with Recreation Department programs. Come to our weekly story times for kids and join our monthly book group and knitting group.
See our Holiday Schedule for planned closings.
 Participating ~ Creating the Communities We Wish to Live In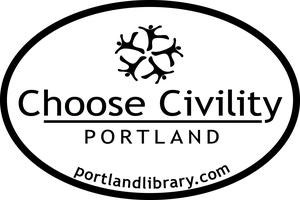 The Maine Humanities Council and the Portland Public Library invite you to engage in a facilitated discussion on the topic of Creating the Communities We Wish to Live In. It's about sharing your thoughts and listening to others as you discuss a selected reading, not about coming to consensus on next steps. However, if you're group is interested, Lift360 will offer follow up workshops on action planning and implementation for strengthening community through our neighborhoods (more on that soon).
We have a fabulous short reading that raises important issues, space to meet, an hour and a half set aside, and someone to help get the conversation going. ALL WE NEED IS YOU!
December 18th 6:00pm – 7:30pm 
Portland Public Library, Riverton Branch  1600 Forest Avenue
Riverton Branch
1600 Forest Avenue
Portland, ME 04103
207-797-2915
riverton@portland.lib.me.us
Branch Manager, Sarah Shelton
Parking: Parking is available in the Riverton School & Community Center parking lot.
Bookdrop: The bookdrop is located to the right of the main entrance to the School building.
Wheelchair accessible
Hours:
From the PPL blog:
No related posts - Showing the two latest posts in our blog.
Connect with the Library: