Children's Services Has Something for Children of All Ages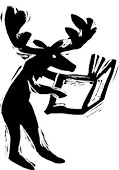 You are invited to bring your family to the library! Read, learn, grow, and play at PPL. PPL has a strong (and long) tradition of serving kids & families with great collections, programs, and services designed to build kids' love of reading and discovery, as well as engaging with parents, teachers, and other child educators.
Every PPL location has a dedicated area just for kids, for reading, exploring, and enjoying our programs.
Looking for the perfect book for the children on your shopping list? Let the experts help!  The Youth Services staff has recommendations that will help you find just the right book for the young ones (through middle school) on your holiday gift list.
Learn More »
Kids Program – Polar Express with a Train Conductor
On Saturday, December 14 at 10:30 am in the Sam L. Cohen Children's Library join Amtrak Downeaster conductor Jim Nawrocki as he reads the Chris van Allsburg classic THE POLAR EXPRESS. Light refreshments will be served.
Family Place Library & Workshops
Join us at the Family Place Library in the Main Library, a specially-designed family-centered space filled with books, toys, music, and multimedia materials for very young children, parents, and caregivers to play, learn, and build early literacy.
We offer special five-week programs throughout the year for toddlers and their parents and caregivers featuring local professionals who share information for parents as the first teachers of their children, and teach strategies for healthy child development and early literacy.
• Related Programs & Events »

We offer several story times designed for kids from birth to age 5 at all of our locations, from basic rhymes to movement and music. Join us and cultivate a love of reading in your child early on!
Learn More »
Fiber Fun
Kids and Teens – do you like to:
Knit? Weave? Crochet? Do Needlepoint?
Join us every Monday from 4:00 to 5:00 pm in the Sam L. Cohen Children's Library at the Main Library. We have plenty of yarn to share, but please bring your own equipment or tools.  Basic knitting instruction provided if needed.
The program is for ages 5 to 19.  Adults over 19 are welcome when participating with a child.  Kids younger than 8 must have an adult with them.
• Related Programs & Events »

Resources for Parents, Teachers, and Homeschoolers
PPL's Children's Services Team has put together a collection of books, resources, and other events for educators and others who take care of children.
Schools and community groups can also call the library to set up tours, story programs, booktalks, and research instruction. In addition, the Children's Library staff offer outreach programs to schools, day cares, and community centers to talk about the wonders of reading and kids' learning resources. Contact us at 207.871.1700 x707 or childrens@portland.lib.me.us.
NOTE: Using the new library catalog
To ensure compliance with the Children's Online Privacy Protection Act (COPA), some features in the new catalog are
restricted and not available to children under age 13. Restricted features include the ability to share comments,
send/receive messages, and create a free-text username. For more information, see How to Use My PPL.
From the PPL blog:
MONTGOMERY'S VIEW
MONTGOMERY'S VIEW MISTER MAX: THE BOOK OF LOST THINGS by Cynthia Voigt Alfred A. Knopf, 2013 (age
More
»
MONTGOMERY'S VIEW
Today, we begin our book reviews of titles old and new! Stick by Andy Pritchett, Candlewick Press
More
»
Contact the team leader
Mary Peverada Email »
Children's Services Team Leader Youth Services Department Head
(207) 871-1700 Ext. 707
More Contacts »
Connect with the Library: