Children's Services Has Something for Children of All Ages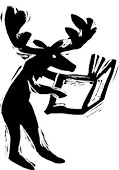 You are invited to bring your family to the library! Read, learn, grow, and play at PPL. PPL has a strong (and long) tradition of serving kids & families with great collections, programs, and services designed to build kids' love of reading and discovery, as well as engaging with parents, teachers, and other child educators.
Every PPL location has a dedicated area just for kids, for reading, exploring, and enjoying our programs.
Announcing Portland's first maker fair!
Makers@PPL is the first local event to celebrate maker culture, and bring together the talents and creativity in the community to share ideas and projects with others. Mark the day on your calendar– Saturday, April 25, 11 to 4– and come ready to learn new skills, experiment with tools and materials, and observe stuff used in ways you never thought possible! Regardless of your background or expertise, this event will show you that everyone is a maker; after all, humans have been inventing and experimenting for hundreds of years.
Makers@PPL will highlight the importance of the STEM subjects (science, technology, engineering, math), and will showcase workshops and presentations that not only teach, but are fun and engaging. Think: robots, flying helicopters, cheese tastings, blacksmithing, table saw trainings, and so much more.
No registration is required. Stay tuned for more information as we get closer to the date.
Please note that we are still looking for supporters, we have sponsorships at all levels. Please contact Samantha, the event organizer for more information: soucy@portlandpubliclibrary.org.
Learn More »
Here is a calendar view of activities at the Main Library's Children's Room (Monument Square)
Learn More »
We offer several story times designed for kids from birth to age 5 at all of our locations, from basic rhymes to movement and music. Join us and cultivate a love of reading in your child early on!
Learn More »
NOTE: Using the new library catalog
To ensure compliance with the Children's Online Privacy Protection Act (COPA), some features in the new catalog are
restricted and not available to children under age 13. Restricted features include the ability to share comments,
send/receive messages, and create a free-text username. For more information, see How to Use My PPL.
Contact the team leader
Mary Peverada Email »
Children's Services Team Leader Youth Services Department Head
(207) 871-1700 Ext. 707
More Contacts »
Connect with the Library: