Children's Services Has Something for Children of All Ages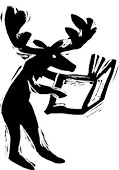 You are invited to bring your family to the library! Read, learn, grow, and play at PPL. PPL has a strong (and long) tradition of serving kids & families with great collections, programs, and services designed to build kids' love of reading and discovery, as well as engaging with parents, teachers, and other child educators.
Every PPL location has a dedicated area just for kids, for reading, exploring, and enjoying our programs.
JIMMY GOWNLEY, the award-winning creator of the AMELIA RULES! series explains the creative process through drawing and personal anecdotes.  Thursday, August 21, 2014, 2:00pm – 3:00pm in the Rines Auditorium.
Learn More »
SUMMER READING CELEBRATION 2014!
Saturday, August 2, 2014
11:00 am – 12:30 pm
RIVERTON BRANCH LIBRARY
1600 Forest Avenue
We will be celebrating all the children who have been reading this summer and who have participated in the program!
Learn More »
SUMMER READING 2014: I ♥ Reading in Portland: Paws for Reading
 SUMMER READING 2014: I ♥Reading in Portland: Paws for Reading
The Summer Reading program was a great success – congratulations to all of our summer readers!
THANKS TO THE GENEROSITY OF OUR SPONSORS:
THE ROBERT AND DOROTHY GOLDBERG CHARITABLE FOUNDATION
THE FRANCES HOLLIS BRAIN FOUNDATION
THE GELATO FIASCO
PORTLAND SEA DOGS
GREATER PORTLAND METRO BUS
FRIENDS OF THE PORTLAND PUBLIC LIBRARY
We offer several story times designed for kids from birth to age 5 at all of our locations, from basic rhymes to movement and music. Join us and cultivate a love of reading in your child early on!
Learn More »
Resources for Parents, Teachers, and Homeschoolers
PPL's Children's Services Team has put together a collection of books, resources, and other events for educators and others who take care of children.
Schools and community groups can also call the library to set up tours, story programs, booktalks, and research instruction. In addition, the Children's Library staff offer outreach programs to schools, day cares, and community centers to talk about the wonders of reading and kids' learning resources. Contact us at 207.871.1700 x707 or childrens@portland.lib.me.us.
NOTE: Using the new library catalog
To ensure compliance with the Children's Online Privacy Protection Act (COPA), some features in the new catalog are
restricted and not available to children under age 13. Restricted features include the ability to share comments,
send/receive messages, and create a free-text username. For more information, see How to Use My PPL.
From the PPL blog:
FLASH book sale
PPL will hold a FLASH book sale on Saturday, July 29 from 9 am - noon at 1000 Riverside Street.
More
»
Contact the team leader
Mary Peverada Email »
Children's Services Team Leader Youth Services Department Head
(207) 871-1700 Ext. 707
More Contacts »
Connect with the Library: