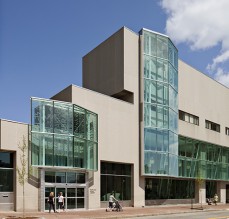 Oil spills and nutrients in the warming Arctic Ocean
5:30pm - 7:00pm
Location: Main Library
Audience: Adults, Seniors
Two scientists from Bigelow labs will discuss their work in studying nutrients in the Arctic, and how microbes react to oil spills. They will show how climate change affects it, and can show and lots of images.
Toddler Story Time at Burbank
10:15am - 11:00am
Location: Burbank Branch
Audience: Kids & Families
Miss Phyllis welcomes toddlers and their caregivers for stories, finger-play, and favorite songs. Join the fun in Burbank's fresh new Children's space!
Adult Knitting Group at Riverton
6:30pm - 7:30pm
Location: Riverton Branch
Audience: Adults, Seniors
Bring in your knitting project for conversation and company as you work on your latest creation.
Consider the Conversation »
7:00pm - 9:00pm
Location: Peaks Island Branch
Audience: Adults, Teens, Seniors
Motivated by personal experiences with loss, two long-time friends—one a hospice worker and the other a State Teacher of the Year—present a powerful and inspiring film on the American struggle with communication and preparation at the end-of-life.
Previous
Next
:
Filter Programs & Events:
Connect with the Library: