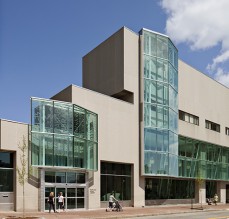 Gallery Talk: Peak Moments, Sports Photography »
5:30pm - 7:00pm
Location: Main Library, Lewis Gallery
Audience: Adults, Teens, Seniors
Derek Davis will show his best sports images from his career at the Press Herald. He will talk about his approach to covering sporting events, from planning and anticipating, to making compelling images that go beyond what is obvious and expected.
Philosophy Forum
6:30pm - 8:00pm
Location: Main Library
Audience: Adults, Teens, Seniors
An informal social gathering, bringing people together who enjoy discussing philosophical ideas in a facilitated, roundtable-style setting. See: https://www.portlandlibrary.com/highlight/philosophy-forum/
Toddler Story Time at Riverton
10:15am - 11:00am
Location: Riverton Branch
Audience: Kids & Families
Our friend Phyllis will lead us in song and dance. We'll hear a short story or two, roll the ball & "ring around the rosie." Come see what your toddler can do!
Baseball Book Group »
12:00pm - 1:00pm
Location: Main Library
Audience: Adults, Seniors
The Baseball Book Group meets at the Main Library each month to discuss all things baseball. See our "We Love Bookgroups!" page for more info on what we're reading.
Previous
Next
:
Filter Programs & Events:
Connect with the Library: