Connect with the Library: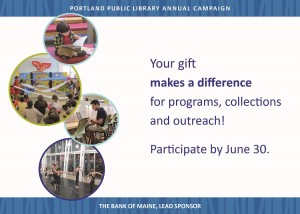 Library patrons and visitors love connecting with our art exhibits and author talks, with new titles and well-loved favorite books, with family programs and book groups, with business resources and the rich history of the Portland Room.
But at the heart of what we do is meet the needs of our patrons, every day. All of Portland comes through our doors, and your gift ensures that we can connect with one another and grow together as a city of readers.
0% of PPL's collections and programming budgets are covered by public funding. Your Annual Campaign gift of any size is what makes the difference – and makes PPL a vibrant community anchor. Show your support with an Annual Campaign gift by June 30!
Our current Annual Campaign runs from July 1, 2015, to June 30, 2016. If you think you may already be a donor and want to check your history of supporting PPL, please contact us. You can make a secure online gift anytime, but if you wish to give by phone or have questions about making a gift of stock, contact Emily Levine, Development & External Relations Director, by email or by phone at 207-871-1700 x759.
---
---
As a nonprofit 501(c)3 organization, Portland Public Library relies on private philanthropy to fund our collections, programs, technology, and strategic initiatives. We accept gifts of cash, stock, personal bequests, and in-kind goods and services.
The Development staff is available to assist you in making the kind of gift most appropriate for your needs and circumstances. Contact Emily Levine, Development & External Relations Director, by email or call 207-871-1700 x759.
In Memoriam and In Celebration Giving
You can honor the memory of a loved one or celebrate a special occasion through a gift to our Annual Campaign. Books purchased through these gifts are fitted with a commemorative bookplate featuring the honoree's name.
To make a memorial or celebratory gift, please use our secure giving form and include the name of the person you wish to recognize in the "notes" section. Memorial gifts to existing endowed funds should be made this way as well; rest assured they will be properly allocated, and we will confirm this with you in our formal written acknowledgment. We thank you for your thoughtfulness in honoring someone special in this way.
Annual Campaign
Contributions to the Library's Annual Campaign purchase books, reference materials, audiovisual materials, and online information resources for our patrons, and help support our programs. Last year, 88% of annual gifts to PPL were $100 or less. Every gift makes a difference! Make your secure online to the Annual Campaign.
For more information about the Annual Campaign,  contact Emily Levine, Director of Development & External Relations, by email or call 207-871-1700 x759.
Planned Giving
A planned gift allows you to make a significant gift to the Library with many benefit options for you and your family. Your attorney, accountant, or financial planner can assist with the details of establishing such a gift. You may also contact Emily Levine, Development & External Relations Director, by email or call 207-871-1700 x759.
In addition, there are other ways to support the library: