Connect with the Library:
3D Printing Guidelines and Procedures
Guidelines and Procedures for using the Library's 3D printer
Please read over the 3D Printing Pamphlet for complete information including 3D printing costs. Then, choose from the options below to print your own designs.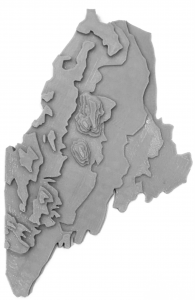 1. Email your file:
Submit your file (in .stl file format) (no larger than 25MB) to 3DPrint@Portlib.org
We'll notify you when your project is ready for pick up at the library. Payment is expected at time of pick up, and must be picked up by the person submitting the file or a designated alternative.
Please note that we do not ship and all items must be picked up at our downtown location, 5 Monument Square Portland, ME 04101.
Sorry! Walk-ins cannot be accommodated.


Learn More about 3D Printing
Design creation:
The 3D printer can be used with basic knowledge of Computer Assisted Drawing (CAD). Creating a new design requires an advanced knowledge of 3D modeling software products. Video tutorials that accompany CAD programs can be of assistance.
Try Tinkercad for beginner-friendly CAD software.
Any 3D drafting software may be used to create a design as long as the file can be saved in .stl file format.
Ready-made digital designs are also available from various websites like Thingiverse, 3D Warehouse, and Bld3r
Resources: