Art & Culture
Portland Public Library is the City's cultural center and is the most visited cultural institution in Maine offering print, film, music, and online collections to showcase the arts and creativity.
We offer materials in the arts and humanities, a wide variety of programming in partnership with local cultural organizations, and a place where creative organizations and individuals can share their work with others. We celebrate the broad diversity of our community's creative expression, and are committed to building awareness and appreciation of the arts around us.
Every third Thursday from October through March, the Portland Conservatory of Music brings its Noonday concert series to Portland Public Library's Lewis Gallery.
Learn More »

Join us on Thursday evenings at 6:30 for a series of films based on banned books, ranging from American classics such as "The Great Gatsby" to horror master Stephen King's thriller "Misery." Free and open to the public. Refreshments provided.
Learn More »

Join author Anne Sibley O'Brien as she discusses her lifelong relationship with South Korea, her empathy for the people of North Korea, and her new novel for all ages, In the Shadow of the Sun. O'Brien is joined by Tufts University professor, Sung-Yoon Lee, an expert on the international politics of the Korean peninsula.
Learn More »

Celebrate the life and illustration work of  Maine's beloved Dahlov Ipcar with this exhibit in the Lewis Gallery, October 6 through December 23, 2017. We will also host several events throughout the fall in conjunction with this exhibit.
Learn More »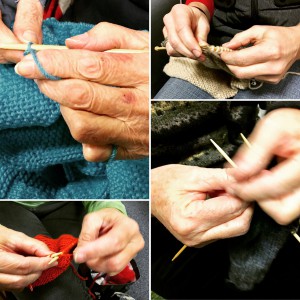 The Riverton Knitting group is for adults who enjoy socializing and sharing projects, patterns, and ideas. Meetings every Thursday night, except for the 2nd Thursday of the month, from 6:30-7:30pm at our Riverton Branch, 1600 Forest Ave.
Learn More »
Feast of Films
On Thursday nights in November, the Library will present a series of films about food. Join us at 6:30 pm. All films are free and open to the public. Refreshments provided.
In addition to our ever-changing exhibits in the Lewis Gallery, PPL has a notable collection of donated and commissioned art pieces throughout our locations including the dazzling new installation The Feathered Hand  by Alison Hildreth in our Main Library Atrium.
Descriptions of many pieces and information about the artists are available on PPL's Digital Commons.
Shakespeare didn't write to be read. His plays were meant to be performed. The speeches of Martin Luther King, Jr. were beautifully written, but the experience of reading them cannot compare with the power of King's delivery.
For more than two decades, PPL has been committed to offering the best of popular feature films, unusual indies, classics, animation, and world cinema, as well as documentaries, performances, and educational and instructional videos.
Learn More »
Museum Passes Available
Portland Public Library offers free passes to several local Museums and cultural sites including Portland Museum of Art, Portland Observatory, Southworth Planetarium, and the Maine State Museum. To request a pass for a specific date, with your Library card, call or visit the Lending Desk at any of our locations.
Connect with the Library: