Art & Culture
Portland Public Library is the City's cultural center and is the most visited cultural institution in Maine offering print, film, music, and online collections to showcase the arts and creativity.
We offer materials in the arts and humanities, a wide variety of programming in partnership with local cultural organizations, and a place where creative organizations and individuals can share their work with others. We celebrate the broad diversity of our community's creative expression, and are committed to building awareness and appreciation of the arts around us.
How are you weathering the challenges of this COVID-19 pandemic?
Send your thoughts, poems, letters, diary entries, original artwork, doodles or comics to isolatingtogether@portlib.org OR. you can submit directly to our Omeka site.
We'll preserve your submissions on our Omeka site.
Archives provide future generations a richer view of history, first-person documentation of our times and lives. This is an opportunity to document our own histories for future historians and social scientists trying to make sense of it a hundred years from now!
___
*Very Special Thanks to the Maine State Library, for hosting and funding our Omeka page
How do you show and receive love, affection, and intimacy right now? We're accepting submissions that answer this question.
Learn More »

Poetry lovers, come explore the web with us! Here's a list of resources and links to poetry. We include favorite websites where you can find fantastic poems, videos of great poetry readings, links to some of the best podcasts today, and more.
Learn More »

How can we keep ourselves engaged, calm, and happy when we spend most of the day in isolation? Portland Public Library staff share some of their favorite websites and apps for learning a new skill, having fun in nature, and making each other laugh.
Learn More »

At this time, many cultural institutions and artists have been sharing content for free, online. We hope to curate links to free entertainment for you and yours. We will be updating this page as new content becomes available.
Learn More »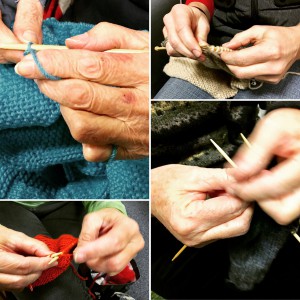 Portland Public Library's knitting groups are open to adults who enjoy socializing and sharing projects, patterns, and ideas. Meetings are held every Thursday night from 6:30-7:30pm at our Riverton Branch, the first and third Saturdays of each month from 10:30am-12:00pm at our Burbank Branch, and the 2nd Tuesday of the month from 6:30-7:30pm at our Peaks Island Branch.
Learn More »

The Portland Poet Laureate is an honorary position given every 2-3 years to a resident of the Greater Portland area who is both an accomplished poet and an excellent ambassador within the community. Portland's current poet laureate is Linda Aldrich.
Learn More »

Founded in 1995, the Portland Conservatory of Music is a nonprofit community music school.  They educate through musical instruction and concert performances. The Noonday Concert Series offers free access to performances by the Conservatory's talented faculty, arguably among Maine's most esteemed musicians.  The weekly concerts are held in downtown Portland throughout the academic year.  The series has always been an integral part of the Conservatory's mission to provide equal access to quality music and highlight its talented faculty and students.
Learn More »

Page to Stage discussions are presented in partnership with the Portland Stage Co. The discussions are held at the Portland Public Library at 12:00 noon on Tuesday, in the Lewis Gallery two weeks before the show opens at Portland Stage.
Learn More »
Join us the First Friday of each month between 5:00-8:00pm for gallery receptions!
Learn More »
In addition to our ever-changing exhibits in the Lewis Gallery, PPL has a notable collection of donated and commissioned art pieces throughout our locations including the dazzling new installation The Feathered Hand  by Alison Hildreth in our Main Library Atrium.
Descriptions of many pieces and information about the artists are available on PPL's Digital Commons.
Museum Passes Available
Portland Public Library offers free passes to several local Museums and cultural sites including Portland Museum of Art, Portland Observatory, Southworth Planetarium, and the Maine State Museum. To request a pass for a specific date, with your Library card, call or visit the Lending Desk at any of our locations.
From the PPL blog:
Juneteenth
An explanation of Juneteenth along with links to resources and events.
More
»
Connect with the Library: