«

Return to About the Library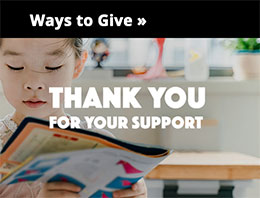 Connect with the Library:
Board of Trustees
2023 – 2024
Erica Johanson, President
Lauren Epstein, First Vice President
David Brennerman, Second Vice President
Peter B. Ventre, Treasurer
Stefanie Manning, Secretary
trustee@portlandpubliclibrary.org
---
Ekhlas Ahmed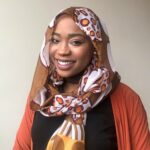 Bio: Ekhlas Ahmed was forced to flee the outbreak of civil war in Sudan with her mother, father, and three younger brothers in 2004. Her family was resettled to Portland, Maine, where she earned her Bachelor's Degree in International Relations and a Masters degree in Education from the University of Southern Maine with hopes of helping resettle other refugees. She is the Founder and Executive Director of Chance to Advance, CTA is dedicated to uplifting the voices of immigrants, refugees, and asylum seekers through storytelling to break down barriers for a more inclusive, connected, and educated world.
Why I serve on the Board: The Portland Public library has played a huge part of my childhood, it was a space where I got to hang out with my friends, read books that allow me to understand more about  my new country and culture, a space where I felt free to imagine and create.
When the opportunity came to serve on the board I did not hesitate. I serve on the board of Portland public library because I want to continue building and cultivating a space where people from all different backgrounds feel like they belong in. Space that is welcoming/ inviting that allows us to build a community that we want ourselves, children and the next generation to be apart of.
---
Elisabelle Bocal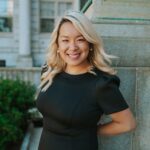 Bio: A native Portlander, Belle boomeranged back to Maine after finishing her Master's degree from Boston University in Applied Market Research and Analytics. Growing up first-generation Vietnamese American, Belle appreciates the path her education set her on and remains diligent that she can pay it forward. She does this through her work in philanthropy on the Institutional Advancement team at the University of New England, where she is also obtaining her master's degree in Clinical Social Work with an interest in the psychological and physiological impacts of racism.
Belle has over a decade of experience working in the nonprofit sector, is trilingual in English, French, and Vietnamese interpreting for refugee and immigration services through Catholic Charities of Maine. She serves as the President of the Junior League of Portland, ME celebrating their Centennial year (est. 1922).
Why I serve on the Board: R. David Lankes said, "Bad libraries build collections, good libraries build services, [and] great libraries build communities." I feel incredibly fortunate my lifelong relationship with libraries started at four years old right in Monument Square with my dad, a weathered L.L.Bean Boat and Tote, and only the limits of my own imagination. There, PPL, dad, and the agency of having my own card instilled the importance of libraries as not only being a collection of books, but as Lankes notes– "build services," and ultimately "build communities." What a humbling privilege to serve on PPL's Board and hold these truths for members of our communities.
---
David H. Brenerman, 2nd Vice President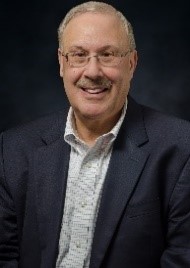 Bio: David Brenerman is a former Portland Mayor, City Councilor, and state legislator.  He retired from Unum after 29 years as a government relations executive and currently is a public policy consultant.  David is the longest-standing member of the Library Board of Trustees, having served two different periods as a Trustee, including 3 years as Board President.  He is also an Honorary Board Trustee.
 Why I serve on the Board: My relationship with the Portland Public Library goes back to growing up on Munjoy Hill in Portland as a frequent user of the Adams School branch.  It was there that I learned the value of a public library to the lives of people of all ages, ethnic groups and races, and income levels.  Now, as then, our free library is not only a center of knowledge, but a gathering place for so many in Portland and the region and is a centerpiece of our community. I have been honored to be a part of this wonderful organization which, through its terrific staff, opens up so many opportunities for our citizens.
---
Anne R. Dalton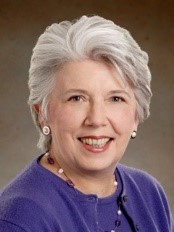 Bio: Anne Dalton joined Association of Junior Leagues International Inc. (AJLI) in 1983 and has been involved in consultative services, training and senior management ever since. As AJLI's Senior League Relations Specialist, she supports the association-wide Strategic Transformation Rollout efforts, provides strategic consulting and training in governance and community impact, supports a system of volunteer consultants providing consultative services to Junior Leagues and is a member of the senior leadership team. Previously, she was Girls Club of New York's Executive Director, Henry Street Settlement's Director of Youth Employment Services and Senior Planner with the Vera Institute of Justice. Anne holds a BA in English from Cornell University, an MSW from Hunter College and is a graduate of the Carver Policy Governance Academy and the Institute for Civic Leadership's Leadership Intensive.  She is a Sustaining member of the Junior League of Portland, Maine, member of the board of the United Way of Greater Portland, chairs a Goal Cabinet as part of Greater Portland's Thrive2027 collective impact initiative, and is a former (2013-2019) member of the board of Govern for Impact (formerly the International Policy Governance Association).
Why I serve on the Board:  When I was growing up, libraries introduced me to the power of reading and that opened so many doors. As I aged, I also came to see libraries as a centerpiece of community in innumerable ways that stretch far beyond the power of reading. Being a part of helping PPL continue to be at the center of the Greater Portland community is a privilege.
---
Brian Eng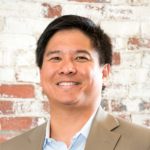 Bio: Brian is a real estate investor with a community development problem. He enjoys his work because of the impact that buildings have on the communities around them.
Why I serve on the board: Public libraries usually are among the most important buildings in a community. From their traditional role as places to interact with books (and the librarians who love them) to their newer roles like providing access to reliable broadband service, libraries are crucial. The Portland Public Library is an exceptional example of this invaluable community asset.
---
Lauren Epstein, 1st Vice President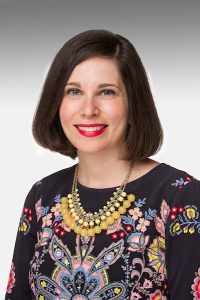 Bio: As a Vice President, Senior Trust Officer with Camden National Wealth Management, Lauren manages relationships with individual and institutional clients.  Her experience in planning and administration has built a strong foundation for the advice she provides to clients.  Prior to joining Camden National Wealth Management, Lauren was an attorney at Bernstein Shur, where she focused her practice on developing and drafting comprehensive estate plans, gift and estate tax planning, and probate administration.  A graduate of the University of Maine School of Law and State University of New York at Geneseo, Lauren is a licensed attorney in Maine, Massachusetts and New Hampshire.  Lauren and her family live in Portland, Maine.
Why I serve: Libraries have always been important to me.  When I was growing up in New York City, I used to visit the neighborhood library on a weekly basis, and I remember taking out 10 or 15 books at a time.  Now I get to do that with my daughter, and we often spend a Saturday morning at PPL, where now she gets to pick out her own stack of books.  Serving on the Board of PPL, I have a more active role in supporting and promoting this great institution, which plays an integral role in the social fabric of our community.
---
Erica M. Johanson, President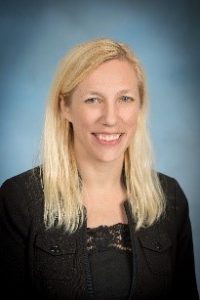 Bio: Erica Johanson lives and works in Portland, Maine. She is a litigator at the firm of Jensen, Baird, Gardner & Henry. Erica is passionate about the American experiment and believes libraries are a mainstay in our pursuit of happiness.
Why I serve on the Board: I feel privileged to support PPL, which offers to all members of the Portland community not only information but also fellowship and beauty through its public spaces and programming.
---
Stefanie Manning, Secretary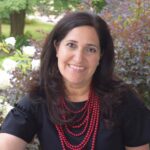 Bio: Stefanie is on the leadership team at Masthead Maine, serving as Group Vice President, Consumer Revenue. Masthead Maine is the state's largest media network, including five dailies and 25 weekly publications.  In her role, Stefanie is charged with overseeing the circulation operation and its evolution to digital.  She is focused on driving subscriptions, creating new sources of revenue, building communities of readers and giving (local) journalism heightened visibility in the communities they serve.  Stefanie also serves on the Board for the Local Media Consortium and is Board Chair for the Press Herald Toy Fund, delivering holiday gifts to 3,500 Maine children each year.
Stefanie spent most of her publishing career in New York City, most recently as Associate Publisher of O, The Oprah Magazine at Hearst for 13 years. Stefanie and her Portland-native husband and three daughters moved to Maine in 2013 to take advantage of life the way it should be.
Why I serve on the Board: The PPL is a tremendous asset to our community. As a life-long library card holder, it's important to bring my experiences, skills and connections to the table to support and sustain our library for the future.
---
Nancy Osher Blumberg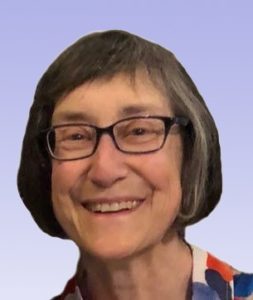 Bio: Nancy Osher Blumberg is a native of Portland who has also lived in Boston, Chicago, Washington, D.C., Palo Alto, and Jerusalem before returning to Maine in 2005. Prior to retirement she worked in finance and administration of non-profits in conservation, healthcare, higher education and immigration.
Why I serve on the Board: I view libraries as Palaces for the People, the title of a book by Eric Klinenberg. The book's subtitle is How Social Infrastructure Can Help Fight Inequality, Polarization, and the Decline of Civic Life. As the most visited cultural institution in Maine, PPL does all of that and more. Devoting time and energy to furthering the Library's inspiring vision is a privilege for which I am grateful.
---
Jonathan S. Piper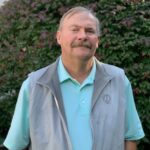 Bio: Jon has held a variety of leadership positions in the Greater Portland community. For seventeen years he served as Managing Partner of his law firm, Preti Flaherty. At other times, he chaired the Litigation and Media Law practice groups and served as the firm's General Counsel and ethical advisor. For twenty-three years, Jon served on the Board of Mercy Hospital culminating in three years as the Chair of the Board of both Mercy Hospital and Mercy Health System of Maine. Jon also served as chair of the capital fund drive for the construction of Mercy's new campus on the Fore River and has since been honored as a Lifetime Trustee. Jon resides in Falmouth where he and Mary raised their four sons. Jon served many years on the Falmouth Town Counsel, and as it's chair. Other service to the town has been on the Zoning Board, the volunteer fire department, founder and original chair of the Route One Study Committee, and as coach to innumerable Little League baseball and PeeWee basketball teams. When not chasing his grandchildren around Jon is a voracious reader and an occasional golfer.
Why I serve on the Board: As a First Amendment attorney, I am ever aware of the assaults on our democratic institutions and principles. Professionally and personally each of us must stand for the marketplace of ideas, access to informed facts, and the courage to speak truth to ignorance and demagoguery. Institutions like Portland Public Library are essential to that mission.
---
Matthew Purington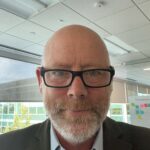 Bio: My Wife Kitty and I have lived in Portland since 1990 where we raised our two (now adult!) children Ella and Malcolm. I have been employed in various roles at Unum for 30 years, and Kitty and I are co-owners with our friends of Portland restaurants Local 188, Salvage BBQ, and Black Cow Burger.
From 2014 through 2020, I served as a member of Portland's Community Development Block Grant Committee responsible for the allocation Housing and Urban Development grant funds to applicant organizations throughout the community. In 2021/2022, I participated as a member of the Long Island, Maine Comprehensive Plan Committee. I graduated from St Lawrence University in 1989 (BA, Political Science and Philosophy) and earned an MS in Management from Lesley University in 1997.
Why I serve on the board: As the son of a librarian and a lifelong avid reader, I have always valued the library as a tremendous community resource for learning, interacting with neighbors, and as an unparalleled resource for information and support services. For me, the library is an essence of what it means to be part of a community, a place where resources and information are freely available and shared for the benefit of the collective good.
---
Nate Stevens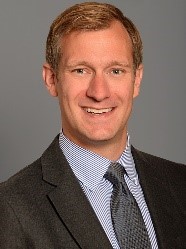 Bio:  Nate Stevens joined The Boulos Company in 2007 after working with CBRE in Tucson, Arizona prior to moving back to Maine. Nate works in all areas of commercial real estate including office, retail, industrial, development, and investment properties located in Central and Southern Maine. A Portland, Maine native, Nate left to study at the University of Arizona where he received his bachelor's degree in Regional Development. He was an accomplished swimmer captaining the Division 1 men's team to consecutive top four finishes at the NCAA Division 1 championships as well as earning All-American status and reaching a top 25 world ranking.  Nate lives in Portland with his wife and son.
Why I serve on the Board: I was born and raised in downtown Portland and when I was a young child the Library was always a safe and happy place for me and my family and friends to gather. This is my opportunity to give back to the Library I have utilized for so many years. I have fond memories of story time, small concerts, exploring every aisle, and later in high school while attending Portland High School working on school projects with classmates. I now live in the Deering Center neighborhood and frequent the Burbank Branch with my own son in hopes of showing him everything a library has to offer! Today libraries are such an important part of the community bringing everyone together in a safe, judgement free environment. The Portland Public Library has such a long, rich history in this city, and I feel honored to be a part of it.
---
Sharon Sudbay
---
Peter B. Ventre, Treasurer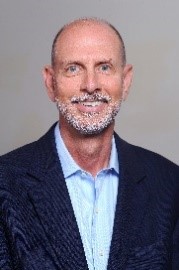 Bio:  Peter is a seasoned finance professional with expertise in corporate finance, mergers and acquisition advisory, and accounting management. His professional focus is serving clients on structuring corporate and commercial real estate financing transactions and representing business owners in the sale of their businesses.  Personally, he enjoys anything that gets him outdoors and moving, rowing, sailing, skiing, and hiking. He enjoys cooking for his family: his wife Liz of 29 years and their two adult children.
Why I serve on the Board: I love libraries! From an early age, we visited our local library weekly.  We continued that tradition with our children.  I find libraries awe-inspiring for the sheer knowledge that resides in them.  I sometimes simply need a place away to think. Libraries have always been the go-to place for me to do so. Our Portland library is a wonderful regional and statewide resource.  I'm delighted to serve on its Board of Trustees.
---
Caitlin Wahrer
Bio: Caitlin is a novelist who works in Portland and lives in southern Maine with her family. For years she worked as an attorney in Portland, largely doing court-appointed work and general civil litigation. Caitlin has worked at two public libraries, first as a teenager and later after she sold her debut novel, The Damage.
Why I serve on the Board: I grew up going to the library in my small hometown, and I eventually worked there as a teenager. As a law student I learned the unique brilliance and value of law librarians. Then, as an attorney, public libraries became an important resource for myself and my clients; I frequently met with clients at libraries and represented people who relied on libraries for things like computer access and a space to spend time. When I started writing my first novel, I joined a writing group at my local library; when I sold that novel and decided to pause my law practice, I started working as a substitute employee at the South Portland Public Library. Now, as a mom, I bring my daughter to libraries all over southern Maine to play, see other kids, and read.
In short, libraries have been indispensable to me as a reader, lawyer, writer, worker, and parent. The Portland Public Library has always struck me as being especially poised to be a resource for a huge number of people. I'm excited for this opportunity to help support the library, its staff, and its patrons. 
---
Joe Walsh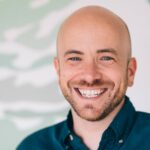 Bio: Joe founded Green Clean Maine in 2007 to offer an environmentally-friendly way to clean homes in Greater Portland. He's since grown the business to employ more than 30 people and has consulted nationally for other service-based businesses. Joe is passionate about the role small businesses can play in fighting climate change. An avid outdoors enthusiast, he helped to form the Portland Gear Hub to improve access to the outdoors for underserved youth. In the business community, he has been heavily involved in Portland Buy Local and the Maine Center for Entrepreneurs. He successfully advocated publicly for small local businesses throughout the COVID-19 pandemic and is currently serving on the advisory board for On the Pathway to 100% Clean Energy, a campaign to help Maine businesses make the transition to clean energy.
Why I serve on the board: I see the public library as a critical, foundational institution in a democratic society. The library's role in our community is particularly important given the state of public discourse of late. More than ever, we need a place where we can freely access reliable information and exchange ideas in a constructive, productive way. I'm proud to help advance the library's mission through board service. On a personal note, I most enjoy going to the library with my son, who can spend hours in the children's section, reading and exploring.
---
Andrew Zarro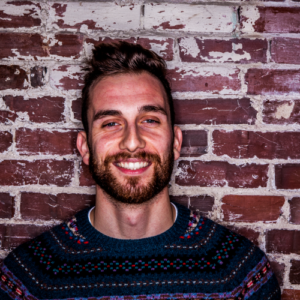 Bio: Andrew is the City Council Appointee to the Portland Public Library Board of Trustees. Andrew received a B.S. in Applied Economics from the University of Vermont, and a Master of Public Administration MPA from Northeastern University, under the tutelage of Governor Dukakis. Andrew is a small business Owner in Portland, ME, where he emphasizes the importance of putting his community at the forefront of his business model. Prior to owning and operating a small business, he worked for GrowSmart Maine engaging Maine municipalities at the intersection of their economy, community and environment. Andrew was also a Main Street Director with Boston Main Streets working to promote the model outlined by the National Historic Trust and Main Street America, one of the most powerful economic tools supporting small and locally owned businesses in the country.
Why I serve on the Board: To paraphrase JK Rowling, "When in doubt, go to the library." I believe the public library is one of the greatest investments we can make to any community. It is the ultimate gathering place, where an exchange of knowledge, fact and fantasy coincide all within the quiet buzz of those sacred walls. The Portland Public Library is an outstanding model for excellence in their commitment to equity and inclusion, and I am honored to have the opportunity to give back to the library by serving as a member of the Board.