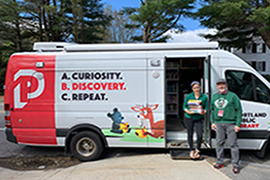 Visit us!
Welcome to the Library! Portland Public Library includes the Downtown Library, three branches, Portable Library services including a Bookmobile, and a collections Annex. Use the map to find the location most convenient to you for detailed hours, events, and contact information.
See our Holiday Schedule for planned closings.
Click on a branch to see full hours at a specific location.
Note: Portland Room hours are different than the Downtown Library hours.
Connect with the Library: