«

Return to Ways to Give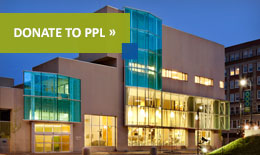 Connect with the Library:
Material Donations
Are you wondering what to do with your good-quality used books, CDs, and DVDs? Are your shelves overflowing, or are you rearranging and looking for a home for some old favorites? Donate your gently used books to the Library for our collections or semi-annual book sales.
What does the library accept?
We accept new or gently-used books, CD's, DVD's, and high-quality magazines. However, we cannot use materials that are worn, are out-of-date or may contain mold or mildew. If you have questions about the usefulness of a donation, please email our Development Office or call 207-871-1700, ext. 759.
What will the library do with my donation?
If we cannot use the items in our collection, we will sell them at one of our Book Sales which help fund new library materials and pay for special programs.
How do I donate?
Leave your donation at the Main Library's Elm Street loading dock at any time. if your donation is over 4 boxes, please call ahead at 207-871-1700, ext. 756 or bring smaller donations to your local branch during open hours.
Will I get a thank you letter?
We do not send letters for materials donations automatically. If you would like an acknowledgment letter, please attach a note to your donation including your name, mailing address and description of your donation (example: 3 boxes of books or 4 children's picture books). We usually send letters within two weeks.
In-Kind Donations
At times, we need to reach beyond the annual budget to fund items that we need for library services or programs. In-kind gifts could include office equipment, furniture or supplies, artwork or historical collectibles, tools of the trade, etc. If interested in making an in-kind donation, please email Emily Levine, Director of Development & External Relations, or call 207-871-1700, ext. 759.