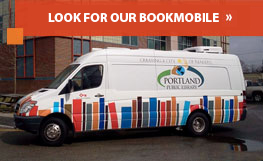 Connect with the Library:
Employment at PPL
At this time, we have three (3) benefit eligible position open.  Please see below for more information on the Senior Library Assistant (PT), the InterLibrary Loan Supervisor and the Human Resources Director positions.
From time to time, we do have substitute positions open. If you are interested in applying for either, please complete the employment application below.
We will contact you in the event an opening arises for which your background seems a good fit.
If you are interested in applying please complete the Employment Application form and forward it to Human Resources or email it to hr@portlib.org
---
Senior Library Assistant – Grade 59 – 22.5 hours per week
The Portland Public Library is seeking a part-time Senior Library Assistant for 22.5 hours per week with pro-rated benefits. The Senior Library Assistant is an integral member of the desk services at the Main Library providing customer service and support to library users at the Lending and Public Computing desks. The position reports to the Lending Desk supervisor(s).
The Senior Library Assistant regularly works with a wide variety of the public and facilitates a variety of patron account matters. S/he must be able to interact effectively and manage sometimes difficult situations.  This work is performed in a fast-paced environment and requires an exceptional level of customer service.
RESPONSIBILITIES:
Issues new and replacement borrowers' cards, verifying identification and address, checking for previously issued cards, collecting fees from non-district borrowers, and orienting patrons to Library policies and services.
Receives, interprets, and answers inquiries from library patrons, both face-to-face and over the telephone. Explains and/or demonstrates how best to use the website for searching, placing holds, and other patron functions unique to BiblioCommons.
Checks materials out and in; collects fines for overdue items and payments for lost or damaged materials; makes note of the condition of materials leaving the Library, and checks returned print and audiovisual material for damage or missing parts; processes special requests such as renewing materials and placing holds.
Signs for deliveries; receives donations of materials; and routes public service announcements for posting.
Assists patrons in the use of Pharos computer and print management system by helping them use the sign up, queue, and print release stations. Assists with sign up for and scheduling computer sessions, queue management, retrieving lost print jobs, etc.
Issues computer guest passes, including reviewing ID and account status, confirming eligibility, and maintaining solid record keeping ensuring computers are used according to library policy.
Assists patrons in basic uses of computers and the internet, as time permits. This includes coaching in introductory use of the internet and the use of the library's website and online resources, such as basic support in setting up and using email accounts, accessing online forms, and using productivity software.
Refers patrons to other service desks or staff experts for more in-depth information.
Assists patrons using the wireless environment with basic connectivity and usage issues.
Daily set up and shut down of service desk involves checking that due dates are correct, collecting and storing monies received for fines, lost cards, etc.
Updates patron database by accurately entering information about newly registered patrons, proactively obtaining patron's contact information changes, and promptly making the changes to keep existing records up-to-date.
Participates in maintaining a safe and welcoming environment for fellow staff and library users.
This position must use careful judgment to discern patron needs and resolve matters in the most mutually successful way.
Requirements:
Baccalaureate degree from accredited college or university, or equivalent combination of education and experience.
Two years public service experience (prior library experience preferred).
Enjoyment of technology tools and advances, and an overall savvy with computers, specialty software, and the internet.
Highly organized to manage time and keep on schedule.
Customer service-driven and adaptable in working with a variety of patrons.
High attention to detail.
Ability to remain calm, courteous, and accurate in a fast-paced and often demanding environment, juggling tasks and using excellent judgment.
Effective communicator with the patron community and colleagues.
Comfort in working independently.
Schedule:
Tuesday: Noon – 7pm
Wednesday: 10am – 2pm
Thursday: 11:30aam – 7pm
Saturday: 10am – 5pm
Anyone interested in applying should submit a cover letter and resume to hr@portlib.org by Monday, November 26th.
(posted 11/9/2018)
---
Interlibrary Loan Supervisor
Portland Public Library is seeking an Interlibrary Loan Supervisor. This is a full-time, Grade 65, 37.5 hour per week, benefited position.
Reporting to the Director of Access and Technical Services, this supervisory position manages incoming and outgoing Interlibrary Loan (ILL) Services to patrons, district libraries, and libraries worldwide. This position supervises ILL staff, substitutes and volunteers and is responsible for organizing and maintaining efficient departmental work flow.  This position also supervises the Switchboard. Working with the Director of Access and Technical Services, this position sets goals and objectives for the department, and conducts performance appraisals with staff members.
Major Responsibilities
Developing and implementing procedures which will ensure the processing of requests and the delivery of materials in a timely fashion. This position processes requests in OCLC WorldShare daily, coordinates efficient packing and shipping procedures, maintains statistics and submits monthly performance measures to the Director of Access and Technical Services and prepares annual reports for the Maine State Library.
Training staff in current ILL & Switchboard procedures and the systems and software used for each.
Interpreting ILL policies and procedures related to WorldShare for individuals and libraries that use the ILL Service of the Portland Public Library which may sometimes require reconciling complex, unusual situations.
Working cooperatively with the Region 1 & Region 2 Consultant to publicize ILL services and may participate in informational or educational presentations.
Coordinating, within the PPL system, the policies and procedures surrounding Maine InfoNet and for interpreting those policies and procedures to PPL patrons and staff as necessary.
Maintaining all INNreach reports which must be maintained to avoid system issues statewide.
Maintaining a thorough knowledge of ILL & Switchboard technology, software and upgrades. This position is responsible for implementing updates in ILL & Switchboard technology as they become available and for monitoring and revising the ILL presence on the PPL web site, including Region 1 & Region 2 ARRC Services, OCLC WorldShare electronic submission forms and policy statements.
Overseeing the coordination of the Maine Delivery System as they relate to the Portland Public Library.
Oversees the ILL piece of PPL's ARRC services to, Region 1 and Region 2 and oversees receiving, interpreting and referring requests from libraries in Region 1 and Region 2 and for providing bibliographic verification as needed for certain author/title and photocopy requests. This requires knowledge of the circulating collection, both juvenile and adult, and an ability to use the basic reference resources of the Library, including books, indices, on-line databases and other pertinent materials.
Basic Qualifications
At the entry level, this position requires the following: 
Baccalaureate degree from an accredited college or university or equivalent knowledge and experience.
Solid general knowledge of literature and a basic familiarity with standard reference sources and procedures.
Strong supervisory skills to manage a diverse team of paraprofessionals, substitutes and volunteers.
Excellent verbal and written communication skills in dealing with the public and library staff effectively and diplomatically.
Ability to effectively convey and explain ILL policies and procedures to a varied audience, and to exercise good judgment in the interpretation of those policies.
Ability to use technology effectively and learn new tools quickly.
Ability to work cooperatively with staff, administration, patrons and librarians in the district, state and nationally.
Ability to prioritize demands and work independently in a multifaceted, fast paced environment.
Strong service orientation and demeanor appropriate to provide a high level of service to a diverse public.
This position may spend a significant portion of the workday at a computer terminal. The person in this position is sometimes called upon to lift or move totes or crates that may weigh up to 25 lbs.   May also need to use a dolly to move totes/crates weighing more than 25 lbs.  Ability to bend, stretch and reach to handle materials.
 Please submit cover letter and resume to hr@portlib.org by Monday, November 19th.
(posted 11/5/2018)
---
Human Resources Director
Portland Public Library is seeking a Human Resources Director. This is a full-time, 37.5 hour per week, benefited position.
Reporting to the Executive Director, the Human Resources Director is chiefly responsible for the Library's human resources management in the areas of: planning and policy development, staffing, training, benefits, work environment, employee relations and volunteer development.  This person assists in the general administrative support and management of library operations and the Collective Bargaining Agreement (CBA), to assure the most effective utilization of human resources.  This individual promotes employee welfare in support of the Library's service and organizational goals. 
This person is responsible for all aspects of the Library's human resource management, working collaboratively with the Executive Director and in cooperation with members of Senior Leadership and area Directors, as well as the City's Human Resources Department.  This person co-directs and co-supervises the work of the Finance and Human Resource Specialist in the activities which support the human resources functions.  
This non-union, administrative position, along with the Executive Director, Associate Director, Development Director and Finance Director comprises the Library's Senior Leadership team.
Major Responsibilities:
Ability to lead the HR function in support of fulfilling the Library's mission, and a commitment to building a strong, diverse team.
Ability to independently manage complex projects.
Meets regularly with the Executive Director and other Directors to share ideas, plans, concerns and projects with one another; to consider the goals and objectives of the Library; and to recommend policies and plans to implement those goals and objectives.
The incumbent keeps abreast of human resource developments and best practices and how they apply to the Library's needs, bearing in mind diversity, disability issues, EEO, and work force composition.
Stays informed about upcoming needs in library staffing and develops plans for recruitment for both regular and temporary employees.
The incumbent develops and manages the Library's performance appraisal system.
Holds high level of knowledge of employment laws and keeps informed of changes in law which may affect the Library's operation. Develops necessary changes to HR practice and policy.
Strong collaborative skills, with the ability to respectfully communicate ideas, policies, and expectations.
Develops, facilitates, and seeks out individual and organizational training opportunities for Library staff.
Stays informed regarding the Library benefits program through the City and informs employees of any changes.
Keeps informed about issues affecting employees by fostering good communication with individual employees and groups of employees.
This person seeks opportunities to create and promote institutional methods for appreciating employees (Staff appreciation events, holiday events).
Responsible for all aspects of the HR employee lifecycle from recruitment through termination/transition.
Seeks relevant and important professional development opportunities.
Participates and advocates for maintaining a safe and welcoming environment for staff, volunteers and library users.
Qualifications:
At entry level this position requires a B.A. or B.S. degree from an accredited college or university, and at least 3 years of successful experience in human resources management, preferably in a similar setting. Collective bargaining experience preferred. Master's degree preferred.  SHRM certification preferred.  Additionally, the following skills are required: 
Strong expertise in human resources administration best practices
Demonstrated interpersonal skills to establish and maintain cooperative working relationships with library staff and administration, one on one and with groups
Ability to mediate in difficult situations, discretion in working with highly confidential material
Effective communication both verbally and in writing
Capacity to coordinate multiple tasks under time constraints
Demonstrated analytical, critical thinking, problem solving, and negotiation skills
Strong service orientation and demeanor appropriate to provide a high level of service to a diverse public
Sufficient physical stamina and general health to perform tasks as noted above
Ability to intervene or summon help in security situations
Ability to supervise staff
Sense of humor
Those interested in applying should send a cover letter and resume to hr@portlib.org by Friday, November 16th.
(posted 11/1/2018)
---
Portland, Maine is consistently ranked among the best places to live in the U.S.
Some recent accolades:
Bon Appetite (2018): Restaurant City of the Year 2018
Elle Decor (2015): The Coziest City in America
Green Living Magazine (2014): #1 Happiest City in the Eastern US
Huffington Post (2014): One of the 13 Greatest Destination Food Towns
Outside Magazine (2014): #13 Greatest Place to Live in America
Smarter Travel (2014): One of America's Best Small Cities on the Rise
Wine Enthusiast (2014): One of America's 5 New Foodie Cities
Parenting Magazine (2012), Best Cities for Families
Forbes Magazine (2011), Best Cities for Young Professionals
GQ Magazine (2010), Coolest Cities in America
Outside Magazine (2010), Best Towns 2010 (Best Overall, East)
To learn more about Portland:
City of Portland, Maine
Portland Downtown
LiveWork Portland (Creative Portland)