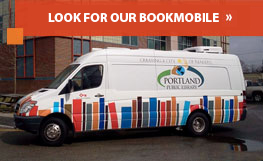 Connect with the Library:
Employment at PPL
At this time, we have one (1) current opening. Please see below for information on the Lending Desk Supervisor (PT) position.
Lending Desk Supervisor (Grade 64) PT
This is a 22.5 hour/week position.
The Lending Services Section of the Access Services provides high quality, efficient computer-assisted lending service to the people of Portland and Southern Maine.
Reporting to the Access and Technical Services Director, this position is responsible for performing functions which help patrons, borrow and return library materials, and to coordinate and oversee the activities of other Lending department staff members who provide lending services at the Main Library.
The key challenge of this position is to create a smooth flow of work so that the patron will be served in a timely, courteous and effective manner.
This position supervises and coordinates the Main Library Lending Services staff and workflow at the desk including constructing staff work schedules, and locating and training substitutes when needed. This position supervises Lending Services desk staff, shelving staff, and volunteers as they carry out the section tasks.
This position is responsible for providing internal and external technical support in regard to the ILS (Integrated Library System), creating and running queries and overall data management using the ILS and Excel.
The Lending Desk Supervisor receives, interprets and answers inquiries from patrons in person, by email, and over the telephone about library services, procedures and policies, and web catalog functionality. It is necessary for the Lending Desk Supervisor to have a working knowledge of other library departments as well as other staff functions.
The Lending Desk Supervisor performs patron transactions as needed such as checking books in and out, placing holds for requested materials, collecting money for late fees or lost/damaged materials, renewing items, issuing patron cards, sorting books from the branches, and coordinating delivery of items brought to the Lending Services desk.
The Lending Desk Supervisor handles complaints from dissatisfied patrons if other staff feel they cannot satisfactorily handle the complaint. The incumbent is responsible for receiving damaged materials or incomplete AV items, determining the patron responsible, and following up with appropriate action (bill, notice of missing item, etc.) If there are disputes, the Lending Services Desk Supervisor may bring them to the Access and Technical Services Director for resolution.
The Lending Desk Supervisor performs the functions of "opening" and "closing" the Lending Desk area. S/he prints routine notices on the automated circulation system. If problems arise that s/he is unable to resolve, s/he reports them to the Access and Technical Services Director.
The Lending Desk Supervisor must be able to understand and interpret the information in the library management software concerning the materials and/or patrons' records, and relate this information to the staff/patron in a clear, efficient, and ethical way. Knowledge of bibliographic format, and the ability to interpret material status information on the computer is essential when answering staff or patron questions.
Performs other duties and special tasks as required. Included among these are the development and training of new PALs libraries in the Southern Maine Library District; development of specialized training tools such as the Lending Desk manual and Shelver's Handbook; performance of regular routine database maintenance the require the use of querying skills and Excel skills; and solving intermediate level technical issues with the ILS software and web catalog.
Leads in maintaining a safe and welcoming environment for fellow staff and library users.
This position uses careful judgment to discern patron needs and resolve matters in the most mutually successful way.
Basic Qualifications:
At the entry level, this job requires a Baccalaureate degree from an accredited college or university, preferably in Liberal Arts, or any equivalent combination of experience and education which provides the following knowledge, abilities, and skills:
Strong service orientation and demeanor appropriate to provide a high level of service to a diverse public.
Ability to motivate and supervise the work of others.
Ability to work effectively and cooperatively with other members of library staff
and administration.
Familiarity with standard bibliographic and classification formats
High-level skill with office productivity software and software that manages library transactions with patrons.
Ability and high degree of comfort with exploring and learning new technologies
Ability and high degree of comfort working with data in multiple software environments
Ability to maintain high attention to detail.
Ability to carry out assignments independently and organize and follow through
on multiple tasks.
Knowledge of reader interests, books, and authors.
Ability to communicate effectively in person and in writing.
General knowledge of computers and peripherals.
Ability to project a calm, pleasant, professional demeanor in a very demanding multi-task environment.
Prior library experience helpful.
Please send cover letter and resume to hr@portlib.org by Friday, October 13th.
(posted 10-2-2017)
---
Portland, Maine is consistently ranked among the best places to live in the U.S.
Some recent accolades:
To learn more about Portland:
---