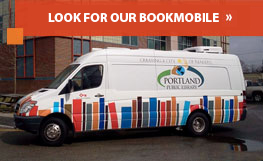 Connect with the Library:
Employment at PPL
At this time, we have one (1) current opening.  Please see below for the Business & Government Librarian I/Research and Information Services position.
_____________________________________________________________________________
Business & Government Librarian I, Research and Information Services
Librarian 1 – 37.50 hours/week
This notice posts the opening of Librarian 1, Business & Government Librarian.
Portland Public Library is searching for a librarian who will deliver professional reference and information services to the public.  The primary focus of this position is the planning and delivery of services to the business and government communities. To meet this goal the librarian will work with many partners and community members.
In support of the goal, this person is responsible for leading a collaborative approach to develop the collections related to business and government, creating programming, and establishing general planning.
He/she provides professional reference and information services to the public at the Reference desk and various other locations. This position is in the Research and Information Services department, a major public service component of the Library.
MAJOR RESPONSIBILITIES:
Leads Business and Government related initiatives, creating goals, metrics, and programs and coordinating material selections.
Selects, develops, and maintains all reference and circulating materials within the subject areas of business, commerce, economics, law, government, politics, civic engagement and education.
Develops programming within this subject area in collaboration with the Programming Manager.
As a member of the Research and Information Department:

Provides research and information service to the public of all ages, in person and through any medium required.
Serves as the subject specialist for the questions and recommendations concerning the areas above.
Oversees (outside of the meeting rooms and gallery) the public space of the Lower Level when staffing the Reference desk.
Participates, with the Supervisor of Record, in the planning and implementation of reference services, with particular responsibility for the business and government areas.

Serves as the Library's Government Documents Librarian;
Participates in special projects or tasks as necessary.
Seeks opportunities for professional development.
This position reports to the L3, Head of Research and Information Services.
Required qualifications:
Graduation from an accredited college or university with a Master's Degree from an accredited graduate library program or equivalent training and experience.
Three years' previous successful employment in a professional capacity, including supervisory experience, preferably in a public library setting.
Course work in Political Science and/or Business preferred.
Please send cover letter and resume to hr@portlib.org or mail to HR Director, Portland Public Library, 5 Monument Square, Portland, ME  04101 by April 7, 2017.
(posted 3/23/2017)
---
Portland, Maine is consistently ranked among the best places to live in the U.S.
Some recent accolades:
To learn more about Portland:
---