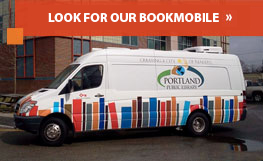 Connect with the Library:
Employment at PPL
At this time we have one benefited position open.  Please see below for more information on the Library Technology Manager/Network Administrator position.
From time to time, we do have substitute and/or shelving positions open. If you are interested in applying for either, please complete the employment application below.
We will contact you in the event an opening arises for which your background seems a good fit.
---
Library Technology Manager/ Network Administrator
Portland Public Library is looking for a Library Technology Manager/Network Administrator to join this dynamic, mission-driven organization.
This position will manage our technology platform from top to bottom, providing infrastructure expertise and development as well as day-to-day hands-on support in a dynamic, forward-looking information environment. Ideal in this position is the ability to maintain the integrity of the technology infrastructure and to contribute to its vision and growth. The Library is seeking an experienced, energetic and talented individual, who thrives in an environment of high aspirations tempered by limited resources.
Key responsibilities:
Maintains and continuously refines the technology infrastructure of the Library's Main, Branch, Annex, and Outreach locations
Engineers and manages servers, virtual servers, networking, bandwidth, and other central technology systems to ensure availability, functionality, and stability
Manages and troubleshoots staff and public technology environments, including public computing, public catalog kiosks, public information stations, and other public-service workstations
Supervises part-time help desk technician.
Selects all hardware and software for purchase, leads implementations of new systems, and installs all equipment
Works with all levels of library staff stakeholders for effective planning, deployment, and maintenance of library technology solutions
Contributes to preparation of annual technology budgets and strategic plans
Coordinates service agreements and other contracted support with system vendors
Manages website platform
Manages telephone system
Professional requirements:
Bachelor's degree in computer science/information systems, or equivalent certification and experience.
3-7 years experience with complex, multisite WAN networks, network security and server management
Proven communication excellence to explain technology needs, consult on technology solutions and teach/coach for technology implementation and maintenance
Proven expertise with Microsoft Windows servers (Server 2003, Exchange 2007, WSS 3.0, Active Directory); Microsoft certification is a plus
Proven project management expertise
Outstanding customer service commitment and practice
Deep natural curiosity and interest in the changes and challenges of a rapidly transforming institution
Library experience a plus
Preferred qualities:
Ability to build strong relationships with all users, stakeholders, and decision makers
Keen attention to detail
Well developed sense of humor in a high energy, fast-paced, environment
Ability to manage numerous projects and issues simultaneously
Ability to supervise others
Candidates should apply providing a cover letter and resume to:
Human Resources
Portland Public Library
5 Monument Square
Portland, Maine 04101
OR email to hr@portlib.org
Preference will be given to applications received by 4/14/18.
(posted 4-2-2018)
---
Portland, Maine is consistently ranked among the best places to live                               in the U.S.
Some recent accolades:
Elle Decor (2015): The Coziest City in America
Green Living Magazine (2014): #1 Happiest City in the Eastern US
Huffington Post (2014): One of the 13 Greatest Destination Food Towns
Outside Magazine (2014): #13 Greatest Place to Live in America
Smarter Travel (2014): One of America's Best Small Cities on the Rise
Wine Enthusiast (2014): One of America's 5 New Foodie Cities
Parenting Magazine (2012), Best Cities for Families
Forbes Magazine (2011), Best Cities for Young Professionals
GQ Magazine (2010), Coolest Cities in America
Outside Magazine (2010), Best Towns 2010 (Best Overall, East)
To learn more about Portland:
City of Portland, Maine
Portland Downtown
LiveWork Portland (Creative Portland)