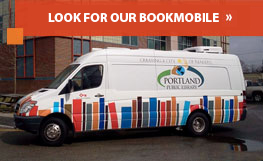 Connect with the Library:
Employment at PPL
At this time, we have two (2) current openings.  Please see below for the Adult Services Librarian and the Business and Government Librarian I, Research and Information Services position.
Adult Services Director
Grade 69 – 37.50 hours/week
This notice posts the opening of the Grade 69 Adult Services Director.
Portland Public Library is searching for a librarian who will be responsible for the strategy and development of the Library's Research and Information services. The position ensures that the library provides a wide range of high quality services, and provides full access for users to library materials and services they want and need.
In addition to broad knowledge and skills in librarianship, technology, and communication, the major challenges for this position are flexibility and patience in meeting the demands of the public, as well as leadership ability to work with a team of other library professionals, maintaining a safe and welcoming environment for fellow staff and library users. The incumbent must be alert to the changes in society which may necessitate changes in library services and the attainment of which may necessitate the gaining of additional competencies.
Major responsibilities:
Planning, directing, and coordinating system-wide reference and adult services. Sets standards for reference staff, provides system-wide direction, coordinates implementation of services, and develops related policies and protocols.
Confers with the Executive Director, Associate Director, and other area Directors to discuss departmental issues, to determine the strategic direction of the Department's service areas, advise on and integrate with the services and operations of other library departments, and participate in planning the future direction of the Library.
Selects, trains, and manages the performance of reference department personnel.
Collects and interprets statistics; documents and evaluates services; analyzes costs of library services in order to develop and justify appropriate levels of service and programming.
Oversees the selection of new reference, periodicals and adult materials and must possess current knowledge of these materials by consulting/reviewing sources, by attending professional meetings and by reading, viewing and listening. Considerations of available funds must also be taken into account in approving or changing recommendations. The incumbent provides oversight in collection development and collection maintenance for materials selected by the respective Lead Librarians he/she supervises.
Leads and evaluates reader's advisory, reference, public computing, and library orientation/instruction services. Regularly provides direct patron services.
Develops relationships with community members and local agencies as cooperative partners to develop, collaborate on, and promote reference services. Adapts strategic direction of library services based on community needs.
Models and inspires effective communication within the Department and with other departments and partners.
Seeks professional development through active participation in professional associations, continuing education, reading professional literature and keeping abreast of current trends.
Manages/participates in special programs or tasks as necessary
This position reports to the Associate Director and directly supervises 6 professional librarians.
This position requires flexibility in work hours to provide the appropriate level of library services.  Although there is a regular schedule (including some work on Saturdays) – due to the amount of services and programming provided by Research & Information Services staff, the incumbent may need to change his/her hours in the event of special programming and/or additional programming.
Required qualifications:
Master's Degree in Library Science from an ALA-accredited program
At least three years' professional experience of progressively responsible nature, or any equivalent combination of professional training and experience which provide the following:

Deep knowledge of library principles and practices, as they stand and as they are evolving.
Leadership excellence to guide services exploration, innovation, and change
Knowledge of general library reference materials and best practices in providing library services to the public.
Strong communication skills-oral and written.
Ability to work effectively and cooperatively with other members of library staff and administration.
Exceptional customer service orientation and demeanor appropriate to provide a high level of service to a diverse public and provide a model for department staff.
Interested candidates should send a cover letter and resume to hr@portlib.org or by mail to HR Director, Portland Public Library, 5 Monument Square, Portland, ME  04101 by Friday, August 4th, 2017.
(posted 7/20/2017)
---
Business & Government Librarian I, Research and Information Services
Librarian 1 – 37.50 hours/week
This notice posts the opening of Librarian 1, Business & Government Librarian.
Portland Public Library is searching for a librarian who will deliver professional reference and information services to the public.  The primary focus of this position is the planning and delivery of services to the business and government communities. To meet this goal the librarian will work with many partners and community members.
In support of the goal, this person is responsible for leading a collaborative approach to develop the collections related to business and government, creating programming, and establishing general planning.
He/she provides professional reference and information services to the public at the Reference desk and various other locations. This position is in the Research and Information Services department, a major public service component of the Library.
MAJOR RESPONSIBILITIES:
Leads Business and Government related initiatives, creating goals, metrics, and programs and coordinating material selections.
Selects, develops, and maintains all reference and circulating materials within the subject areas of business, commerce, economics, law, government, politics, civic engagement and education.
Develops programming within this subject area in collaboration with the Programming Manager.
As a member of the Research and Information Department:

Provides research and information service to the public of all ages, in person and through any medium required.
Serves as the subject specialist for the questions and recommendations concerning the areas above.
Oversees (outside of the meeting rooms and gallery) the public space of the Lower Level when staffing the Reference desk.
Participates, with the Supervisor of Record, in the planning and implementation of reference services, with particular responsibility for the business and government areas.

Serves as the Library's Government Documents Librarian.
Participates in special projects or tasks as necessary.
Seeks opportunities for professional development.
This position reports to the L3, Head of Research and Information Services.
Required qualifications:
Graduation from an accredited college or university with a Master's Degree from an accredited graduate library program or equivalent training and experience.
Three years previous successful employment in a professional capacity, including supervisory experience, preferably in a public library setting.
Course work in Political Science and/or Business preferred.
Please send cover letter and resume to hr@portlib.org or mail to Director of Human Resources, Portland Public Library, 5 Monument Sq, Portland, ME  04101 by July 21, 2017.
(posted 7/5/2017)
---
Portland, Maine is consistently ranked among the best places to live in the U.S.
Some recent accolades:
To learn more about Portland:
---