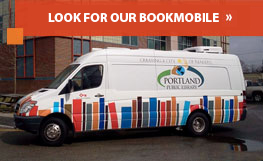 Connect with the Library:
Employment at PPL
At this time we have no permanent, benefited positions open.
From time to time, we do have substitute and/or shelving positions open. If you are interested in applying for either, please complete the employment application below.
We will contact you in the event an opening arises for which your background seems a good fit.
---
Portland, Maine is consistently ranked among the best places to live                               in the U.S.
Some recent accolades:
Elle Decor (2015): The Coziest City in America
Green Living Magazine (2014): #1 Happiest City in the Eastern US
Huffington Post (2014): One of the 13 Greatest Destination Food Towns
Outside Magazine (2014): #13 Greatest Place to Live in America
Smarter Travel (2014): One of America's Best Small Cities on the Rise
Wine Enthusiast (2014): One of America's 5 New Foodie Cities
Parenting Magazine (2012), Best Cities for Families
Forbes Magazine (2011), Best Cities for Young Professionals
GQ Magazine (2010), Coolest Cities in America
Outside Magazine (2010), Best Towns 2010 (Best Overall, East)
To learn more about Portland:
City of Portland, Maine
Portland Downtown
LiveWork Portland (Creative Portland)