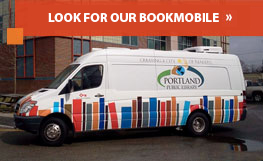 Connect with the Library:
Employment at PPL
At this time, we have 2 (two) current openings.  Please see below for more information on the Marketing Associate and Custodian Positions
_____________________________________________________________________________
MARKETING ASSOCIATE
Part-time 20 hours per week @ ~$20/hour
16-month position (with possibility of extension)
Under the direction of the Director of Development (DOD), the Marketing Associate (MA) leads the organization's institutional messaging and manages the Portland Public Library (PPL) brand. As a higher-level do-er, this position is actively involved in planning, prioritizing, and implementing. The DOD and MA have a weekly 30-60 minute in-person meeting to prioritize workflow and maintain close daily email/chat/phone contact.
Marketing Associate's role encompasses the following:
Works in consultation with DOD to refine and articulate institutional messaging and branding as determined by Senior Leadership with both internal and external audiences, and promotes and expands the visibility of the Library.
Works with the DOD to craft a PPL marketing plan for disseminating critical messages to identified key audiences.
Once the marketing plan is approved by Senior Leadership, MA serves as the point person and leader – in close consultation with the DOD – for executing the plan. Many tasks in the plan will be the direct responsibility of the MA; those that are the responsibility of others will be completed with the support/oversight of the MA and, where needed, the DOD.
Helps develop and track metrics for evaluating ongoing effectiveness of Library's marketing efforts.
Coordinates with the Programming Manager to clarify messaging around specific high-profile program efforts.
In consultation with DOD and other staff as appropriate, create and implement a new plan for an outbound e-newsletter. Plan will encompass maintenance of all data flow, content creation, targeting, etc. MA will manage all e-newsletter content creation and back-end production tasks.
Takes day-to-day responsibility for social media content generation and scheduling. Serves as a resource for Team Leaders (or their designees) as they create blog and social media content. Identifies and tracks metrics to evaluate effectiveness of social media platforms used by the Library. Identifies metrics to determine whether new social media platforms would be beneficial to the Library's outreach efforts and articulates how the Library will test and evaluate those platforms.
Serves as a member of the Connect-In Team and attends the meetings of other teams on an ad hoc, as-needed basis.
Stays up-to-date in the marketing field to ensure the Library benefits from best practices.
Marketing Associate skills required:
Track record of 3-4 years of marketing experience, preferably in a non-profit or educational environment.
Demonstrated skill, experience, and discretion to craft a marketing plan that takes into account an organization's existing staff/financial resources and realistic growth in those areas.
Portfolio of samples of well-executed content generation.
Effective problem solving and multi-tasking
Detail oriented with excellent organizational, prioritization, and communication skills both verbally and in writing
Flexible, creative thinker with the ability to incorporate feedback while ensuring progress toward institutional goals
Expertise in using various social media platforms
Demonstrated dedication to remaining current in the field (best practices, evaluation of potential new marketing tools or platforms, etc.
Bachelor's degree or equivalent
To apply, please send resume and cover letter to hr@portlib.org or mail to Human Resources, Portland Public Library, 5 Monument Square, Portland, ME 04101
(posted 8/23/2016)
---
CUSTODIAN
Part Time, Benefits Eligible
This position is responsible for performing general custodial tasks as well as supporting maintenance of library operations and facilities in order to maintain a clean, pleasant and safe environment for library patrons and staff. This position is also responsible for delivering materials using library vehicles.
Must be a self-starter, comfortable working independently and possess a strong service orientation.
Major Responsibilities
Clean and sanitize rest rooms using established practices and procedures
Clean, dust, sweep, mop and vacuum library facilities daily
Floor polishing, carpet cleaning
Restock supplies (i.e. paper towels, toilet paper, hand soap)
Empty trash and recycling
Conference room set up and moving furniture and equipment
Delivery of materials and supplies using library vehicles to various branch locations in Portland
Basic repair and maintenance functions
Opening and closing of the building
Painting
Special projects as needed
Must be able to work nights and weekends
Education Requirements
High school diploma preferred.
Other requirements
Excellent customer service and communication skills
Good driving record
Must be able to lift 50 pounds
Experience with diverse customer base desirable
Familiarity and comfort level with technology
Background check required
To apply, please send resume and cover letter to hr@portlib.org or mail to Human Resources, Portland Public Library, 5 Monument Square, Portland, ME 04101.
(posted 6-2-2016)
---
Portland, Maine is consistently ranked among the best places to live in the U.S.
Some recent accolades:
To learn more about Portland:
---