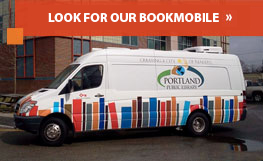 Connect with the Library:
Employment at PPL
At this time we have two positions open at this time.  Please see below for more information on the Senior Library Associate (Bookmobile PT 30 Hours) and Senior Library Assistant (PT 20 hours) position.
From time to time, we do have substitute and/or shelving positions open. If you are interested in applying for either, please complete the employment application below.
We will contact you in the event an opening arises for which your background seems a good fit.
---
Senior Library Associate (Bookmobile PT 30 Hours)
Portland Public Library is seeking a part-time, 30-hour per week, Senior Library Associate for our Bookmobile, in our Youth Services department. This is a Grade 61 position.
The Bookmobile extends the reach of the Portland Public Library through the delivery of public library services in Portland neighborhoods.  This position is accountable for introducing PPL services to new borrowers, processing a variety of computer-assisted circulation transactions, delivering reference and readers' advisory services, and assisting with programming activities for a wide range of clientele, including but not limited to: children from infancy through at least age 12, caregivers, adults working with children, English language learners, and agencies/organizations serving children. This position is assigned to the Bookmobile either as a driver or passenger and reports to the Youth Services Director. At times, this position may also cover a public service desk at the Main Library.
Major Responsibilities
Reporting to the Youth Services Director, this position is responsible for:
Interpreting and answering reference inquiries, general information requests and providing reader's advisory. Must have a broad knowledge of children's literature, the ability to connect books and children and a familiarity with the department's resources including books, e-readers, audio-visual materials, magazines, the circulation system, databases and Web sources.
Planning, on a regular basis, programs for infants through age 12. This position participates in the designing, preparation and execution of programs, with a special emphasis on bookmobile outreach. This programming includes (but is not limited to): story times, book discussions, outreach activities, book talks, library tours, puppet programs, and other appropriate activities.  To provide appropriate programming knowledge of child development and early literacy practices and the ability to utilize this knowledge is essential.
Acting as in-house resource and expert on children's literature, services and development for the library system – and is often asked to assist in these areas.
Participating in designing and developing methods for enhancing public accessibility to the collection.
Assisting in the selection of new materials for bookmobile's circulating collection and making recommendations to the collection manager of children's titles, resources and materials to purchase, based on reading print book reviews, online sources and patron requests/recommendations.
Assisting in the coordination of publicity with the Programming Office. Printed materials, such as press releases, signs, posters, and flyers are created with the aid of the Programming assistant and distributed outside as well as within the library.
Producing printed materials, answering reference questions, using the card catalog, selecting new materials, finding reviews of materials, and more require knowledge of and the application of several programs and the ability to easily navigate between them.
Basic Qualifications
Experience working with youth infancy to age 12
Clean driving record and readiness to drive bookmobile
Self-motivation and the ability to thrive in a sometimes louder, chaotic, yet very rewarding environment
Patience
Knowledge of children's literature and services
Ability to collaborate and work well in a group setting
Ability to work independently, and to organize and complete multiple assignments concurrently
Knowledge of and proficient ability with: popular operating systems and their software, particularly Microsoft Office; web browsers and search engines; information retrieval and analysis
Knowledge of and/or experience with library classification systems
Ability to work fluidly and cooperatively with other members of library staff and administration.
Ability to communicate clearly and effectively in oral and written format
Strong service orientation and demeanor appropriate to provide a high level of service to a diverse public
Schedule will vary depending on time of year but will be Monday through Friday between the hours of 9am – 6pm, with occasional Saturday hours during the summer for special events.
*Pre-employment screening required (Driving, criminal and identity)
Anyone interested in applying should submit a cover letter and resume to hr@portlib.org by Friday, July 27th.
(posted 7/5/2018)
---
Senior Library Assistant – Grade 59 – 20 hours per week
The Portland Public Library is seeking a part-time Senior Library Assistant for 20 hours per week with pro-rated benefits. The Senior Library Assistant is an integral member of the desk services at the Main Library providing customer service and support to library users at the Lending and Public Computing desks. The position reports to the Lending Desk supervisor(s).
The Senior Library Assistant regularly works with a wide variety of the public and facilitates a variety of patron account matters. S/he must be able to interact effectively and manage sometimes difficult situations.  This work is performed in a fast-paced environment and requires an exceptional level of customer service.
RESPONSIBILITIES:
Issues new and replacement borrowers' cards, verifying identification and address, checking for previously issued cards, collecting fees from non-district borrowers, and orienting patrons to Library policies and services.
Receives, interprets, and answers inquiries from library patrons, both face-to-face and over the telephone. Explains and/or demonstrates how best to use the website for searching, placing holds, and other patron functions unique to BiblioCommons.
Checks materials out and in; collects fines for overdue items and payments for lost or damaged materials; makes note of the condition of materials leaving the Library, and checks returned print and audiovisual material for damage or missing parts; processes special requests such as renewing materials and placing holds.
Signs for deliveries; receives donations of materials; and routes public service announcements for posting.
Assists patrons in the use of Pharos computer and print management system by helping them use the sign up, queue, and print release stations. Assists with sign up for and scheduling computer sessions, queue management, retrieving lost print jobs, etc.
Issues computer guest passes, including reviewing ID and account status, confirming eligibility, and maintaining solid record keeping ensuring computers are used according to library policy.
Assists patrons in basic uses of computers and the internet, as time permits. This includes coaching in introductory use of the internet and the use of the library's website and online resources, such as basic support in setting up and using email accounts, accessing online forms, and using productivity software.
Refers patrons to other service desks or staff experts for more in-depth information.
Assists patrons using the wireless environment with basic connectivity and usage issues.
Daily set up and shut down of service desk involves checking that due dates are correct, collecting and storing monies received for fines, lost cards, etc.
Updates patron database by accurately entering information about newly registered patrons, proactively obtaining patron's contact information changes, and promptly making the changes to keep existing records up-to-date.
Participates in maintaining a safe and welcoming environment for fellow staff and library users.
 This position must use careful judgment to discern patron needs and resolve matters in the most mutually successful way.
Requirements:
Baccalaureate degree from accredited college or university, or equivalent combination of education and experience.
Two years public service experience (prior library experience preferred).
Enjoyment of technology tools and advances, and an overall savvy with computers, specialty software, and the internet.
Highly organized to manage time and keep on schedule.
Customer service-driven and adaptable in working with a variety of patrons.
High attention to detail.
Ability to remain calm, courteous, and accurate in a fast-paced and often demanding environment, juggling tasks and using excellent judgment.
Effective communicator with the patron community and colleagues.
Comfort in working independently.
Schedule:
Monday: 9am – 5pm
Wednesday: Noon – 7pm
Thursday: 10am- 6pm
Anyone interested in applying should submit a cover letter and resume to hr@portlib.org by Friday, July 13th.
(posted 6/29/2018)
---
Portland, Maine is consistently ranked among the best places to live                               in the U.S.
Some recent accolades:
Elle Decor (2015): The Coziest City in America
Green Living Magazine (2014): #1 Happiest City in the Eastern US
Huffington Post (2014): One of the 13 Greatest Destination Food Towns
Outside Magazine (2014): #13 Greatest Place to Live in America
Smarter Travel (2014): One of America's Best Small Cities on the Rise
Wine Enthusiast (2014): One of America's 5 New Foodie Cities
Parenting Magazine (2012), Best Cities for Families
Forbes Magazine (2011), Best Cities for Young Professionals
GQ Magazine (2010), Coolest Cities in America
Outside Magazine (2010), Best Towns 2010 (Best Overall, East)
To learn more about Portland:
City of Portland, Maine
Portland Downtown
LiveWork Portland (Creative Portland)