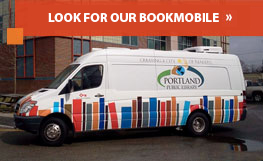 Connect with the Library:
Employment at PPL
We're hiring an IT Technician II!
Portland Public Library is now accepting applications for a full-time (37.5 hours per week) IT Technician II position at our main library in Portland.
Reporting to the IT Manager, the IT Technician II provides day to day technical support for hardware and software and troubleshoots technology issues encountered by Library staff.  This position also includes hours providing patron services at the Public Computing Desk.
Job Responsibilities include:
Serves as a technical resource for Library staff
Provides technical support in the use of personal computer hardware, software, and specialized technology
Sets up and configures desktop computers, peripherals and accounts
Maintains and trouble shoots IT equipment (including AV and multimedia); coordinates with internal and external IT staff to perform maintenance; provides connectivity assistance to Library staff and patrons as needed
Assists in researching and recommending system equipment upgrades and manages Department equipment inventory (desktops, laptops, printers, scanners, video equipment, peripherals etc.)
Troubleshoots, repairs and maintenance for computer equipment (e.g. desktops, laptops, disk drives, laser printers and combination printer/copier/scanner)
Tests computers and peripherals on a network to diagnose hardware versus software problems and escalates corrective procedures to other technical resources as appropriate
Assists in producing videos and other multimedia of Library events
Contributes the Department goals by accomplishing related duties as required
When assigned to the Public Computing Desk, the IT Technician II assists patrons in the use of public computers by helping them use the Pharos system to sign up and queue for computers and print documents. Assists patrons in basic uses of computers and the internet, as time permits, including coaching in introductory use of the internet and the use of the library's website and online resources. Assists patrons using the wireless environment with basic connectivity and usage issues.
Basic Qualifications
Bachelor's degree in Information Technology, or equivalent education and experience.
1-3 years of IT help desk experience preferred
Basic knowledge of both Mac and PC operating systems.
Basic knowledge of Microsoft products.
Knowledge of a variety of hardware, software, and operation systems.
Experience with computer applications and operating systems.
Demonstrated ability to work collaboratively as part of a close team of staff sharing responsibilities when necessary to meet the needs of the Library.
Ability to work independently with minimal supervision.
Capable of interacting and communicating with diverse groups of people with tact and diplomacy.
Ability to handle complex and confidential information with discretion and initiative.
A positive and enthusiastic attitude with great attention to detail. 
Physical Demands and Work Environment
This position may require lifting of up to 25lbs and the ability to push book trucks. Manual dexterity is a necessity for carrying and installing general computer hardware. This position is performed in a busy public library environment and requires regular use of a computer.
Grade 59–Beginning pay $18.02/hr and benefit eligible—includes leave (vacation, sick and personal), medical, dental and retirement options.
To apply, please send your COVER LETTER and RESUME to hr@portlib.org.  Please include the position title: IT Technician II in the subject line of the email.
The posting will close February 2, 2020.
---
To learn more about Portland
City of Portland, Maine
Portland Downtown
LiveWork Portland (Creative Portland)