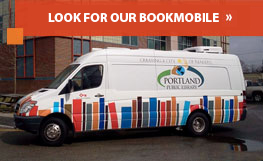 Connect with the Library:
Employment at PPL
We're hiring a Security Specialist!
Portland Public Library is now accepting applications for a full-time (37.5 hours per week) Security Specialist position at our main library in Portland.
This position is responsible for performing Library security services in order to maintain a pleasant and safe environment for Library patrons and staff as well as assisting with maintenance of library operations and facilities.  
This position works independently, under the direction of the Finance Director, responding to emergent security and maintenance needs throughout a large public space and is required to judge situations to determine the appropriate course of action.  
Job Responsibilities:
Assisting Library personnel in maintaining a quiet, pleasant and safe atmosphere in and around library property. This position must keep aware of changes in security issues and communicate with appropriate staff about specific security issues.
Acting independently or in coordination with the Finance Director or library staff, this position assists in enforcement of the Library's Rules of Conduct. Judgement must be exercised in assessing situations to determining appropriate intervention measures, which may include expulsion and/or seeking the assistance of the Police. This position must write incident reports with accuracy and attention to detail and distribute to appropriate personnel as well as updating the security database.
Responsible for the performance of routine library operations such as:
Opening and closing of the building
Operating the security system
Delivering packages and materials
Setting up meeting rooms and the auditorium
Moving furniture and equipment
Assisting with intra-branch deliveries.
Follows the procedures outlined in the Portland Public Library Emergency Procedures Manual and coordinates assistance with emergency personnel to patrons and staff during medical or security emergencies. This position uses a two-way radio and performs a lead responsibility during emergencies such as building evacuations.
Meets with police and social service agency personnel as needed to coordinate issues related to patrons.
Assists in special projects such as setting up for special events and acting as security staff for receptions and special events.
Fills in for Maintenance staff as needed.
Seeks opportunities for personal and professional development.
Performs other related duties or tasks as required.
Basic Qualifications:
Excellent judgement, exceptional interpersonal skills and a professional, calm demeanor
Strong service orientation
Experience in security and customer service
Ability to maintain a schedule of security monitoring with minimal supervision
Ability to communicate exceptionally well both verbally an in writing with all members of the public
Ability to use technology, word processing, Excel spreadsheets and e-mail
Comfortable working independently
Physical Demands and Work Environment:
This position may require lifting of up to 50lbs and is required to walk extensively. Sufficient physical stamina and general health to perform duties noted above.  The duties of this position are performed in a busy public library environment and require regular use of a computer. Exposure to potentially harmful working conditions.  This position performs emotionally challenging work with the potential for encounters with patrons who are rude, hostile, aggressive, and mentally and/or physically ill.
Grade 61–Beginning pay $19.87/hr and benefit eligible—includes leave (vacation, sick and personal), medical, dental and retirement options.
To apply, please email a cover letter and resume to hr@portlib.org with Security Specialist in the subject line.  This posting will close December 22, 2019.
We're hiring a Senior Library Assistant at our Burbank Branch!
Portland Public Library (PPL) is a four-branch system that serves as the civic and cultural center of Maine's largest city and a dynamic region providing resources and experiences that inspire imagination, curiosity, awareness and learning.
PPL is now accepting applications for a part-time (20 hours per week) Senior Library Assistant position at the Burbank Branch.
Reporting to the Burbank Branch Manager, this position is responsible for processing a variety of computer-assisted circulation transactions, responding to patron reader's advisory and reference inquiries, and assisting with programming activities.
The incumbent checks materials in and out using a computer terminal; places reserves on titles in the computer; codes and inputs patron registrations; processes and inputs new periodicals and any local materials into the computer; withdraws materials from the computer that are designated for withdrawal.
The incumbent processes overdue items, performs shelf-checks and computer inquiries; handles the daily deliveries to and from the main or branch libraries.
The incumbent assists patrons in finding materials in the collection, helps them use the catalog, performs computer inquiries and assists with Interlibrary Loan (ILL) requests.
The incumbent assists with class visits and special programs, which may include preparing and conducting story hours, holiday programs, and craft programs, including setting up displays, etc.
The incumbent oversees the opening/closing and daily operation of branch, including the supervising of temporary help in the absence of the Branch Manager and the Assistant Branch Manager.
The incumbent contributes to collection development and maintenance for the branch by making recommendations for materials selection and withdrawal.
The incumbent performs some shelving duties when needed.
Participates in maintaining a safe and welcoming environment for fellow staff and library users.
The incumbent assists patrons with various computer related questions and programs; including Microsoft products, email programs, and general internet searches.
At the entry level, this position requires a Baccalaureate degree from an accredited college or university or any equivalent combination of experience, training and education, which provide the following:
Knowledge of reader interests, books, authors and interest in promoting reading.
Ability to accept direction, from "system" format and from Branch Manager, as requested.
Ability to work independently, and to organize and follow through on multiple assignments.
Ability to remain calm and pleasant under pressure while maintaining attention to detail in a fast-paced, multi-tasking environment.
Ability to communicate effectively, verbally and in writing.
Ability to work effectively and cooperatively with other members of library staff and administration.
Basic typing and filing skills.
Strong service orientation and demeanor appropriate to provide a high level of service to a diverse public. Excellent customer service skills.
Strong knowledge of office and personal technologies is required.
An active interest in one or more of the visual, written and/or performing arts is preferred, as is fluency or proficiency in a language other than English.
Physical Demands:
The incumbent works at a public service point throughout the workday. This position requires the incumbent to be on his/her feet (moving throughout the collection). In addition, the incumbent will frequently need to lift or move materials and equipment weighing up to 25 lbs.
Schedule:
Week 1
Tuesday               10 am-7 pm
Wednesday        11am -6 pm
Thursday             1 pm-6 pm
Week 2
Wednesday        10 am-6pm
Thursday             12pm-6 pm
Saturday              10 am-5 pm
Grade 59–Beginning pay $18.02/hr and benefit eligible—includes leave (vacation, sick and personal), medical, dental and retirement options.
To apply, please send your COVER LETTER and RESUME to hr@portlib.org.  Please include the position title: Senior Library Assistant- Burbank in the subject line of the email. The posting will close December 22, 2019.
---
To learn more about Portland
City of Portland, Maine
Portland Downtown
LiveWork Portland (Creative Portland)