About the Burbank Branch
Renovations Underway!
A letter from PPL's Director…
April 2016
Dear Burbank Branch Library community,
Our Burbank Branch renovation project is making significant progress, with walls coming down and spaces being created for new lending and public computing areas. Once the changes are complete later this summer, the branch will provide a safer environment for our dedicated staff and a more inviting, user-friendly environment for our patrons. As we continue this exciting work on the branch, you, too, can play a part in this transformation.
The budget for Burbank's renovation is $410,000, and the City of Portland has committed $300,000 to cover infrastructure costs. All the elements that will create the Burbank Branch experience – improved collections displays, updated technology, fresh Children's Room, new furnishings – will be funded through the generosity of community supporters.
$410,000 – total Burbank project budget
$300,000 – City of Portland CIP allocation
$29,000 – inaugural leadership support
$81,000 – still to be raised as of 4/15/16
The support of our Burbank patrons is vital to the success of the project, and I invite you to join your neighbors in supporting this effort. Gifts of all sizes will help us reach our goal, and whatever you choose to give, your participation will inspire others to join you in making these exciting plans a reality. You can make a secure gift online; just note that it is in honor of the Burbank Branch renovation, and we will add it to the growing total. If you have questions or wish to make a gift of stock, our development staff will be happy to help.
We look forward to keeping you updated on our progress. On behalf of all of us at the Library, please know how grateful we are for your commitment to this well-loved branch!
Sincerely,
Sarah Campbell
Executive Director
For more information about the Burbank renovation:
Follow our progress – including photo updates of the renovation in progress – on twitter!
Please send feedback to librarydirector@portlandpubliclibrary.org
About Burbank
Burbank Branch is directly across the street from Deering High School in the heart of Portland's vibrant Deering neighborhood. It was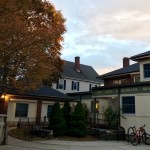 founded in 1940 and moved to its present location in a beautiful repurposed family home in 1995. Despite its small size (2,900 square feet), Burbank lends over 250,000 items annually (over 1/4th of the PPL system's circulation) and consistently ranks as one of the busiest public library locations in Maine. Portlanders appreciate Burbank's friendly atmosphere and family focus.
Burbank Branch
377 Stevens Avenue
Portland, ME 04103
207-774-4229
burbank@portlandpubliclibrary.org
Ellen Gilliam, Branch Manager Book drop: Curbside book drop is closed while Burbank is undergoing renovations.
Hours:
Tuesday
closed for renovations
Wednesday
closed for renovations
Thursday
closed for renovations
Friday
closed for renovations
Saturday
closed for renovations
Up Next at the Library:
No related events scheduled - Showing the next three events on our calendar.
Preschool Story Time
10:30am - 11:00am
Preschool Story Time
Connect with the Library: