About the Burbank Branch
Burbank Closing for Renovations!
Where can I pick up my holds?  Where will Burbank's books and movies be during the closure? Can I drop off books on the Bookmobile?  Answers to these and other questions are 

HERE

!
Follow our progress on T

WITTER

!
At long last, the Burbank Branch — opened 20 years ago in the summer of 1995  at its present location at 37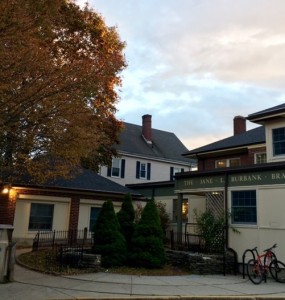 7 Stevens Ave. in the Deering neighborhood — will be getting some much-needed renovations.
Portland Public Library's Burbank Branch will close for renovations on Saturday, December 5, 2015 at 5pm. We anticipate that the building will be closed for approximately seven months, and we expect to re-open mid-2016.
Planned renovations will provide:
Upgrades to building systems (heating and air conditioning; electrical; information technology)
Accessibility improvements (elevator to replace stairlift)
Increased energy efficiency
Enhanced browsing experience
Improved ergonomics to handle the flow of materials at the 6th busiest lending location in the state
Check out this rough floor plan outline of the re-configured first floor. More info and progress reports will follow in this space as the remodeling project progresses.
Starting Monday, December 7, PPL will offer expanded service at our Riverton Branch, located at 1600 Forest Avenue:
Monday 1-6pm
Tuesday 10am-7pm
Wednesday 10am- 6pm
Thursday 10am-8pm
Friday 10am-6pm
Saturday 10am-5pm
Members of our Burbank Branch team will help staff Riverton during this period, and portions of our Burbank collection will also temporarily relocate to Riverton. Other Burbank collection items will be available upon request via the Library's online catalog. We will deliver them promptly to your preferred pickup location for requested items (Riverton Branch, the Main Library, or Peaks Island Branch).
We are excited to serve our Burbank patrons in a fresh, engaging, and more efficient space. We look forward to keeping the community updated on our progress and on ways to be involved.
About Burbank
Burbank Branch is directly across the street from Deering High School in the heart of Portland's vibrant Deering neighborhood. It was founded in 1940 and moved to its present location in a beautiful repurposed family home in 1995. Despite its small size (2,900 square feet), Burbank lends over 250,000 items annually (over 1/4th of the PPL system's circulation) and consistently ranks as one of the busiest public library locations in Maine. Portlanders appreciate Burbank's friendly atmosphere and family focus.
Burbank Branch
377 Stevens Avenue
Portland, ME 04103
207-774-4229
burbank@portlandpubliclibrary.org
Ellen Gilliam, Branch Manager
Book drop: Curbside book drop is closed while Burbank is undergoing renovations.
Hours:
Tuesday
closed for renovations
Wednesday
closed for renovations
Thursday
closed for renovations
Friday
closed for renovations
Saturday
closed for renovations
Up Next at the Library:
No related events scheduled - Showing the next three events on our calendar.
Closed for Presidents' Day
12:00am - 7:00pm
Closed for Presidents' Day
Connect with the Library: