About the Burbank Branch
The Newly Renovated Burbank is Now Open!
After many long months and much anticipation, the Burbank Branch reopened to the public on Tuesday, August 23, at 10am. We look forward to showing off the beautiful renovation designed by award-winning local firm Scott Simons Architects. Come in and see why the first response from folks walking through the door is "Wow!"
Burbank is now open according to the following schedule:
Tuesdays 10am-7pm (open 2 hours earlier than the old schedule!)
Wednesdays, Thursdays, Fridays 10am-6pm
Saturdays 10am-5pm
A "grand opening" Open House is planned for Friday, Sept. 9 from 3-6pm. We hope you'll join us that afternoon for refreshments, a chance to reconnect with staff and other patrons, and plenty of fun in the new space! Keep an eye out for continuing event details here and on PPL's Facebook page. – See more at: https://www.portlandlibrary.com/life-of-the-library/burbank-branch-to-reopen-august-23/#sthash.Skwrr9Mv.dpuf
We couldn't have done it without you! Tremendous thanks to the donors who generously supported this project, to the PPL staff who worked diligently to provide seamless service at all our locations, and to our wonderful Burbank patrons who weathered the renovation schedule with good humor.
Follow our progress – including photo updates of the renovation in progress – on twitter!
Please send feedback to librarydirector@portlandpubliclibrary.org
About Burbank
Burbank Branch is directly across the street from Deering High School in the heart of Portland's vibrant Deering neighborhood. It was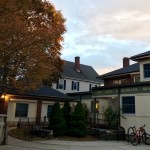 founded in 1940 and moved to its present location in a beautiful repurposed family home in 1995. Despite its small size (2,900 square feet), Burbank lends over 250,000 items annually (over 1/4th of the PPL system's circulation) and consistently ranks as one of the busiest public library locations in Maine. Portlanders appreciate Burbank's friendly atmosphere and family focus.
Burbank Branch
377 Stevens Avenue
Portland, ME 04103
207-774-4229
burbank@portlandpubliclibrary.org
Ellen Gilliam, Branch Manager
Book drop:
All materials may be returned in the new through-the-building book drop slot, located to the left of the walkway as you approach the rear (main) entrance.
Hours:
Connect with the Library: