About the Burbank Branch
Renovations Underway!
A letter from PPL's Director…
February 2016
Dear Burbank Branch Library community,
If you have driven down Stevens Avenue, you know the good news – construction has begun on our Burbank Branch!
The process has been a long one, but we have been determined to get it right. We appreciate everyone's patience as we have navigated two rounds of City Capital Improvement Program (CIP) funding, the project bidding and permitting process, moving the entire Burbank collection and resources, and preparing the space. Our Burbank staff are in place at the Riverton Branch where we have expanded our hours. We are glad that so many of you have found us there and at the Main Library during this transition.
The budget for Burbank's renovation is $410,000. As with all of the Library's operations, the City funds our infrastructure costs and has accordingly committed $300,000 toward this project. All the elements that will create the Burbank Branch experience – improved collections displays, updated technology, fresh Children's Room, new furnishings, and more! – will be funded through the generosity of community supporters. We will follow up very soon about the ways you can participate to help bring this project to fruition.
In the meantime, we hope you will follow the renovation progress through updates and construction photos on our Facebook and Twitter feeds. Please follow us, if you don't already!
We love being your neighborhood library, and we look forward to reopening an improved Burbank Branch where all are welcome, informed, and inspired!
Sincerely,
Sarah Campbell
Executive Director
For more information about the Burbank renovation:
Follow our progress on TWITTER!
Please send feedback to librarydirector@portlandpubliclibrary.org
About Burbank
Burbank Branch is directly across the street from Deering High School in the heart of Portland's vibrant Deering neighborhood. It was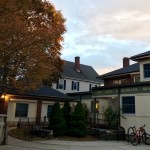 founded in 1940 and moved to its present location in a beautiful repurposed family home in 1995. Despite its small size (2,900 square feet), Burbank lends over 250,000 items annually (over 1/4th of the PPL system's circulation) and consistently ranks as one of the busiest public library locations in Maine. Portlanders appreciate Burbank's friendly atmosphere and family focus.
Burbank Branch
377 Stevens Avenue
Portland, ME 04103
207-774-4229
burbank@portlandpubliclibrary.org
Ellen Gilliam, Branch Manager Book drop: Curbside book drop is closed while Burbank is undergoing renovations.
Hours:
Tuesday
closed for renovations
Wednesday
closed for renovations
Thursday
closed for renovations
Friday
closed for renovations
Saturday
closed for renovations
Up Next at the Library:
No related events scheduled - Showing the next three events on our calendar.
Adult Knitting Group at Riverton
6:30pm - 7:30pm
Adult Knitting Group at Riverton
Toddler Story Time at Riverton
10:15am - 10:45am
Toddler Story Time at Riverton
Connect with the Library: