About the Peaks Island Branch
 Artist's rendering – C. Michael Lewis, 2015
---
---
Consider the Conversation
— A documentary on a taboo subject —
Please join us for a screening & discussion on
Thursday, Sept. 29, 2016  |  7:00 pm  |  Community Room, Peaks Island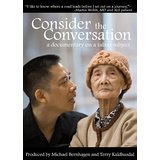 Motivated by their personal experiences with loss, two long-time friends—one a hospice worker and the other a State Teacher of the Year—present a powerful and inspiring film on the American struggle with communication and preparation at the end-of-life. Consider the Conversation examines multiple perspectives on end-of-life care and includes interviews with patients, family members, doctors, nurses, clergy, social workers, and national experts from across the country.
FILM RUNS 60 MINUTES
DISCUSSION FOLLOWING
facilitated by
REV. LARRY GREER, pastoral coordinator, and
CAROL SCHONEBERG, end-of-life educator, Hospice of Southern Maine
EVERYONE IS WELCOME AT THIS FREE PROGRAM
---
For Summer and Temporary Residents
To obtain a library card while you are on the island, please bring your driver's license or other valid ID with your current address, as well as the address and phone number where you are staying on the island. Library staff will do our best to accommodate your library needs.
Peaks Island Community Links
• Peaks Island Press: News on Peaks Island Authors • Peaks Island Land Preserve • Peaks Island Information including Community Calendar and island organization links • Peaks Island Children's Workshop • Peaks Island Health Center • Peaks Island School • Fifth Maine Regimental Museum • Eighth Maine Regiment Memorial
Peaks Island Branch
129 Island Avenue
Peaks Island, ME 04108
207-766-5540
peaks@portlandpubliclibrary.org
Branch Manager, Priscilla Webster
Parking: Parking is available on the street.
Bookdrop: The bookdrop sits on the front deck of the Community/Library building.
1st floor wheelchair accessible
Hours:
Connect with the Library: