About the Peaks Island Branch
---
We are  back in the newly renovated Kennedy-Carter Family Community Center!
Tues: 2-8, Wed: 10-4, Fri: 10-2, Sat: 8-12
---
---
Introduction to Medical Marijuana: the ABC's of CBD
Wednesday, March 27 at 1:00 pm
Sponsored by The Peaks Island Health Center and Friends of the Peaks Island Library
From epilepsy treatment to chronic pain relief, marijuana is making headlines. Catherine Lewis, a long time Maine educator and grower of medicinal cannabis will share her experiences, both personal and through her clients. In 1990, Catherine and her husband suffered severe injuries in a head on collision. After years of pharmaceutical use and multiple surgeries, they decided to try natural alternatives and became medical cannabis patients. Having had great success treating themselves, they became medical marijuana caregivers in order to share another approach to health and healing. As president of Medical Marijuana Caregivers of Maine association, Catherine will also address the status of cannabis legislation in our state.
---
What Makes an Opossum Tick?
Saturday, April 6 at 10:00 am
Join Maine author Lyn Smith and Peaks Island illustrator, Jamie Hogan for a celebration of their new delightful and informative book, What Makes an Opossum Tick? The event will include a read aloud and a discussion of how a collaboration between author and illustrator works. There will also be a slide show of the illustration process and a display of sketches and the final art for the book. Books will be available for sale and signing. Light refreshments will be served!
---
Safe Landing Strategies: How to Soften a Fall
Wednesday, April 17  1:00-2:30 pm
Sponsored by The Peaks Island Health Center and Friends of the Peaks Island Library
Join Jason Adour, a physical therapist at the Maine Strong Balance Center in Scarborough, to learn how you can reduce your risk of falling. Jason's professional experience has included geriatric medicine, sports medicine and neurological rehabilitation after strokes or brain injuries, which have all included a focus on balance.
 Discuss the anatomy and physiology of balance
Learn tips to reduce your fall risk
View and discuss demonstrations of how to fall safely
This program is designed to help you feel confident in how to minimize possible injury. Falling happens at all ages and can happen anywhere.
---
Saturday Film Series
5:30 pm Family Film/ 7:30 pm Adult Film
Sponsored by the Friends of the Peaks Island Library
Join us for a free weekly film series in the Peaks Island Community Room.  Please call the Library at 766-5540 or visit the Library and pick up a flyer to find out the movie titles. Children must be accompanied by an adult.
---
Story Times for Children
We offer two story times designed for children from birth to age 5 , from basic rhymes to movement and music. Join us and cultivate a love of reading in your child early on!
Rhythm & Rhymes  – Children ages birth- 2 years and their caregivers. Join us for songs, rhymes, finger plays, stories and movement every Wednesday.
Preschool Story Time  – Children ages 3-5 and their caregivers. Join us for picture book read alouds, finger plays, music and movement every Friday.
---
Middle School Book Club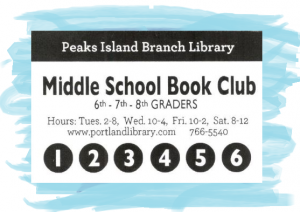 Meets on the third Tuesday each month at 5:30 pm
We've discovered that this age reader loves to read books, lots of books, and share what they are reading with others. Unlike other book groups there is not a specific book that everyone reads each month. Instead everyone comes together to share what they are presently reading, a favorite book, or make recommendations, and have something good to eat while enjoying each other's company.
Everyone who is in middle school, public, private or homeschooled is welcome to join in the discussions as listeners or contributors. Call, email or come into the library for more information.
Upcoming Meeting Dates:
•    Tuesday, March 19   •
Please join us!
---
First Tuesday Book Group
First Tuesday of each month

Readers are encouraged to call (766-5540), email (peaks@portlandpubliclibrary.org) or come into the library to reserve copies of the books. If you have trouble finding an available copy of the book in the Portland library system, please contact us. Often we can locate a book through MaineCat.
FIRST TUESDAY BOOK DISCUSSION usually meets on the first Tuesday of the month at 7pm and there is a moderator for each discussion. This program is supported by the Friends of the Peaks Island Branch Library.
Upcoming meetings in 2019: 
April 2: Before We Were Yours
May 7: Monkey Beach
June 4: Tragedy Plus Time
For information on upcoming selections see PPL's Book Groups page.
---
Peaks Island Archives
Peaks Island Archives | Portland Public Library Research | Portland Public Library Digital Commons
digitalcommons.portlandlibrary.com    or   https://digitalcommons.portlandlibrary.com/peaks_island_archives/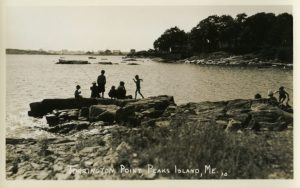 The Peaks Island Branch Library Archives comprise 15 linear feet of Special Collections assembled and located at the Peaks Island Branch of the Portland Public Library. The collection of ephemera, cemetery records, scrapbooks, postcards, photographic images, periodicals, maps, reports, audiovisuals, and Peaks Island printed material span the 20th century – up to the present. Bulk dates for the archive are from circa 1960 – present.
Subjects include Peaks Island community and government topics, tourism, history (particularly the role of Peaks Island during World War II), development and land use, genealogy, education, theatre (including the Gem Theatre and Greenwood Garden – both popular in the 1920s and 1930s), writing, and visual art.
We are grateful for the generosity of the Peaks Island Fund and the Casco Bay Islands Alliance
in making this project possible.
---
For Summer and Temporary Residents
To obtain a library card while you are on the island, please bring your driver's license or other valid ID with your current address, as well as the address and phone number where you are staying on the island. Library staff will do our best to accommodate your library needs.
Peaks Island Community Links
• Peaks Island Press: News on Peaks Island Authors • Peaks Island Land Preserve • Peaks Island Information including Community Calendar and island organization links • Peaks Island Children's Workshop • Peaks Island Health Center • Peaks Island School • Fifth Maine Regimental Museum • Eighth Maine Regiment Memorial
Peaks Island Branch
129 Island Avenue (inside Kennedy-Carter Family Community Center & Branch Library)
Peaks Island, ME 04108
207-766-5540
peaks@portlandpubliclibrary.org
Branch Manager, Jerri Blatt
Parking: Parking is available on the street.
Bookdrop: The bookdrop is located inside the Community Center lobby.
1st floor wheelchair accessible
Hours:
Connect with the Library: