About the Peaks Island Branch
 Artist's rendering – C. Michael Lewis, 2015
---
We are about to move back home! This week we are open for regular hours:
Tues: 2-8, Wed: 10-4, Fri: 10-2, but  CLOSED  Sat. to begin the move.
The Bookmobile will be at PeaksFest from 10-2 on Saturday.

We are excited to report that the Peaks Branch will begin moving back to our newly renovated space when we close at 2:00 pm on Friday, June 22. We thank our friends at Peaks Island Elementary School (PIES) for making us feel so welcome in our temporary location. We will reopen in our beautiful new space for regular open hours at 2:00 pm on Tuesday, July 3.
The Peaks branch will be closed during the move process. If a patron has a title on hold at the Library, Friday, June 22 will be the last day to pick it up until we re-open. Any items checked out at Peaks with a due date between June 23 and July 3 will automatically have their due dates extended to July 10. The City will share their own timeline for moving Recreation Department events back into the renovated building.
On our library re-opening day of Tuesday, July 3, we invite all to gather at the renovated Kennedy-Carter Family Community Center & Branch Library for a family-friendly celebration from 4:30-6:30pm. This will be a wonderful chance for the Library, the City and the Recreation Department, New Vision Campaign donors, and the entire Peaks Island community to come together to celebrate the successful collaborative effort that has transformed the library and community room to serve generations of islanders to come. We hope to see you there!
Phone: 766-5540        email: peaks@portlandpubliclibrary.com
---
Middle School Book Club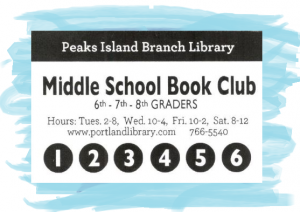 Meets on the third Tuesday each month at 5:45 pm
Due to the library renovation project, we will not meet in May. Stay tuned for an announcement about the June meeting. 
We've discovered that this age reader loves to read books, lots of books, and share what they are reading with others. Unlike other book groups there is not a specific book that everyone reads each month. Instead everyone comes together to share what they are presently reading, a favorite book, or make recommendations, and have something good to eat while enjoying each other's company.
Everyone who is in middle school, public, private or homeschooled is welcome to join in the discussions as listeners or contributors. Call, email or come into the library for more information.
Upcoming Meeting Dates:
•    To be announced   •
Please join us!
---
First Tuesday Book Group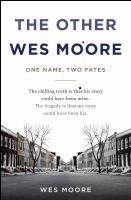 First Tuesday of each month
June 5, 7:00 pm
St. Christopher's Parish Community Room

Readers are encouraged to call (766-5540), email (peaks@portlandpubliclibrary.org) or come into the library to reserve copies of the books. If you have trouble finding an available copy of the book in the Portland library system, please contact us. Often we can locate a book through MaineCat.
FIRST TUESDAY BOOK DISCUSSION usually meets on the first Tuesday of the month at 7pm and there is a moderator for each discussion. This program is supported by the Friends of the Peaks Island Branch Library.
Upcoming meetings in 2018:
• June 5—The Other Wes Moore: One Name, Two Fates by Wes Moore
• July 3—The Last Days of Night by Graham Moore
• August 7—Born a Crime: Stories from a South African Childhood by Trevor Noah
For information on upcoming selections see PPL's Book Groups page.
---
For Summer and Temporary Residents
To obtain a library card while you are on the island, please bring your driver's license or other valid ID with your current address, as well as the address and phone number where you are staying on the island. Library staff will do our best to accommodate your library needs.
Peaks Island Community Links
• Peaks Island Press: News on Peaks Island Authors • Peaks Island Land Preserve • Peaks Island Information including Community Calendar and island organization links • Peaks Island Children's Workshop • Peaks Island Health Center • Peaks Island School • Fifth Maine Regimental Museum • Eighth Maine Regiment Memorial
Peaks Island Branch
Temporary home at Peaks Island Elementary School (rear entrance)
Peaks Island, ME 04108
207-766-5540
peaks@portlandpubliclibrary.org
Branch Manager, Priscilla Webster
Parking: Parking is available on the street.
Bookdrop: The bookdrop is at the front gates of the school.
1st floor wheelchair accessible
Hours:
Connect with the Library: