About the Lewis Gallery
AIGA Maine Poster Show: Maine Perspectives
In the Lower Level Hallway Gallery
August 5-October 8, 2022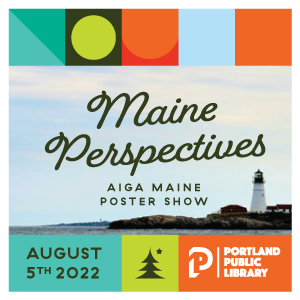 This show represents a range of work by designers and artists working in Maine. Through the visual medium of the poster, they share stories about Maine—stories of place, culture, style, community, nature, and identity. The work showcases a widerange of styles rooted in the diverse viewpoints of our participants, coming together around a consistent canvas size and thematic focus.
Maine Perspectives was organized by the Maine Chapter of the American Institute of Graphic Arts (AIGA,) a national organization with the mission of advancing design as a professional craft, strategic advantage, and vital cultural force. AIGA Maine is one of 70 chapters focused on supporting the field of graphic design.
---
HOLE HISTORY SHOW III:
Origins of The American-Style Donut
Lewis Gallery
August 5-September 21, 2022
"What love and loathing we have for doughnuts and their holes. And what better place to delve into this ambiguity than the home territory of the putative inventor of the doughnut hole."
-Food Historian Sandy Oliver, excerpt from Love, Loathing and Doughnuts, 2018
Hole History Show III: Origins of the American-Style Donut began in 2014, as a personal inquiry into ways that artist-curator Alexis Iammarino's work as a community artist could more assertively combine her interests in interdisciplinary, collaborative, and critical research models and, in an idiomatic fashion, from the field of public history.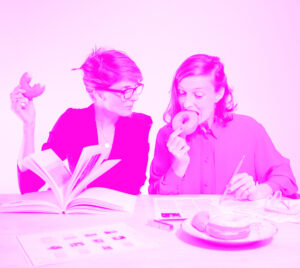 The project has its own origins to stories Iammarino heard in Maine's Midcoast, claiming that the hole-in-the-donut was singularly invented by a 19th-century sea captain, Hanson Crockett Gregory from Rockport, Maine.
This curatorial project offers a conceptual terrain and an inclusive venue for discourse between the dynamics of belief and fact, as well as the implication and significance of "American" as an adjective. In Hole History Show III, Iammarino remains curious about the power of art and aesthetics to intellectualize, editorialize, and inspire resistance to or an embracing of any story.
Living through such a time of national division and American partisan politics, how is it that individuals respond to "our times" and the culture of fake news or false, misleading, or bombastic claims (of all kinds) to prompt their own cultural and societal critique of how knowledge hierarchies operate in relational spaces between faith and fact; representation and abstraction; linear and circuitous; real and fake.
"The past has not been erased, its erasure has not been forgotten, the lie has not become truth. But the past of proof is strange and, on its uncertain future, much in public life turns. In the end, it comes down to this: the history of truth is cockamamie, and lately it's been getting cockamamier."
– Jill Lepore, "After the Fact," In the history of truth, a new chapter begins. The New Yorker, March 14, 2016
Past Exhibits

Works by Sam Onche, Mayele Alognon, Eamon White

Celebrate the works of three artists in the Lewis Gallery for the month of July. Opening June 28. First Friday Art Walk July 1, 5:00-8:00 pm.

Sam Onche is an illustrator/painter based in the United States. He was born in Nigeria, Benue and moved to the US in 2015. He studied studio art at Colby College with a focus in oil painting. Sam uses the digital and oil medium to create illustrations for posters, prints, book covers and album covers. He uses Black art as a voice to speak on issues, expectations as well as representation of Black people in our world today. Themes that can be seen in his work are fashion, music, culture and afrofuturism. He has worked with Colorforchange, Inspiration Grid, Creative Boom, collater.al, ICanvas , Shein, The Hut, iCatch canvas, Outside Colby and over 20 album covers.

Mayele Alognon is a Beninese-born Togolese-American visual artist currently residing in Brooklyn, NY. Mayele's work explores repetition, fragmentation, as well as the confusing and murky intersections of identity. She works primarily with watercolor and gouache on toned surfaces such as cardboard and paper bags.

Mayele's artistic practice centers around puzzle solving. Essentially the need to fit images next to, or rather, on top of each other in an effort to get at the true complexity of the subject—oftentimes, herself. The puzzles that she's most drawn to are imperfect, the ones that are clunky and awkward with maybe a few pieces missing. Ones where the pieces fit just right and just wrong. In a way where the fragments still hold as much significance as the bigger picture.

Eamon White is a Portland, Maine-based artist and graduate of Merrimack College with a degree in digital design. Inspired and taught in painting by his grandmother since childhood, art has become a way for Eamon to encourage people to think about what is happening in our world and highlight social issues in a way aimed at inspiring unity and togetherness. Eamon's art takes many forms including graphic design and customized hand-painted shoes and athletic footwear. In addition to being an artist, Eamon enjoys his work as an educator, coach, and youth advocate in his home state.

Art Class

In the Spring of 2022 PPL featured an exhibit titled Art Class: Exhibit of Student & Teacher work from Portland Public High Schools in the Lewis Gallery.

The exhibit celebrated the work of High School students and their teachers and mentors. Curated by High School senior and Lewis Gallery intern, Ella Burdin, this group exhibit highlights the work of current students at Portland High School, Deering High School, Casco Bay High School and Portland Area Technical High School.

Re-Emergence: USM Book Arts


In the Lewis Gallery – April 4-25

The University of Southern Maine Kate Chaney Chappell '83 Center for Book Arts is delighted to be back in the Lewis Gallery this year, hopeful that 2022 sees us all unfolding, turning pages and re-emerging. The artwork presented in the gallery represents artist's books from current students in the Visual Book classes, and Critique Group members at the USM Kate Cheney Chappell '83 Center for Book Arts.

The past two years we continued to make art in isolation and stretched to make connections and learn over Zoom. While not every piece in this exhibit directly speaks to the pandemic, you certainly will find that many of us turned toward nature for comfort, got creative with using materials on hand in our homes, and felt the upheaval of the world work it's way into our art.

We are grateful for you to view our work in person. We encourage you to have a conversation about the art with others in the gallery. Just as we feel the importance of connecting with a wider audience, we hope you are re-emerging and making connections with your community.

Illustrated Monsters by Monster Illustrators
Curated by Illustration Institute

In creating a monster, a dictionary is of no use.

The definition of "enormous and frightening imaginary creatures" is a wholly inadequate description of our relationship with these beings. Monsters are strangely comfortable in our lives and are culturally more nuanced and confusing to us than ever. They can be horrifying, cute, malicious, dim, powerful and pathetic.

Perhaps the disturbing aspect of monsters is that they remain a foil to our humane characteristics. Monsters in all forms help us understand the things that can happen if our better nature runs astray, help us face our fears, laugh in the face of absudity and embrace otherness with empathy.

Illustrated Monsters by Monster Illustrators provided a unique opportunity to explore a universal subject that spans cultures and informs storytelling on many levels. Each illustrator in the show showed a wealth of artistic expertise, inspiration and stories to share.

This show was curated by Illustration Institute. Thank you to The Stephen and Tabitha King Foundation and The Onion Foundation for their kind support.

Art in Captivity: Inside Out
Part of Freedom & Captivity

Portland Public Library partnered with Freedom & Captivity to create an exhibit of photographs of art created by current inmates in Maine. These photographs by Séan Alonzo Harris, Lesley MacVane and Trent Bell from inside Maine's Correctional Facilities revealed the human necessity to create art. This exhibit was on view in the Congress Street windows at Portland Public Library from September 15 – October 15, 2021.

An outdoor opening reception was held during October's First Friday Art Walk on October 1, 2021 from 5 – 8 pm on Congress Street with Maine Youth Justice.

Maine Youth Justice is a youth-led, nonpartisan, activist organization whose goal is to close Long Creek, Maine's youth detention facility, and create safer and stronger communities by investing in a continuum of community-based alternatives to incarceration for youth where all of Maine's young people can not only survive, but thrive.

The vision of youth justice is a collaborative and equitable response to harm that recognizes and builds on the strengths of individuals and community.

The Youth Justice project was funded in part by a grant from the Maine Arts Commission, an independent state agency supported by the National Endowment for the Arts.

MYJ will have a table with information about the campaign to close Long Creek, how to get involved in the movement to end youth incarceration and Know Your Rights posters created by Central Maine SURJ (Showing Up For Racial Justice).

Freedom & Captivity is a state-wide public humanities initiative during Fall 2021 to bring critical perspectives from the humanities to the interrogation of incarceration. Recognizing that mass incarceration is fueled by racism and profit-generating mechanisms that tear apart communities and families, the project offers opportunities for public engagement about imagining prison abolition and the redirection of resources toward community investments, the repair of racial and gender injustice, intergenerational trauma, and eldercare for the aging population in Maine's prisons. The project, which includes art exhibitions, workshops, webinars, a podcast, research and creative production, public education materials, and linked courses taught across Maine's campuses, aims to cultivate opportunities for imagining freedom in an abolitionist society. The project is conceived with the participation of people in Maine directly impacted by the carceral system.

MAPS: Maine Amori Printmaking Society
Curated by Jeff Badger

Critters 
Curated by Nancy Davidson and Ilana Welch
Gallery Details

The Lewis Gallery is centrally located at our Downtown Library in the heart of Portland's Art District. It is very accessible and enjoys a large audience of community members.  The library is very interested in working with curators and artists to help reflect the diversity of our community including members of the BIPOC community, LGBTQIA+ community, and/or persons with cognitive or mental disabilities.  We host exhibits throughout the year with community organizations and collaborators.  If you are interested in exhibiting your work please contact Gallery Manager, Rachael Harkness at harkness@portlib.org or (207) 871-1700 x723.

The Library's Cultural Center Team is currently reviewing exhibit proposal guidelines in an effort to make the gallery more accessible to artists and curators and will post them here when the process is complete.
Up Next at the Library:
No related events scheduled - Showing the next two events on our calendar.
Open Conversation Table (for learning English)
4:00pm - 5:30pm
Story Time for Children
10:30am - 11:00am
Connect with the Library: