Connect with the Library:
cloudLibrary
Download popular eBooks
and eAudiobooks for free to your phone or tablet from cloudLibrary!
Follow these instructions to get started on your device:
Already set up? Start borrowing!
Sadly, due to Amazon's restrictions, the Kindle App and Kindle Paperwhite are not compatible with cloudLibrary.
If you need further assistance, please contact us.
---
cloudLibrary FAQ
Does cloudLibrary use cellular data or require a Wi-Fi connection? 
Only when you are browsing and downloading a title. Once it has been downloaded, you no longer use any data or need Wi-Fi.
How many items can I borrow? 
You can borrow up to 3 items at a time.  
How long can I keep the items I check out?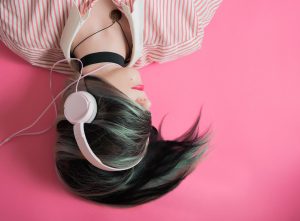 You can keep all items for 3 weeks. They will be automatically returned at the end of the 3-week lending period. You can also return them early from the My Books tab in the app.

Can I renew books that I have borrowed from cloudLibrary? 
Sometimes. If nobody is on the waiting list for the book, you will see a button next to the book (under the My Books tab) 3 days before it is due.
If someone is waiting for the book, you will not see an option to renew.
Why can't I find a particular eBook or eAudiobook?
The library does not own a copy of that particular book. Like the physical books in our collection, we have to purchase the eBooks and eAudiobooks you see in cloudLibrary.
How do I suggest an eBook or eAudiobook for purchase? 
You can make purchase suggestions directly through the app. When you search for a book the library does not own, press the orange Suggest button to make your request.
You can also email readersadvisory@portlib.org with your suggestion. 
Why is the wait time so long?
Libraries purchase eBooks in the same way they purchase physical books. This means we can only purchase a limited number of titles. It's possible the wait time will change rapidly as other people return the book early or cancel their hold. The library may also purchase additional copies to reduce wait times.
I have downloaded a book but receive an ERROR message when I try to open it. What do I do? 
Try uninstalling and then re-installing the app. This solves most technical errors that occur with cloudLibrary. If you try this and it does not solve your problem, please contact us.
What happens when I update my cloudLibrary app?
App updates help fix any bugs and show app improvements. You will not lose anything in your cloudLibrary account.
I am trying to log in to cloudLibrary but am receiving a message that my barcode is not valid. Is there a problem with my account? 
First, make sure you type in your barcode with no spaces. If that does not work, contact us.
I belong to another library that has cloudLibrary. Can I combine my accounts?
Yes! Inside the app, select Cards, then Add New.
If I have library cards at more than one library, does this mean I have access to more items in CloudLibrary?
It's possible! CloudLibrary is managed by the Maine State Library. This means all libraries who "opt in" have access to the same collection. Some libraries may order additional items just for their patrons. Other libraries – like Portland Public Library – order additional items and allow CloudLibrary users around the state to borrow them. If you are thinking about getting a card from another library, ask their staff about how they manage their CloudLibrary collection.
Recent Posts:
We Love cloudLibrary!
March 7, 2017 - It's official...PPL patrons love cloudLibrary! The app is very user-friendly and the content is incr
more
»