Related Topics
Connect with the Library:
Journaling — now and forward
Perhaps you write in a journal daily, or weekly, or when something life-changing happens- or- you've thought about writing, but are looking for some traction to get started…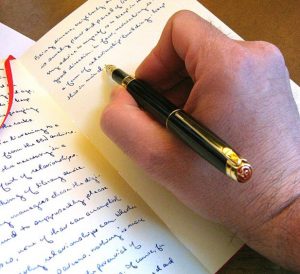 The Library's free monthly Journaling Program has been meeting since summer 2016, and includes journal-writers of all levels of experience, as well as those who want to try taking up pen & paper for the first time. All are welcome.
For the moment, while many of us may be working from home- or at least in an isolation that has postponed gathering in groups for the time being, here are some resources to support your writing efforts- wherever you may be now. Many write to preserve the present- for future readers, perhaps to pass along to later generations- or even just to re-read one's journeys later on.
Journaling amidst the Coronavirus Pandemic:
Write It Down, from the University of Virginia :
https://news.virginia.edu/content/write-it-down-historian-suggests-keeping-record-life-during-pandemic

Why You Should Keep a Pandemic Journal
https://www.lifehacker.com.au/2020/04/why-you-should-keep-a-pandemic-journal/
Journaling About the Coronavirus Pandemic of 2020, from the Genealogy Reporter:
https://thegenealogyreporter.com/journaling-about-the-coronavirus-pandemic-of-2020/
10 Quick Journal Prompts to Calm Your Mind:
https://www.createwritenow.com/journal-writing-blog/10-quick-journal-prompts-to-calm-your-mind
Journaling, in general, and getting started:
– Journal writing prompts, from Creative Writing Now:
https://www.creative-writing-now.com/journal-writing-prompts.html
–Reflective Journal Writing Prompts, from Janine Ripper:
https://reflectionsfromaredhead.com/writing-prompts-for-self-reflection/
– Journal Writing Prompts to Inspire, from Wildflowers and Wanderlust:
https://wildflowersandwanderlust.com/journal-writing-prompts/
About the Craft of Writing:
– Welcome to the Typosphere, for those who love to write by typewriter!
http://typosphere.blogspot.com/
– The Pencil Revolution, inspiring people to write in pencil!
https://www.pencilrevolution.com/
– An Inkophile's Blog, to remind us of the time-honored fountain pen aesthetic in journaling and letter-writing. Fountain pens are very popular among the PPL's Journaling in the Library group!
https://inkophile.wordpress.com/
– The Well-Appointed Desk, to add some encouragement for your improvised work-spaces:
https://www.wellappointeddesk.com/