Related Items
Connect with the Library:
Artist Talk: Alison Hildreth
Saturday | December 09, 2023
3:00pm - 4:30pm
Location: Atrium
Audience: Adults, Seniors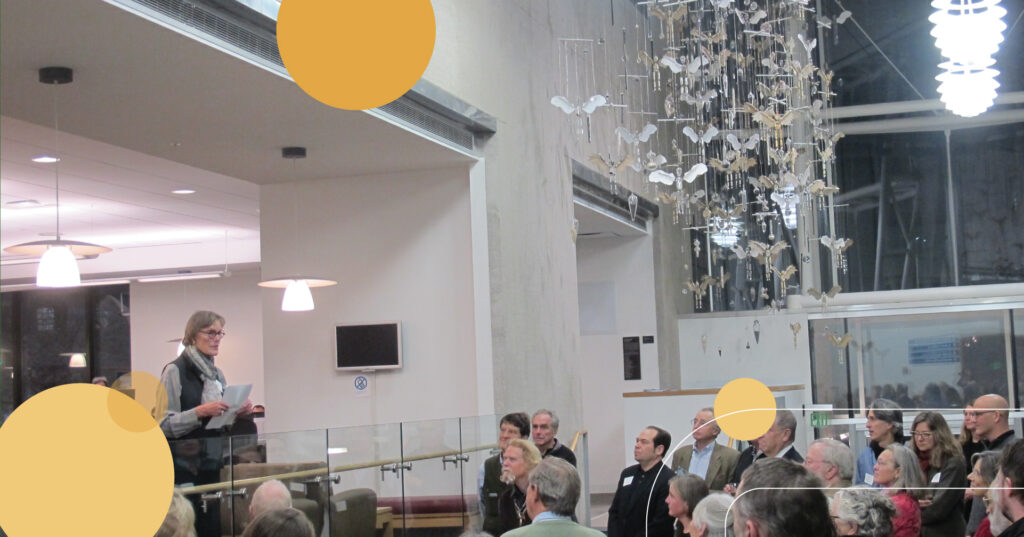 Join artist Alison Hildreth for a discussion with Carol and John Farrell about her sculpture The Feathered Hand which is permanently displayed in Portland Public Library's Atrium. The speakers will talk about puppetry and puppet making and puppet theater and how this art form is woven into The Feathered Hand and works by the artist. This talk is co-presented with Speedwell Projects.
ABOUT THE ARTIST
After graduating from Vassar College with a B.A. in Art History, Alison Hildreth worked in New York and went to night school at the Art Students League and the National Academy of Art. She moved to Maine and continued her studies in Studio Art graduating from the Maine College of Art in 1976. Since that time Alison has had several studios in Portland and now is located at the Bakery Studios at 61 Pleasant Street. Her prolific practice includes mixed media drawing, painting, printmaking, and installation work. While she incorporates ideas from research in cartography, astronomy, environmental studies, history, and philosophy into her work—many of her ideas come from walking and daydreaming.
Alison has exhibited in the United States and abroad. Her work is included in many permanent collections, including the Metropolitan Museum of art, the Brooklyn Museum, the Farnsworth Art Museum, and the New York, Boston, and Portland Public Libraries.
ABOUT THE INTERVIEWERS
Carol Farrell is a co-founder of Figures of Speech Theatre. She began performing experimental theater in 1971 with the New World Energy Theatre in Switzerland, then moved to San Francisco to study dance. After returning to New England and completing a Master's degree in Theater Design, Carol joined the theater faculty at the University of Maine as Costume Designer, until visions of creating whole worlds from scratch inspired her to co-found Figures of Speech Theatre with husband John in 1982. She has studied at the Institut International de la Marionnette in France, and served on the Board of the international puppetry association, UNIMA USA. Since 2011 Carol has worked as the Costume Director for the Department of Theater and Dance at Bates College, where she collaborates with designers and choreographers, instructs students working in the Costume Shop, maintains the Department's costume collection, and incorporates puppetry into theater productions whenever possible.
John Farrell is a co-founder of Figures of Speech Theatre. His artistic explorations are rooted in his love of poetry and sculpture. As an undergraduate at Yale he pursued studies in fields as diverse as African history, Vedanta Mysticism, the anthropology of law, and Sioux religion. During a Civil Procedure exam at the University of Maine School of Law, a voice informed him that a career in the arts was what he really wanted in life, and he quit, co-founding Figures of Speech Theatre a month later with dancer/designer Carol Farrell. Together they forged a unique vision of performance incorporating puppets and actors, masks, music, and dance. They have created 22 original works of theater, and toured the world for over 40 years. John has been an artist-in-residence at numerous colleges and arts centers, and has studied with the Japanese master puppet builder Toru Saito. In 1999 he was one of five American artists awarded a Creative Artists' Program Fellowship from the Japan-United States Friendship Commission, allowing him to spend 6 months in Japan studying Japanese theater and gardens. Hanamichi Design, the company he founded in 2003, creates gardens in the Japanese spirit for clients throughout New England.