Related Items
Connect with the Library:
Author Steven Ujifusa Talks About "Barons of the Sea"
Tuesday | August 30, 2022
6:30pm - 7:30pm
Location: Peaks Island Branch
Audience: Adults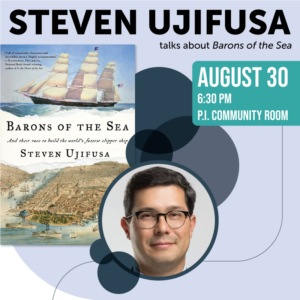 The Friends of the Peaks Island Branch Library invite you to hear visiting writer Steven Ujifusa speak about his book Barons of the Sea: And Their Race to Build the World's Fastest Clipper Ship. Ujifusa's book tells the story of a handful of cutthroat competitors who raced to build the fastest, finest, most profitable clipper ships to carry their precious cargo of luxury goods from China to American shores.
Steven Ujifusa received his AB in history from Harvard University and a master's degree in historic preservation from the University of Pennsylvania. He has given presentations across the country and on the high seas, and has appeared as a guest on CBS Sunday Morning and NPR. A recipient of a MacDowell fellowship and the Athenaeum of Philadelphia's Literary Award, he lives with his wife in Philadelphia.