Related Items
Connect with the Library:
Pihcintu CD Release Party
Saturday | October 15, 2022
2:00pm - 3:00pm
Location: Rines Auditorium
Audience: Adults, Teens, Kids & Families
Pihcintu CD Release Party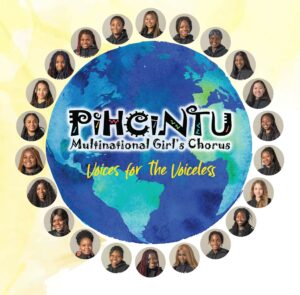 On Saturday, October 15th at 2 pm Pihcintu will perform songs from their new CD titled, Voices for the Voiceless.
Since its inception 17 years ago the chorus has become a globally recognized immigrant and refugee girl's chorus. Over 300 hundred girls have participated in the chorus which has been featured on the Today Show, Voice of America, National Public Radio, Al Jazeera, The Washington Post, Yankee Magazine, and countless local print and broadcast outlets. Pihcintu has performed for over 300,000 live including performances at the United Nations, The John F. Kennedy for the Performing Arts, Dag Hammarskjold Park, The National Cathedral, and the National Sylvan Theater.
"What a gorgeous chorus you have-what beautiful voices-isn't it incredible-Bravo"!! Yo Yo Ma
"You girls were Amazing" Bono at the United Nations
For more information on the chorus please visit www.pihcintu.org