Related Items
Connect with the Library:
Spotlight Event: John Duncan talks about Take it Easy: Portland in the 1970's with Chris Busby
Wednesday | March 30, 2022
6:00pm - 7:00pm
Location: 17 Westfield Street, Portland, Me 04102
Audience: Adults
Join PPL at Bunker Brewing for a conversation between Chris Busby, editor of The Mainer, and John Duncan about Duncan's new book "Take it Easy: Portland in the 1970's".  Masks are strongly recommended.
In the 1970s, decades before this working-class Maine city was reborn as one of the trendiest and priciest small cities in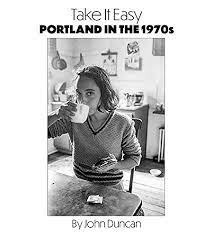 America, Portland stood anxiously at an inflection point. Moribund and neglected, it was walking a knife's edge toward an uncertain future as urban renewal efforts demolished aging buildings, preservationists rallied to save the city's historic character, and no one knew if any small Northeastern city could ever thrive again in a modern world. Take it Easy: Portland in the 1970s revisits those uneasy days through a remarkable collection of more than 130 long-forgotten, black-and-white images captured by dishwasher, cab driver, and budding street photographer John Duncan. In images he shot while hanging with friends, walking the streets, or driving his taxi, Duncan emotionally and evocatively captured the innocence, mood, fun, spirit, struggle, and melancholy of a city and its people during an iconic era. As Duncan clicked away with his Canon at the fleeting moments, capturing his daily life with remarkable honesty, the downtown's luster slowly crumbled. But its department stores still beckoned shoppers, rowdy dive bars ruled the night, and young people could still find affordable rents, cheap meals, and good times.
About the Series » Spotlight Lecture Series
Portland Public Library hosts nationally touring authors at the Spotlight Series. Authors talk about newly released work followed by audience Q&A and a book signing. The series is presented by Portland Public Library in partnership with Print: A Bookstore, The Press Hotel, and Bunker Brewing Company.