Connect with the Library:
eAudiobooks
Available Anywhere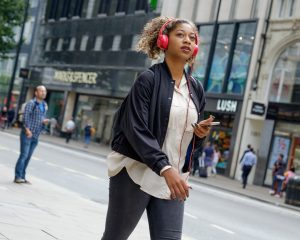 Download eAudiobooks for free with your library card, even when the library is closed!
Select from our vendors below or explore the free out-of-copyright or "public domain" materials from our list of alternate sources.
---
Download popular eAudiobooks for free to your phone or tablet from cloudLibrary. This service is offered in partnership with other Maine libraries, with exclusive content available to Portland Public Library cardholders. Our catalog is constantly growing, so check in frequently to see what's new!
Follow these instructions to get started on your device: iPhone/iPad, Android (including Nook HD), or Kindle Fire. Once you've downloaded the app, check out these handy tips and tricks to navigate within your cloudLibrary.
---
Public Domain
You can also download eAudiobooks, for free and without due dates, that are out-of-copyright or "public domain" from these sources. No login or password required.
ThoughtAudio is a site that produces classical literature, philosophical, and historical audiobooks. They have a free plan with limited access and a low-fee paid plan with top downloading speed.