Connect with the Library:
Portland Poet Laureate Program
The Portland Poet Laureate is an honorary position awarded every 3 years to a resident of the Greater Portland area who is both an accomplished poet and an excellent ambassador within the community, helping to promote and win new audiences to the art of poetry. The Poet Laureate Program runs on volunteer power, drawing on a local group of poets and poetry lovers who serve as a selection committee and assist with projects.
Current Portland Poet Laureate
The current Portland Poet Laureate is Maya Williams, who was inaugurated on July 1, 2021. Read more
History of the Portland Poet Laureate
See how the program got started and read about the previous Poets Laureate. Read more
Upcoming Poet Laureate Events
Community Write: Parable of the Sower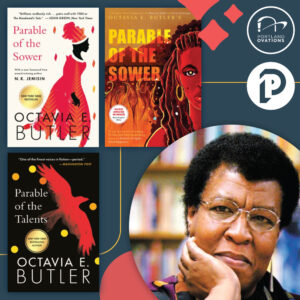 Join us for a writing workshop, where we will explore themes from Octavia Butler's Parable of the Sower. This event is cosponsored by Portland Ovations.