A Special Event for Black History Month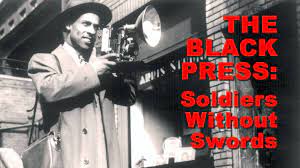 To celebrate Black History Month, the Library will host a special movie event on Saturday, February 18th from 1-2:30 pm in the Rines Auditorium at the Downtown Branch. We will screen writer/director Stanley Nelson's film The Black Press: Soldiers Without Swords, a chronicle of Black journalism in America. This screening is free and open to the public.
In 1999, this film won the Jury Award for Best Documentary at the Hollywood Black Film festival, as well as a Golden Spire Award from the San Francisco International Film Festival and the Freedom of Expression Award at the Sundance Film Festival, where it was also nominated for the Grand Jury Prize. It has been honored by the NAACP, the International Documentary Association, and was nominated for an Emmy Award after it aired on PBS.
The Black Press: Soldiers Without Swords is an early work from a talented and prolific filmmaker. For a list of other works by Stanley Nelson, click here.
posted: , by PPLMovies
tags:
Library Collections
|
Programs & Events
|
Adults
|
Seniors
|
Art & Culture