Black History & History in the Making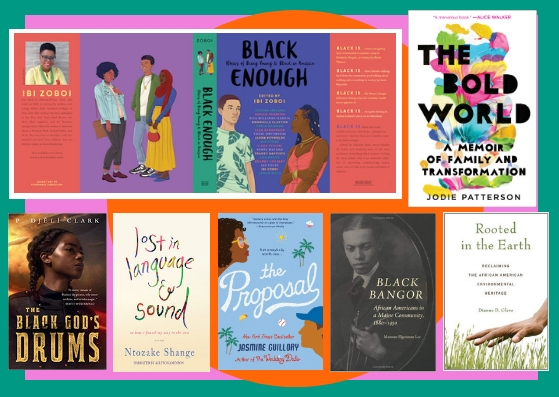 Our staff looks at Black History and History in the Making in 2019 and related newer titles at the library on a wide range of subjects in nonfiction, biography, literature, and culture, as well as digital resources. If you're participating in the library's 2019 Reading Challenge, we've also included ideas for fiction and nonfiction titles that match up with a few of our 24 Reading Challenge categories.
 In addition to these ideas in words (and images!), we love making book lists, and our Teen staff suggested checking out  Black History & History in the Making and #ReadingBlackout: YA Fiction by Black Authors.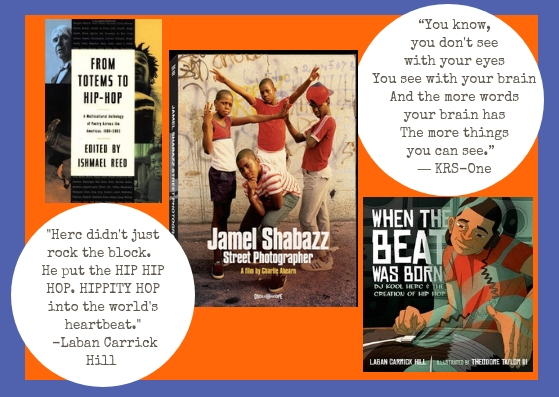 Carrie's Picks
"Hip is to know, it's a form of intelligence. To be hip is to be update and relevant. Hop is a form of movement, you can't just observe a hop, you gotta hop up and do it. Hip and hop is more than music. Hip is the Knowledge, hop is the Movement. Hip and Hop is Intelligent movement." ― KRS-One 
 "I think that all journalists, specifically print journalists, have a responsibility to educate the public. When you handle a culture's intellectual property, like journalists do, you have a responsibility not to tear it down, but to raise it up. The depiction of rap and of hip-hop culture in the media, I think, is one that needs more of a responsible approach from journalists." ― KRS-One 
Hip Hop speaks for itself. For me Hip Hop shows are the best kind of story time for adults.
You listen, learn, dance, participate, and feel the love of the MC in an atmosphere of peace, love, and community. Here are a few of my favorite Hip Hop resources at the Portland Public Library: When the Beat Was Born : DJ Kool Herc and the Creation of Hip Hop, by Laban Carrick Hill; From Totems to Hip-Hop, edited by Ishmael Reed; The Gospel of Hip Hop: First Instrument, presented by KRS-One for the Temple of Hip Hop; the documentary film Jamel Shabazz: Street Photographer; Back in the Days: Photographs, by Jamel Shabazz.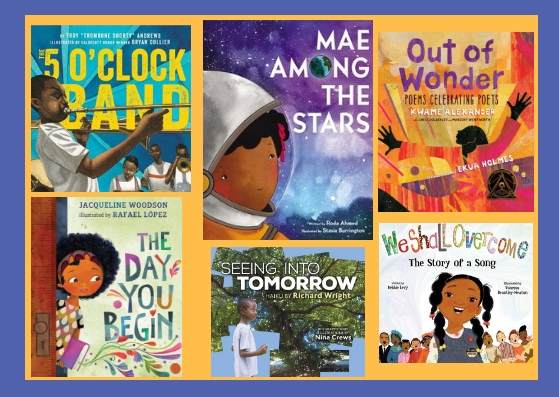 Cindy's Pick
I just read a wonderful picture book that is brand new to our collection in the Children's Room. The 5 O'clock Band by Troy "Trombone Shorty" Andrews is an autobiographical picture book about Andrews' early days in his first band as a child in New Orleans, LA.   
The lavish illustrations convey the emotions and feelings of the book so beautifully, and being a lifelong lover of New Orleans myself, seeing all of those familiar sites among the pages was a huge visual treat.   
This book covers themes of being a support to your friends (bandmates) as well as letting friends down and how to cope with and move forward in a positive way.  I loved every lyrical second of this book! 
Emily's Pick
Our whole family delights in Troy Andrews' Trombone Shorty. Our favorite way to read it is to listen — the audiobook narrated by Dion Graham is full of music from Andrews himself. This book earned a Corretta Scott King illustrator award and a Caldecott honor in addition to an Audie Award — so I'd say your kids will also love exploring the vibrant pictures while listening along.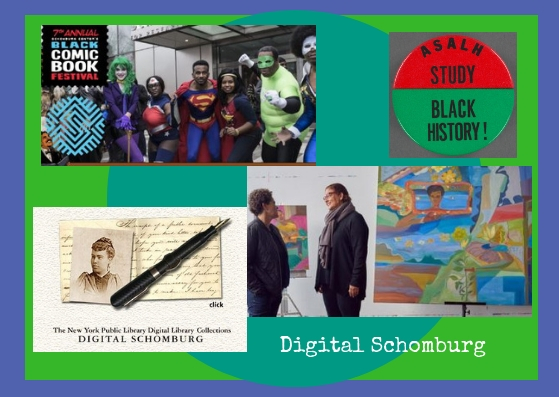 Elizabeth's Pick
If you're at a Portland Public Library location on the computers or WIFI, there's much to explore at other libraries as well. New York Public Library's Schomburg Center for Research in Black Culture has a digital library that anyone online can access. The Digital Schomburg has a multitude of great resources: podcasts, oral histories, the historical Images and Illustrations archive, access to free eBooks and articles, and Online Exhibitions on a range of subjects.
There's also a Livestream Events and Video Archive of lectures, events, and readings that have taken place at the Schomburg Center—like Curating Black Nerdy Spaces (a conversation from the Schomburg Center's 7th Annual Black Comic Book Festival), or performances like the recent Chevalier de Saint Georges of Guadeloupe Recital. I've long loved the luminous paintings of Ficre Ghebreyesus (after reading poet Elizabeth Alexander's memoir in 2015), so I was glad to access a talk called The African Sublime of Ficre Ghebreyesus: In the Studio with Julie Mehretu and Elizabeth Alexander. Whether you're delving into literature, music, comedy, theater, history, poetry, you can find an abundance of archived material at the Digital Schomburg—and if you're an educator, any part of this free and accessible digital library could be a great classroom resource.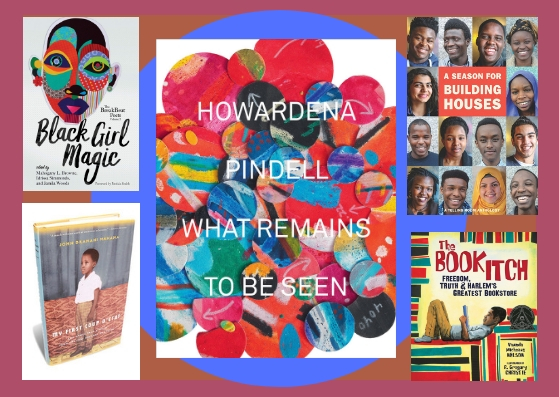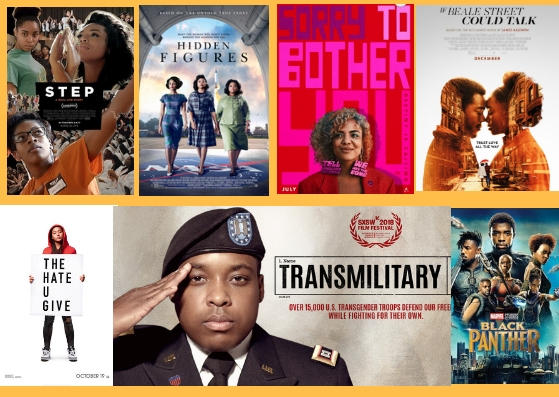 Sarah R's Picks
Bingo Love, a graphic novel from our Teen collection, is both a heartwarming and tear-jerking read featuring two sweethearts whose love story spans decades, and explores the various hurdles of a lesbian relationship between Black women that began in the sixties and rekindles in modern day New Jersey. The characters and illustrations are adorable, and it's really refreshing to dive into a queer narrative that centers protagonists whose identities are underrepresented in media. Even better, it avoids the trope that all queer romance has to end in tragedy.  
A gripping and important selection from our New Adult Nonfiction collection, Carceral Capitalism draws connections between race, class, the prison-industrial complex, fine-based economies, police, technology, and more. Author Jackie Wang laces critical analysis in with personal connections to these intersecting realities and oppressions, at one point noting, "My older brother is serving a forty-year prison sentence while I am a Ph.D. student at Harvard University." This book is recommended for readers looking to examine the relationships between anti-blackness, criminology, and incarceration while also taking a glimpse into imagining a future without prisons.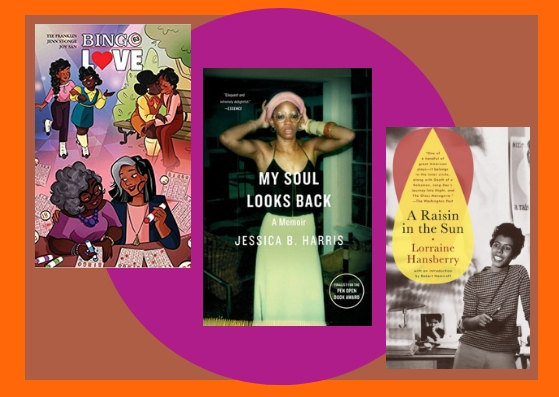 Nora's Picks
Bruce Watson's interview-based history Freedom Summer: The Savage Season That Made Mississippi Burn and Made America A Democracy tells the stories of Black and white volunteers working together for voting rights and to establish Freedom Schools in the South in 1964, exploring the tensions and victories in a struggle against violence, structural racism, and white supremacy.
For young readers and listeners, writer Debbie Levy and illustrator Vanessa Brantley-Newton's picture book history of We Shall Overcome follows a story of oppression and triumph, beginning with the iconic song's 1900 roots in a Black church. In telling of the song's exportation worldwide as an anthem of endurance in the face of imposed hardship, Levy and Brantley-Newton implicitly convey how the resilience characteristic of Black history has positively influenced other narratives of inequality on an international scale.  
While these books focus on unity, Lorraine Hansberry's classic A Raisin in the Sun underscores the inner division that can occur when Black dreams are deferred in a culture that requires whiteness at every peak. I have been rereading this play since I was a teenager, but I will never cease to get goosebumps when Mama delivers her message that to overcome is, after all, a feat of loving when love is hardest.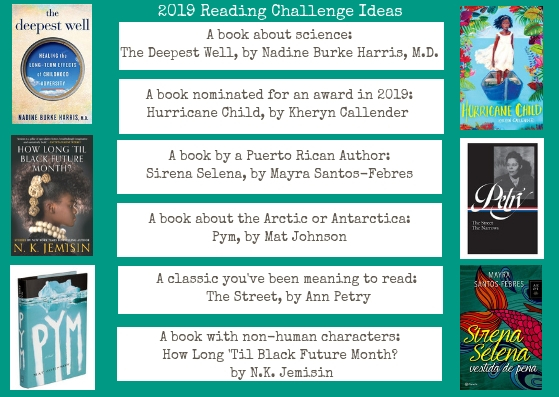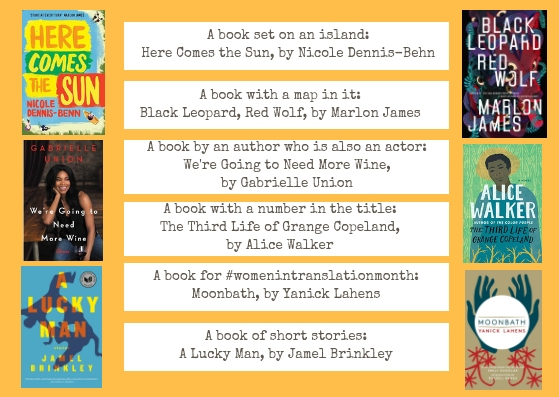 Becca's Picks
"I am not central to the story, although I have lived it; rather, it is about an extraordinary circle of friends who came together, lived outrageously, loved abundantly, laughed uproariously, and savored life while they created work that would come to define the era."  
Those who enjoy stories about 1970's New York City will find a friend in My Soul Looks Back, the memoir of acclaimed academic, chef, and food critic Jessica B. Harris. After meeting Sam Floyd – a fellow professor and close friend of James Baldwin – Jessica is swept into the close-knit world of New York's Black intelligentsia in the West Village. Her memoir describes memorable anecdotes, including late-night workshops with Baldwin and meals with Maya Angelou. Readers can expect frank discussion of sexuality, delicious recipes, and a complementary playlist. Devour this book with some of her delicious recipes.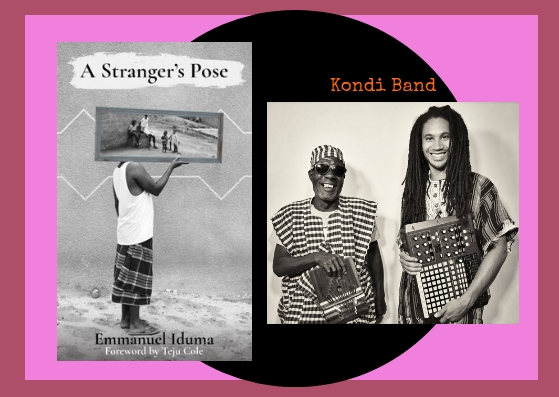 Nate's Picks
"Once, overlooking the sea in Ngor, my eyes followed the path the surfers made as they performed their stunts.  I see what rivers-the Nile in its stretch beyond the Mediterranean, the Niger as it joins Timbuktu to Lokoja-teach with their flowing mass.  Wave falls on wave, as one dialect inflects on another.  All rivers are multilingual." 
Emmanuel Iduma is a writer and faculty member at the School of Visual Arts in New York City. His brilliant travelogue A Stranger's Pose (it can be requested through Interlibrary Loan and is well worth the effort) chronicles his travels across the African continent in both words and photos. Scenes from hectic, crowded cities of the Sahel are dampened through the use of black and white images, often focused on a single subject facing the camera, asking readers to pause and consider for a moment.  The vignettes are simple and lyrical, often no more than a page or two.  They carry the reader forward in a dreamlike manner, dropping in on a foray into the Mauritanian desert before picking up again in the heart of Addis Ababa.  Much like Every Day is for the Thief or Looking for Transwonderland, A Stranger's Pose offers the perspective of an African traveling in the continent, a relatively unheralded and underrepresented pairing.
And second, mainly so I can push the mixes he helps produce and create a handful of times every year under the moniker INTL BLK or Chief Boima, which feature current music from Africa and the diaspora, the radical, wonderful album Salone by Kondi Band. Boima provides beats and samples to accompany the sounds created by Sorie Kondi, a renowed kondi, or thumb piano player. The duo spent 10 years crafting an album that I have trouble describing accurately and succinctly.  It is upbeat, it brings a smile to my face, and it makes me want to dance.  All of which I desperately need to get me through the Maine winter.
________________________________
posted: , by Elizabeth
tags:
Library Collections
|
Recommended Reads
|
Adults
|
Parents & Teachers
|
Seniors