Control Those Porcupines: UMaine Extension Bulletins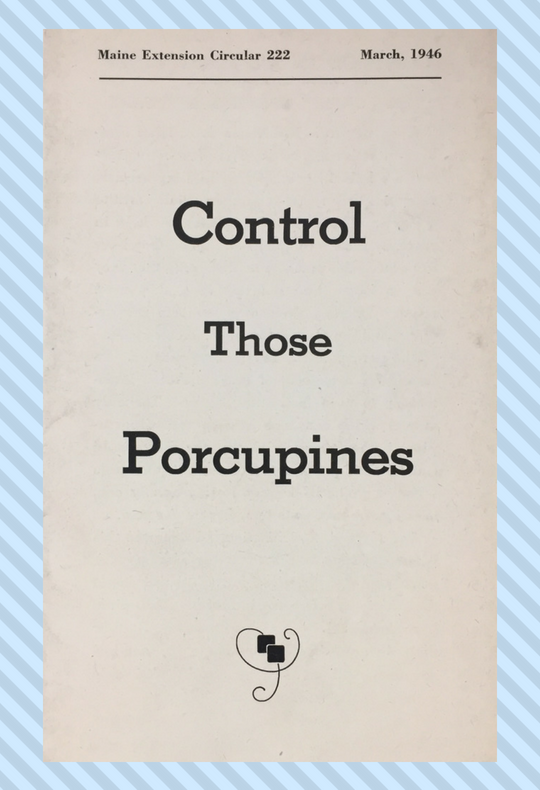 Have you been looking for some decades-old wisdom about "Growing Snap Beans for Canning"? We've got you covered. Reminiscing about "Beginning with Bees in Maine" in days gone by? Check. Have you been losing sleep wondering whether PPL has anything about "Transporting Maine Potatoes by Truck" from 1962? Well, toss and turn no more. Thanks to newly added catalog records originally created by our colleagues at Fogler Library in Orono, PPL's collection of University of Maine Extension Service bulletins and circulars are now represented and easily findable by title or subject.
Extension services were first established in America in 1914 with the adoption of the Smith-Lever Act (stay with me!), which sought to empower farmers and rural families (and anyone, really) by supplying them with the latest information related to agriculture, home economics, health & nutrition, and other subjects. One of the primary ways this information was able to reach a wide audience was via bulletins and circulars, ranging from simple trifold brochures to 20-page booklets. They were often illustrated, perhaps with a diagram to explain how to test cream for butterfat, or with photographs depicting the ailments caused by lack of calcium.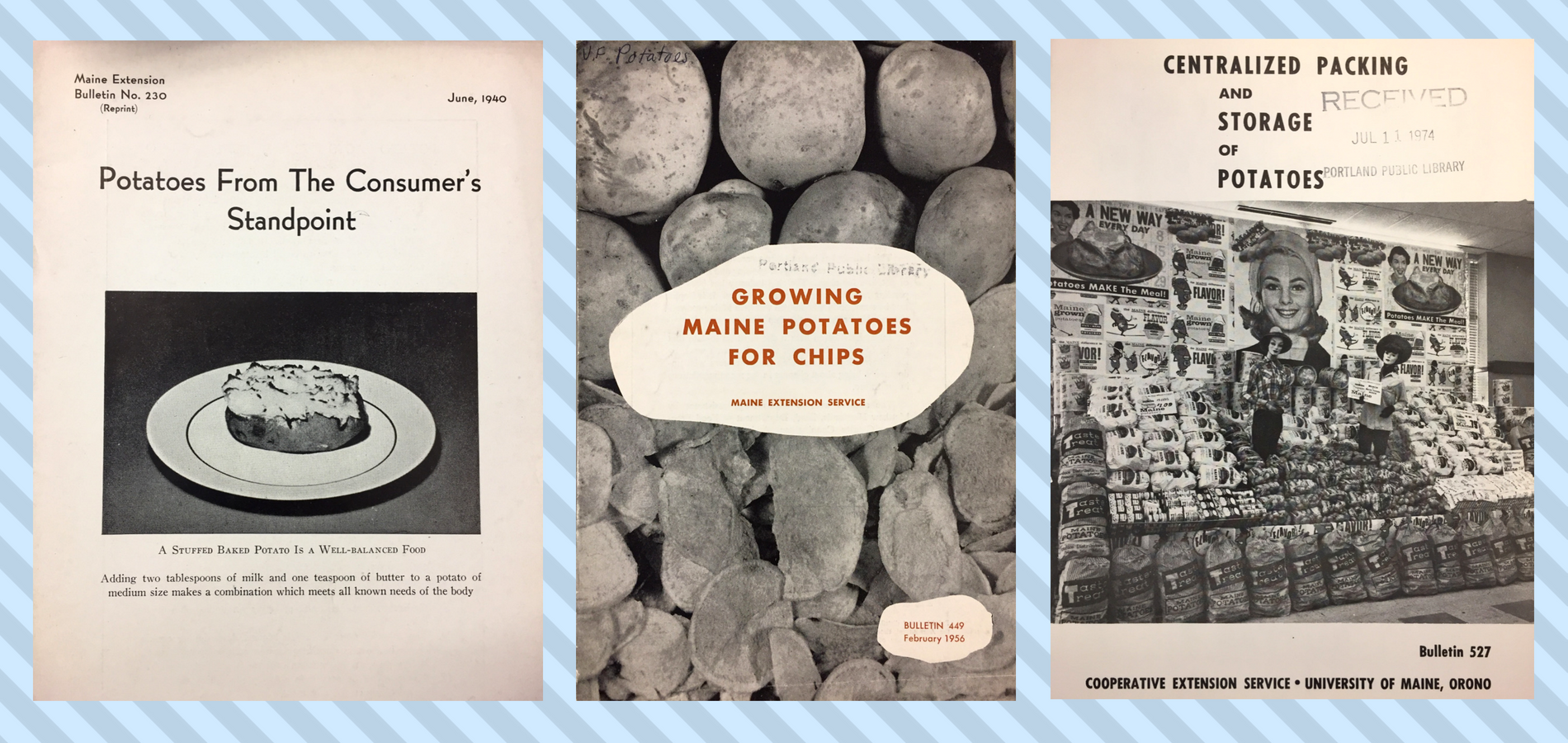 In a 1957 address, "Philosophy of Extension Work," Arthur L. Deering, Dean and Director of the University of Maine College of Agriculture, mused about the nature of the Maine Extension Service and similar organizations all over the country. The philosophy of extension services, he said, "finds its best soil in that agent who has a heartfelt desire to help others and a strong belief in the ability of people to help themselves, once the way is pointed out and their interest aroused" (p. 5). Psst… that doesn't sound too unlike a public library!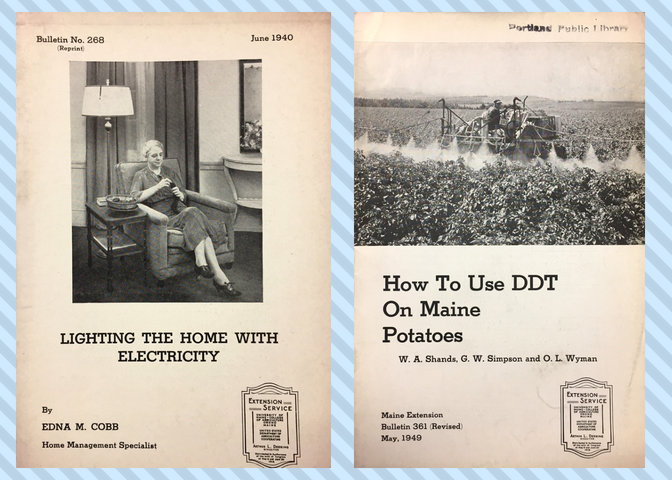 PPL has about 250+ of these original bulletins and circulars in our Portland Room Archives, and they make for an interesting—and at times entertaining—window into a time before widespread factory farming, increased urbanization, and digital society. From instructions on the application of DDT (banned for agricultural use in 1972) to tips for transitioning from kerosene lamps to electric lighting, an afternoon spent browsing these bulletins from the Extension's early years is something like library-assisted time travel.
Much of PPL's bulletin collection was published in the '30s and '40s, and the
concerns of the UMaine Extension reflect the concerns of WWII-era America. Extension services at this time were charged by Congress with recruiting emergency agricultural workers and overseeing the Farm Labor program, an effort that is plainly evident in dozens of circulars' headings: "Green and yellow vegetables on the firing line"; "Milk and bullets fight together"; "Raise rabbits in wartime: food and fur are ammunition." Several pamphlets urge teenagers to spend their summer vacations as Victory Farm Volunteers and implore women to consider joining the Women's Emergency Farm Service.
For all the historical value of this collection, it's worth noting that our local Extension Services are far from a thing of the past. UMaine Cooperative Extension is still very active, with fourteen offices spread out among Maine's sixteen counties. The bulletins continue as well, now available to download for free from the Extension's website. For example, the recent Bulletin 1061 enumerates the ways smartphones can be used to benefit farm business. As they have for a century, extension services are continuously adapting to the latest research and changes in technology to meet the needs of healthy, empowered communities.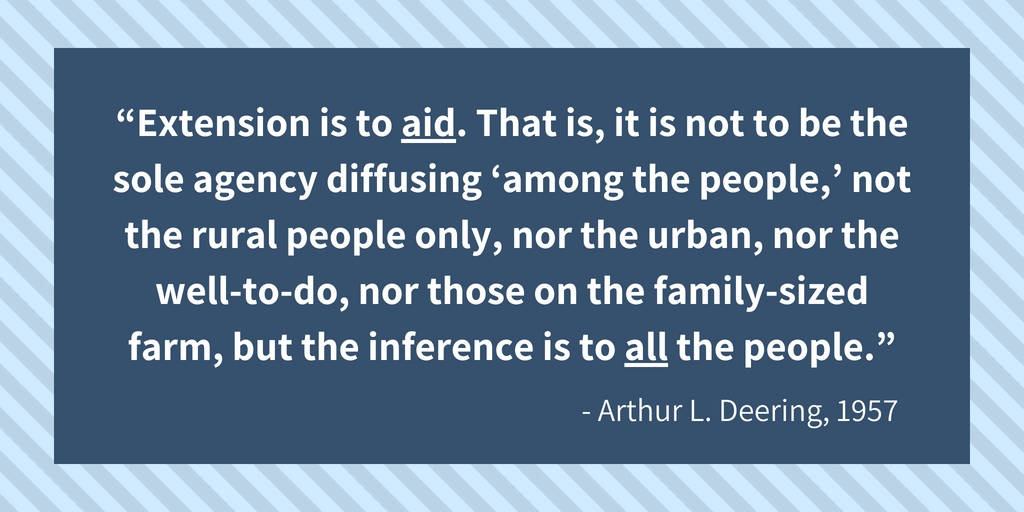 posted: , by PPL
tags:
Library Collections
|
Adults
|
Portland History
|
Science & Technology