Lewis Gallery
Maine has a rich heritage of fiddling that encompasses Yankee, Franco-American, and, to a lesser extent, Irish-American cultures. The exhibit will explore and celebrate this heritage by bringing together a wide range of materials—photographs, printed and manuscript tunebooks, sound recordings, concert flyers, and dance cards—that document the Pine Tree State's vibrant fiddling traditions. Maine has also been home to a surprising number of fiddle makers; researchers have identified close to 200 professional and amateur craftspeople in Maine who have made violins. Examples of the work of several of these are included in the exhibit.Curators of the exhibit are Paul F. Wells, Director Emeritus of the Center for Popular Music at Middle Tennessee State University, and Tom Wilsbach, Arts Librarian at the Portland Public Library. Wilsbach and Wells are both fiddlers and fiddle researchers. The exhibit will hang through June and July. Associated events, including lectures and performances will take place during the exhibit's run.- See more at: http://www.portlandlibrary.com/events/wicked-good-fiddling-200-years-fiddling-fiddlers-fiddle-making-maine/#sthash.SsbaGJyE.dpuf Maine has a rich heritage of fiddling that encompasses Yankee, Franco-American, and, to a lesser extent, Irish-American cultures. The exhibit will explore and celebrate this heritage by bringing together a wide range of materials—photographs, printed and manuscript tunebooks, sound recordings, concert flyers, and dance cards—that document the Pine Tree State's vibrant fiddling traditions. Maine has also been home to a surprising number of fiddle makers; researchers have identified close to 200 professional and amateur craftspeople in Maine who have made violins. Examples of the work of several of these are included in the exhibit.Curators of the exhibit are Paul F. Wells, Director Emeritus of the Center for Popular Music at Middle Tennessee State University, and Tom Wilsbach, Arts Librarian at the Portland Public Library. Wilsbach and Wells are both fiddlers and fiddle researchers. The exhibit will hang through June and July. Associated events, including lectures and performances will take place during the exhibit's run.- See more at: http://www.portlandlibrary.com/events/wicked-good-fiddling-200-years-fiddling-fiddlers-fiddle-making-maine/#sthash.01kwJmUH.dpu
Zanzibar Henna Artists:  Innovation on a Cultural Tradition
Zanzibar Henna Artists:  Innovation on a Cultural Tradition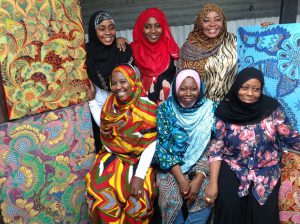 This exhibit is held in conjunction with local artist Alice Spencer and will be on display through March 25th.  The exhibit includes paintings by members of a women's cooperative gallery in Zanzibar, Tanzania, where Spencer taught print  making in 2010.
The exuberant, bright swirling patterns are inspired by traditions common in Zanzibar and to cultures around the Indian Ocean, in India, Africa and the Arabian Peninsula.
The cooperative provides a gallery space and a place for the women to work together to help support their families, producing works on canvas now finding a global market.
****************************************************************
Lewis Gallery Exhibit Guidelines

The Lewis Gallery at Portland Public Library is a large and open gallery that has 75 feet of wall space, a soaring entry, track lighting, and great public visibility. Voted the Portland Phoenix's Best Non-Gallery Art Space 2013, the Lewis Gallery is a space that attracts visitors and encourages public engagement with art.
If you are interested in exhibiting your work, please review our art exhibit guidelines and submit a proposal using the Lewis Gallery proposal form.
The Library's Cultural Center Team reviews exhibit proposals on a quarterly basis and selects shows based on a goal of attaining a mix of mediums and content for the gallery. Submitting a proposal form does not ensure that a show will be hosted in the Lewis Gallery.