Lewis Gallery
Maine has a rich heritage of fiddling that encompasses Yankee, Franco-American, and, to a lesser extent, Irish-American cultures. The exhibit will explore and celebrate this heritage by bringing together a wide range of materials—photographs, printed and manuscript tunebooks, sound recordings, concert flyers, and dance cards—that document the Pine Tree State's vibrant fiddling traditions. Maine has also been home to a surprising number of fiddle makers; researchers have identified close to 200 professional and amateur craftspeople in Maine who have made violins. Examples of the work of several of these are included in the exhibit.Curators of the exhibit are Paul F. Wells, Director Emeritus of the Center for Popular Music at Middle Tennessee State University, and Tom Wilsbach, Arts Librarian at the Portland Public Library. Wilsbach and Wells are both fiddlers and fiddle researchers. The exhibit will hang through June and July. Associated events, including lectures and performances will take place during the exhibit's run.- See more at: http://www.portlandlibrary.com/events/wicked-good-fiddling-200-years-fiddling-fiddlers-fiddle-making-maine/#sthash.SsbaGJyE.dpuf Maine has a rich heritage of fiddling that encompasses Yankee, Franco-American, and, to a lesser extent, Irish-American cultures. The exhibit will explore and celebrate this heritage by bringing together a wide range of materials—photographs, printed and manuscript tunebooks, sound recordings, concert flyers, and dance cards—that document the Pine Tree State's vibrant fiddling traditions. Maine has also been home to a surprising number of fiddle makers; researchers have identified close to 200 professional and amateur craftspeople in Maine who have made violins. Examples of the work of several of these are included in the exhibit.Curators of the exhibit are Paul F. Wells, Director Emeritus of the Center for Popular Music at Middle Tennessee State University, and Tom Wilsbach, Arts Librarian at the Portland Public Library. Wilsbach and Wells are both fiddlers and fiddle researchers. The exhibit will hang through June and July. Associated events, including lectures and performances will take place during the exhibit's run.- See more at: http://www.portlandlibrary.com/events/wicked-good-fiddling-200-years-fiddling-fiddlers-fiddle-making-maine/#sthash.01kwJmUH.dpu
Photos of the Year
On view in the Lewis Gallery, January 7 – February 18, 2017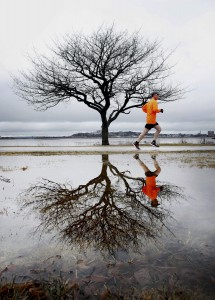 Portland Public Library and the Portland Press Herald team up once again to present "Photos of the Year" an exhibit of the newspaper's best photos of 2016 and a review of what the year entailed.  On view in the Lewis Gallery January 6th – February 18th 2017.
Good photographers make great pictures from situations that are loaded with visual possibility. Great photographers make something out of nothing.
The Portland Press Herald's photographers consistently make interesting, beautiful, moody and emotional photos not only from important news events but also from the most ordinary events of our lives.
In 2016, our photographers covered politics, from the heated presidential campaigns to the emotional election night gatherings. They traveled the state, photographing lobstermen in Stonington and residents of the remote town of Allagash. They spent time with people like Arianna, a 5-year-old girl who was living in the woods until her family found an apartment. And they captured everyday moments, from a game of pickup basketball to a bird's-eye view of a crane operator high above Portland.
They made thousands of frames and drove thousands of miles to tell Maine's stories. This collection represents some of their best work from the year.
Picture This: The Art and Workings of Illustration Institute
On view in the Lewis Gallery, October 7 – December 17, 2016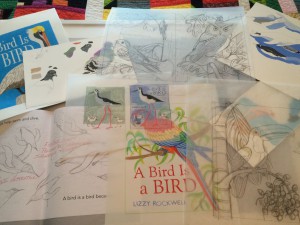 Picture This… The Art and Workings of Illustration Institute is an exhibition that shares the ideas, process, craft and art of seventeen local and national professional illustrators including: Chris Van Dusen, Suzy Becker, Chris Raschka, Henrik Drescher, Jamie Hogan, Marty Braun, Kevin Hawkes, Lizzy Rockwell, Matt Tavares, Emily Flake, Danielle Madore, Mary Anne Lloyd, Daniel Minter, Rick Parker, Scott Whitehouse, Nancy Gibson Nash & Scott Nash.
Illustration Institute is a non-profit organization whose mission is to increase appreciation and awareness of illustration by providing the public the opportunity to learn directly from master artists and working professionals through workshops, lectures and exhibitions about the art of illustration.
As the title of the exhibition implies, "Picture This…" intends to provide a view into how specific media the public encounters every day are enhanced by illustration and further, how an aspiring illustrator might picture themselves in this fulfilling and diverse profession.
As part of the exhibit, rarely seen "behind-the-scenes" process pieces are included for each final work. The artists have generously provided early ideas, abandoned sketches, revised and reworked versions based on collaborations with their clients or editors, inviting an intimate look into the artist's studio in order to show the real effort and joy of illustrating for a living.
The works in "Picture This…" span a broad range of illustration from children's picture books to applied illustration, editorial, animation, cartoon and tattoo art.
Picture This… The Art and Workings of Illustration Institute will be on display at Portland Public Library's Lewis Gallery from October 7th through December 17th. Illustration Institute will be providing workshops, lectures and film at the library through October of 2017. For more information contact Nancy Gibson Nash, Illustration Institute's Program Coordinator at 207-772- 3585 and follow illustration Institute on Facebook and Instagram.
Sea Change: Portland on the Edge of the New North
July 15, 2016 – January 2, 2017
This exhibit explores Portland's evolving significance in international shipping. The public is invited to attend a special opening during First Friday Artwalk, August 5 from 4 to 6 pm.
Portland's unique geographic location has been repeatedly discovered, exploited, and abandoned in several economic cycles, at times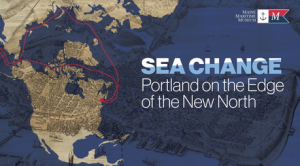 in valuable proximity to world events, in other times a forgotten backwater as its maritime history rolls on. As long-sought northern sea routes from the Atlantic to the Pacific open up due to receding ice in the Arctic, Portland finds itself situated in useful proximity to potentially monumental changes in world shipping, again.
Drawing on Maine Maritime Museum's large archival collections of maps and photography, Sea Change: Portland on the Edge of the New North will illustrate the port's long history as the doorstep between Canadian/U.S. commerce to Europe, and how climate change and maritime innovation are writing the next chapters.
****************************************************************
Lewis Gallery Exhibit Guidelines

The Lewis Gallery at Portland Public Library is a large and open gallery that has 75 feet of wall space, a soaring entry, track lighting, and great public visibility. Voted the Portland Phoenix's Best Non-Gallery Art Space 2013, the Lewis Gallery is a space that attracts visitors and encourages public engagement with art.
If you are interested in exhibiting your work, please review our art exhibit guidelines and submit a proposal using the Lewis Gallery proposal form.
The Library's Cultural Center Team reviews exhibit proposals on a quarterly basis and selects shows based on a goal of attaining a mix of mediums and content for the gallery. Submitting a proposal form does not ensure that a show will be hosted in the Lewis Gallery.