Lewis Gallery
Maine has a rich heritage of fiddling that encompasses Yankee, Franco-American, and, to a lesser extent, Irish-American cultures. The exhibit will explore and celebrate this heritage by bringing together a wide range of materials—photographs, printed and manuscript tunebooks, sound recordings, concert flyers, and dance cards—that document the Pine Tree State's vibrant fiddling traditions. Maine has also been home to a surprising number of fiddle makers; researchers have identified close to 200 professional and amateur craftspeople in Maine who have made violins. Examples of the work of several of these are included in the exhibit.Curators of the exhibit are Paul F. Wells, Director Emeritus of the Center for Popular Music at Middle Tennessee State University, and Tom Wilsbach, Arts Librarian at the Portland Public Library. Wilsbach and Wells are both fiddlers and fiddle researchers. The exhibit will hang through June and July. Associated events, including lectures and performances will take place during the exhibit's run.- See more at: http://www.portlandlibrary.com/events/wicked-good-fiddling-200-years-fiddling-fiddlers-fiddle-making-maine/#sthash.SsbaGJyE.dpuf Maine has a rich heritage of fiddling that encompasses Yankee, Franco-American, and, to a lesser extent, Irish-American cultures. The exhibit will explore and celebrate this heritage by bringing together a wide range of materials—photographs, printed and manuscript tunebooks, sound recordings, concert flyers, and dance cards—that document the Pine Tree State's vibrant fiddling traditions. Maine has also been home to a surprising number of fiddle makers; researchers have identified close to 200 professional and amateur craftspeople in Maine who have made violins. Examples of the work of several of these are included in the exhibit.Curators of the exhibit are Paul F. Wells, Director Emeritus of the Center for Popular Music at Middle Tennessee State University, and Tom Wilsbach, Arts Librarian at the Portland Public Library. Wilsbach and Wells are both fiddlers and fiddle researchers. The exhibit will hang through June and July. Associated events, including lectures and performances will take place during the exhibit's run.- See more at: http://www.portlandlibrary.com/events/wicked-good-fiddling-200-years-fiddling-fiddlers-fiddle-making-maine/#sthash.01kwJmUH.dpu
Zanzibar Henna Artists:  Innovation on a Cultural Tradition
Master Prints and Master Printers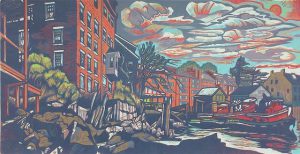 presented by Don Gorvett Galleries
May 5th through 27th in the Lewis Gallery
Opening: Friday, May 5th from 5:00-8:00pm
"Print making remains the chamber music of the visual arts" Don Gorvett.
Maine artist and master print maker Don Gorvett along with master printer Robert Townsend will be exhibiting selected contemporary prints at the Lewis Gallery at the Portland Public Library May 5 – 26. This exhibition is organized through Mr. Gorvett's Perkins Cove Gallery in Ogunquit, ME. Included in the show are the prints of Don Gorvett, Alex Katz, Yvonne Jacquette, Jim Dine, Peter Milton, Aaron Fink, Sidney Hurwitz as well as the monumental linocuts of New York artist Karen Whitman and the etchings of Richard Pentell. The exhibition will illustrate the span and breadth of contemporary print making at its best.
Now & Then: PPL's Collection Reconfigured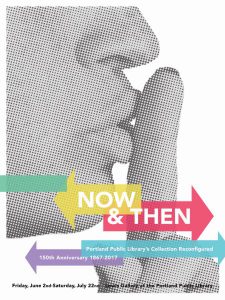 Celebrating the 150th Anniversary of the Library
June 2 through July 22 in the Lewis Gallery
Opening: June 2 from 5:00-8:00pm
Many thanks to People's United for their sponsorship support of "Now & Then."
Now & Then: Portland Public Library's Collection Reconfigured brings together nine local artists who were asked to respond to works within our collection through their own lens to highlight the library's permanent art collection including the curiosities within the archives. From nineteenth century portraits of Portland's preeminent philanthropists to Victorian Era fashion books, from age worn maps to grand oil paintings of seascapes, the artists of Now & Then were, at first glance, confronted by a collection that seemed random and mismatched. On closer inspection, however, the collection ties together much about the civic and cultural past of our community. Many of the artists used pieces in our art collection as a launching off point to discover more about the cultural and historical significance of each, working with librarians to track down information and utilizing the many resources Portland Public Library has to offer curious and inquiring minds.
Now & Then includes works by Kenny Cole, Ellen Gutekunst, Séan Alonzo Harris, Larry Hayden, Alison Hildreth, Devon Kelley-Yurdin, Mike Marks, Mitchell Rasor, and Julie Poitras Santos. The posters were designed and printed by Pickwick artists….

****************************************************************
Lewis Gallery Exhibit Guidelines

The Lewis Gallery at Portland Public Library is a large and open gallery that has 75 feet of wall space, a soaring entry, track lighting, and great public visibility. Voted the Portland Phoenix's Best Non-Gallery Art Space 2013, the Lewis Gallery is a space that attracts visitors and encourages public engagement with art.
---
If you are interested in exhibiting your work, please review our art exhibit guidelines and submit a proposal using the Lewis Gallery proposal form.
The Library's Cultural Center Team reviews exhibit proposals on a quarterly basis and selects shows based on a goal of attaining a mix of mediums and content for the gallery. Submitting a proposal form does not ensure that a show will be hosted in the Lewis Gallery.