Journaling in the Library !
"Group journaling transforms an enriching experience of solitude into a powerful experience of community."
~ Suzanne C. Goodsell, of Writer's Digest.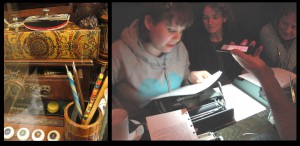 Do you keep a journal? Would you like to be able to write your own personal journal? Here's your opportunity! The inexperienced, slightly-experienced, and experienced- of all ages are welcome! We will explore the written word together, through journaling prompts, readings, and reflection. Please bring your favorite notebooks and writing tools. Only
manual
(
no electronic media/computers allowed!
) writing methods and materials will be used: paper, pencils, pens, drawing tools- even manual typewriters- are fine. Journaling by hand frees writers to explore reflection and observation by putting ink- or graphite- to paper.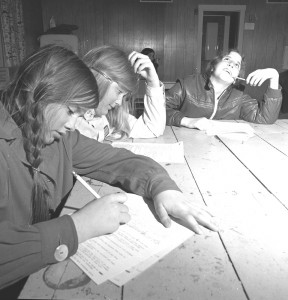 Portland Public Library is pleased to announce Journaling in the Library, a new group that will meet monthly in the Portland Room on the 3rd Wednesday of each month from 5:30pm-7:00pm. This will be the Greater Portland region's only writing group dedicated to journal writing, and welcomes all ages and manual writing media.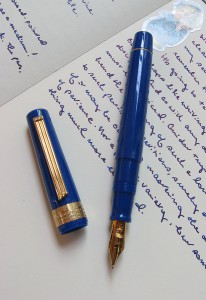 Journaling in the Library
makes use of autobiographic and historic elements in PPL's collections: this includes memoirs, archives, journalism, letter correspondence, and the history of writing in material culture. There may be occasions for visiting writers to visit with the group, as well.
The format is similar to many other writing groups, though focused on journaling: using assigned prompts for written exploration. Participants will have opportunities to cultivate and read their writing, with the support of the community that comprises the group. Join us on Wednesday, September 21st for our first meeting!
This program is free and open to the public.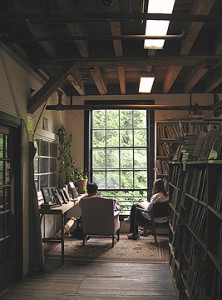 Above: writing- at the Montague Book Mill.
Below: writing group in the Portland Room.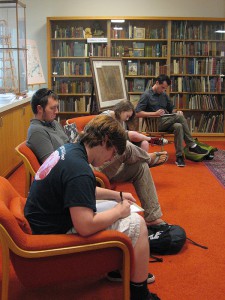 (Yes, I took my typewriter to Walden Pond!)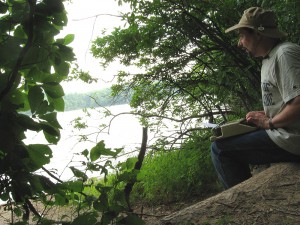 posted: , by Abraham
tags:
Programs & Events
|
Adults
|
Teens
|
Seniors
|
Art & Culture
|
Health
|
Language Learning
|
Portland History