June Staff Picks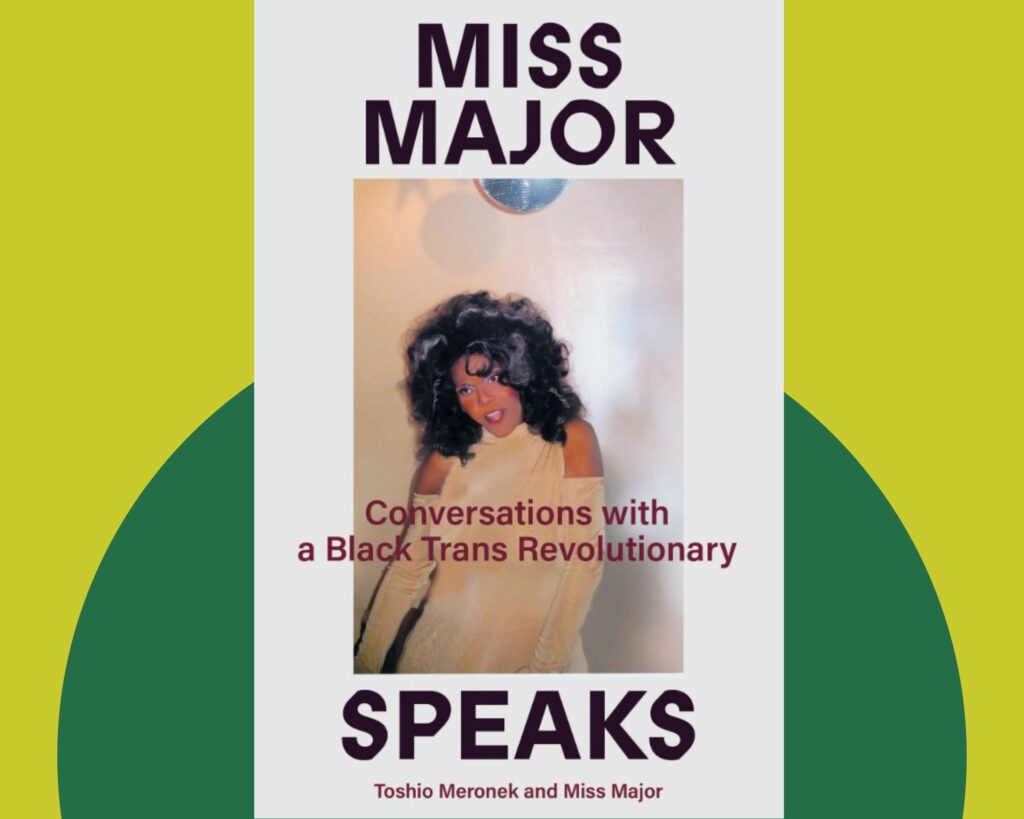 Welcome to our June Staff Picks!
We talk: conversations with Miss Major, snack-swiping seagulls, reappearing/disappearing houses, the 90's, divorce, donuts, and dazzling debuts. Our far-reaching picks include sibling stories, new mysteries, queer memoirs, amazing audiobook narrators, music and romance, the books that warm us, and much more.
We hope you're inspired and find a book or two for your own TBR pile.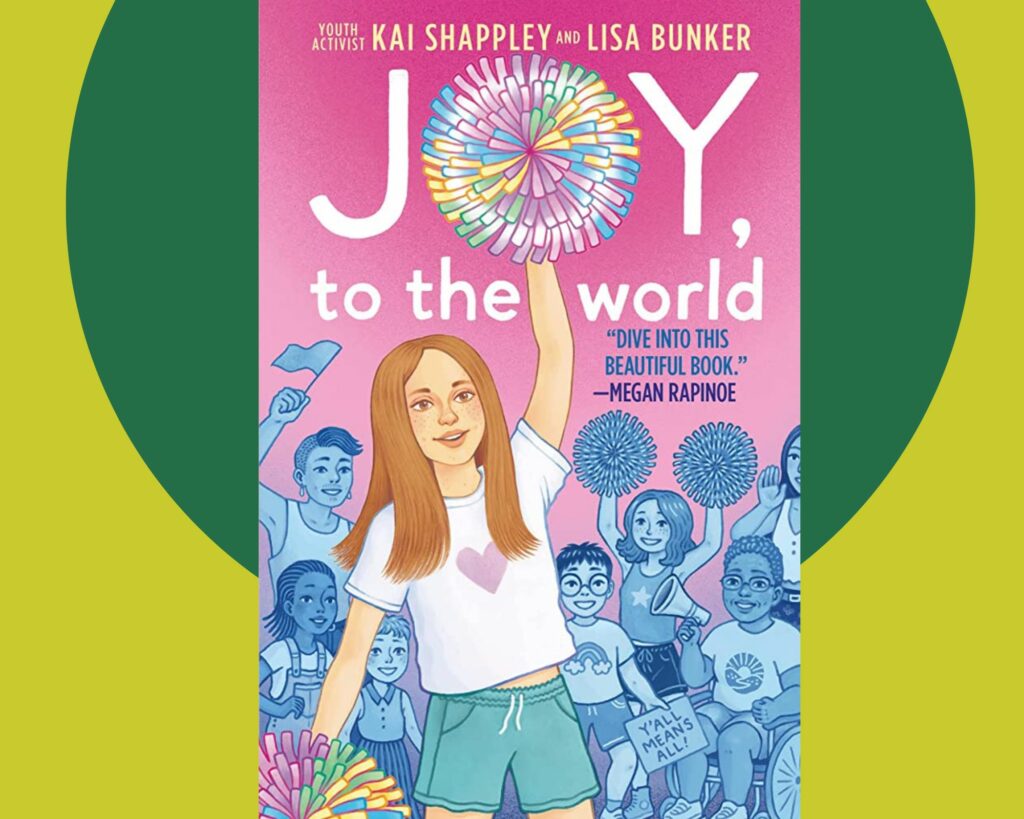 Cindy's Picks 
We just added Joy, to the World by Kai Shappley and Lisa Bunker, a middle-grade book about a twelve-year-old girl who falls absolutely in love with cheerleading the summer before seventh grade. But her Texas middle school suddenly decides to enforce rules that discriminate against transgender students. With the help of her friends on the team and her idol, Kai Shappley, Joy stands up to the school board and Texas legislators to fight for what she loves and who she is.   
McCall Hoyle's Stella is on our Maine Student Book Award list, and it's another book I'm interested in reading. (Wouldn't you want to read the story of a very special dog who must find the courage to save her human???) 
I'm currently reading This Appearing House by Ally Malinenko through cloudLibrary. "For as long as anyone could remember there wasn't a house at the dead end of Juniper Drive . . . until one day there was. When Jac first sees the House, she's counting down to the five-year anniversary of her cancer diagnosis, when she hopefully will be declared NED, or 'no evidence of disease.' But with a house appearing, and her hands shaking, and a fall off her bike, Jac is starting to wonder if these are symptoms–or if something stranger is happening." 
The book is eerie and unsettling.  Is Jac having hallucinations, since no one else is seeing and hearing what she is?  Or is something stranger going on? The audiobook's narrator—Elise Arsenault—is fantastic and really draws you into the story, but I'm sure reading a physical copy of this book would be just as compelling.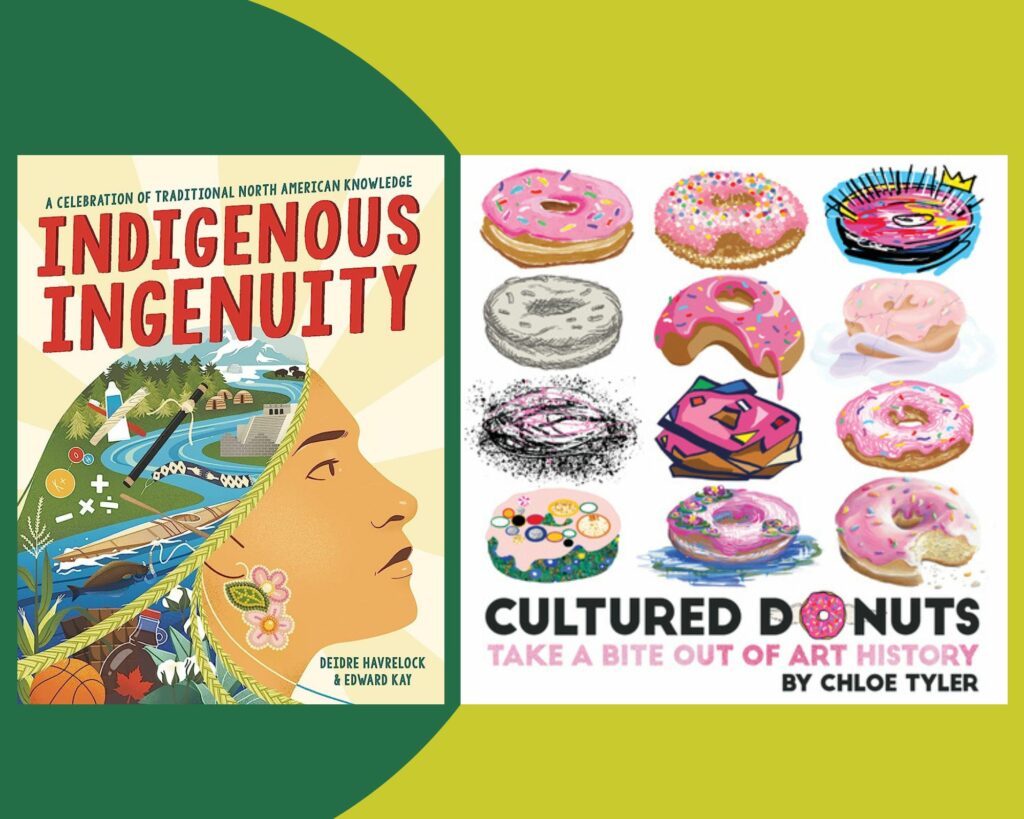 Julia's Picks 
This month, I've been poring over a stack of fantastic new Children's nonfiction, including these two eye-catching titles from the Maine Student Book Award list: 
Ever wonder why we refer to a "pair" of underwear, or how parents managed before diapers? If so, you'll want to take a gander at A History of Underwear with Professor Chicken, which treats its subject with both the seriousness and hilarity that it deserves (turns out, you can learn a surprising amount about a society from their underclothes!). A bow-tie wearing fowl guides readers on a global tour of underwear through the ages, from Ötzi the Iceman and his leather loincloth, to the invention of spandex and space age cooling fabrics. Comical cartoon chickens (and chicks) model each garment—so if you've ever wanted to see a chicken in a corset, this is the book for you.  
Another nonfiction standout is Killer Underwear Invasion!—which, despite the title, is not actually about underwear. Instead, it's a humorous guide to spotting "fake news" and disinformation, starring colorful monsters in an appealing graphic novel format. Gravel digs into the hows and whys of fake news (Who benefits from spreading it? Why is it harmful?) and gives young readers tools to find reliable facts. Funny, timely, and practical. 
Even more new nonfiction I'm excited about:  
Indigenous Ingenuity: Honors the myriad STEM achievements of Indigenous peoples and includes hands-on activities readers can try for themselves. 
Cultured Donuts: How would Monet have painted a donut? What about Basquiat? Learn about art history through a favorite dessert! 
Kid Confident Series: Accessible, matter-of-fact guides to managing the ups and downs of middle school, from homework stress to interpersonal relationships. I wish I'd had these books as a pre-teen!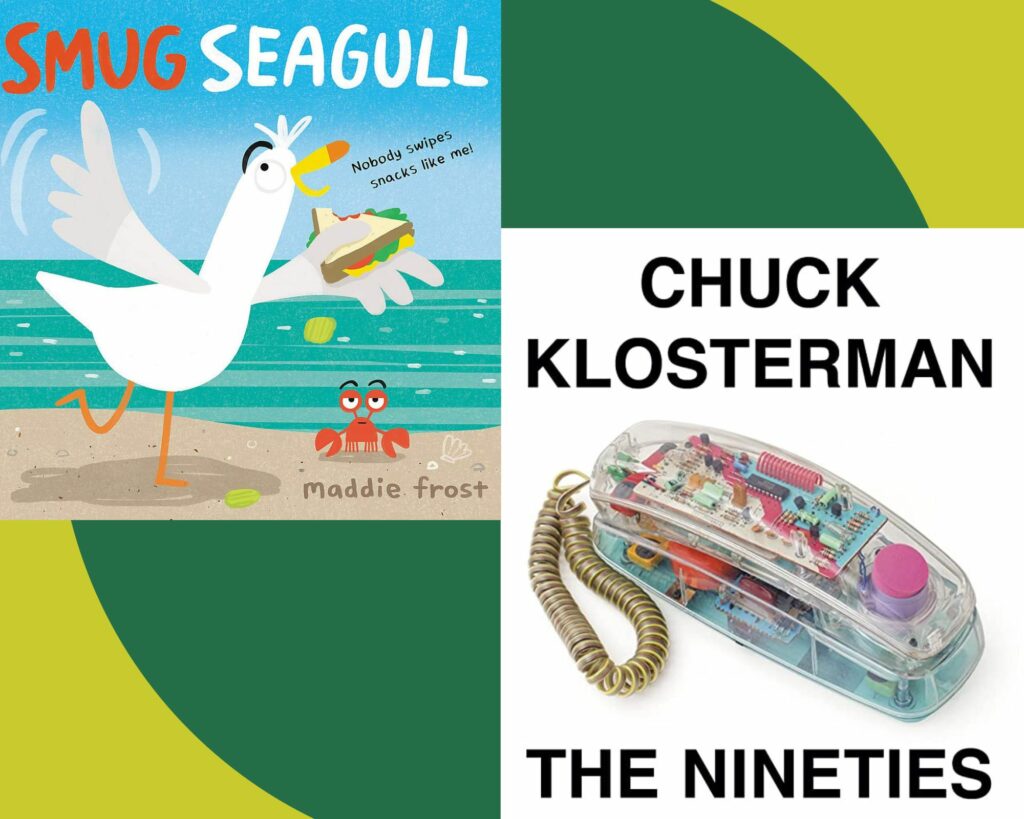 Jay's Picks 
The spring and start of summer in Portland means an exciting and dramatic increase in sea gull activity. If you appreciate sea gulls and their occasional cheeky antics, then check-out the children's book Smug Seagull by Maddie Frost. The titular sea gull cruises the beach for snacks to snatch until they meet a crab that can teach them a thing or two.   
My favorite read so far this year has been Chuck Klosterman's The Nineties. L.P. Hartley wrote "The past is a foreign country; they do things differently there" which explains some of why this book is fascinating despite the history being only 30 years old. Klosterman encourages readers to ponder the uniqueness of the decade and how much has changed. Like, we used to be able to freely and easily look up anyone's address and phone number in town…That is creepy by today's standards of anonymity! The Nineties deals in light pop culture as well as providing context for pivotal political events. I think this book offers something to readers of all ages no matter how (or if) you experienced the '90s.   
If you are on the waitlist for The Nineties, you should check out other popular nonfiction titles by Klosterman such as But What If We're Wrong?: Thinking About the Present As If It Were the Past or Sex, Drugs, and Cocoa Puffs : A Low Culture Manifesto.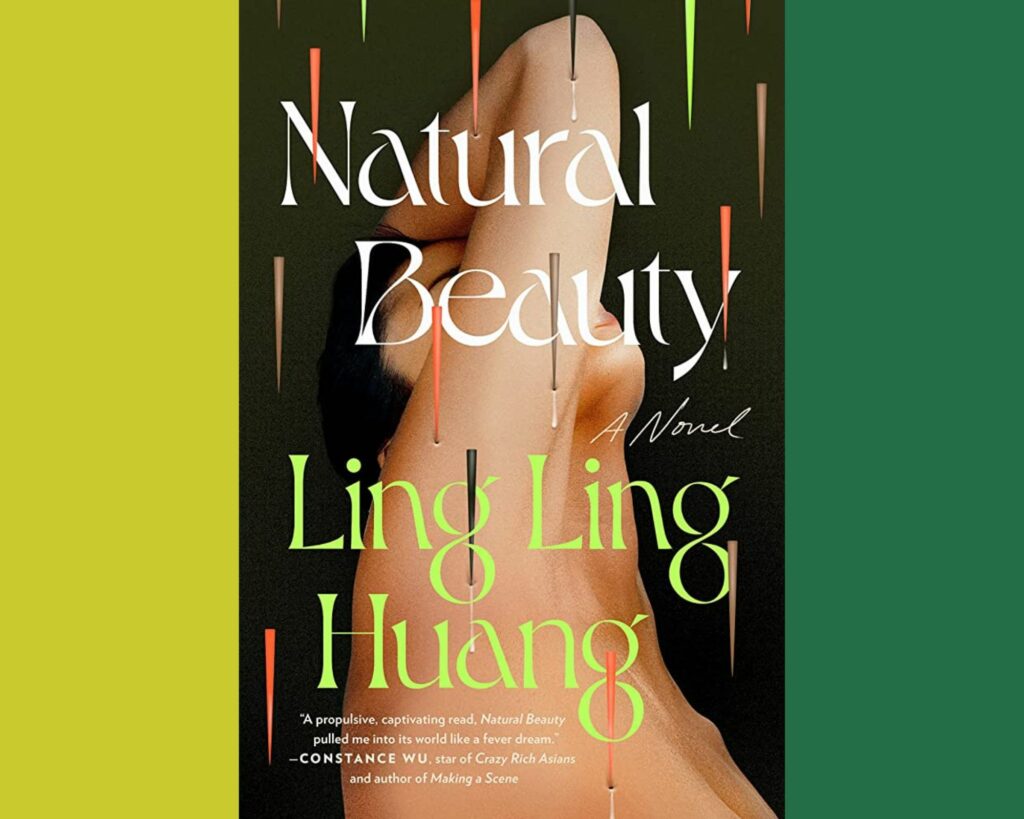 Fionna's Picks 
I recently listened to Natural Beauty by Ling Ling Huang on CloudLibrary. I loved this darkly funny (and spooky!) allegory about self-care and beauty culture. The narrator (Carolyn Kang) was wonderful and I'm so glad that I chose to read this on audio. 
Monstrilio by Gerardo Sámano Córdova came to me through MaineCat. This was a delightfully odd horror novel with heart: a found family grapples with complicated grief and loyalty as they encounter a beastly, hungry incarnation of the son they lost. 
Finally, You Could Make This Place Beautiful is a debut memoir from poet Maggie Smith. In vignettes Smith takes us through her recent divorce, her pregnancies and losses, and her experience at the intersection of mothering, working, and creating. Smith is fiercely relatable in all of these areas, and though I found I needed to take frequent breaks from the palpable grief in these pages, her beautiful writing always brought me back before too long.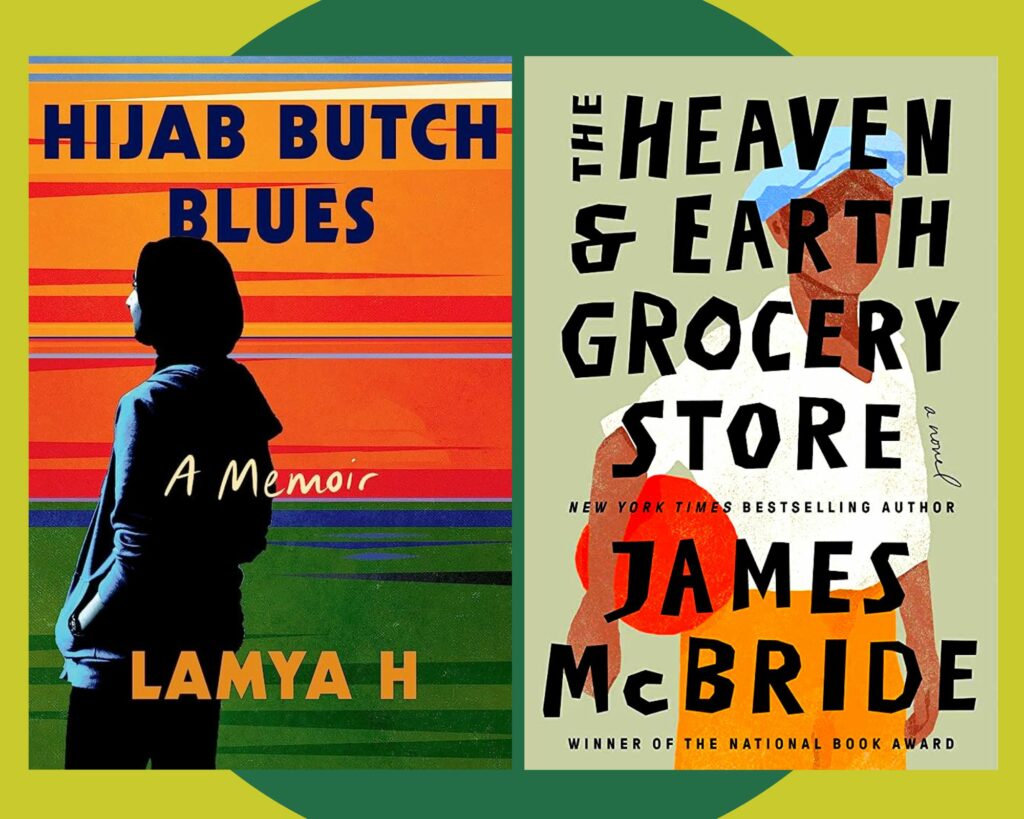 Elizabeth's Picks 
"There is an inherent quietness to reading that I hoped would create space for people to absorb, reflect, consider."—Lamya H, Hijab Butch Blues
Long-awaited. Brilliant and beautiful, thoughtful and thought-provoking. Here are a few dazzling debuts—in poetry, fiction, short stories in translation, memoir, and mystery:
Judas and Suicide by Maya Williams, The Road to Dalton by Shannon Bowring; Between Two Moons by Aisha Abdel Gawad; Happy Stories, Mostly by Norman Erikson Pasaribu (translated by Tiffany Tsao); Miss Major Speaks: Conversations with a Black Trans Revolutionary by Miss Major and Toshio Meronek; Hijab Butch Blues by Lamya H and A Disappearance in Fiji by Nilima Rao. 
If you're a historical fiction fan and this Juneteenth your mind's on U.S. history and liberation, one great book to get in line for now is National-Book-Award-winner James McBride's newest novel The Heaven & Earth Grocery Store: a tough, tender tale that shines as it shares all the ways a community works together to care for one another.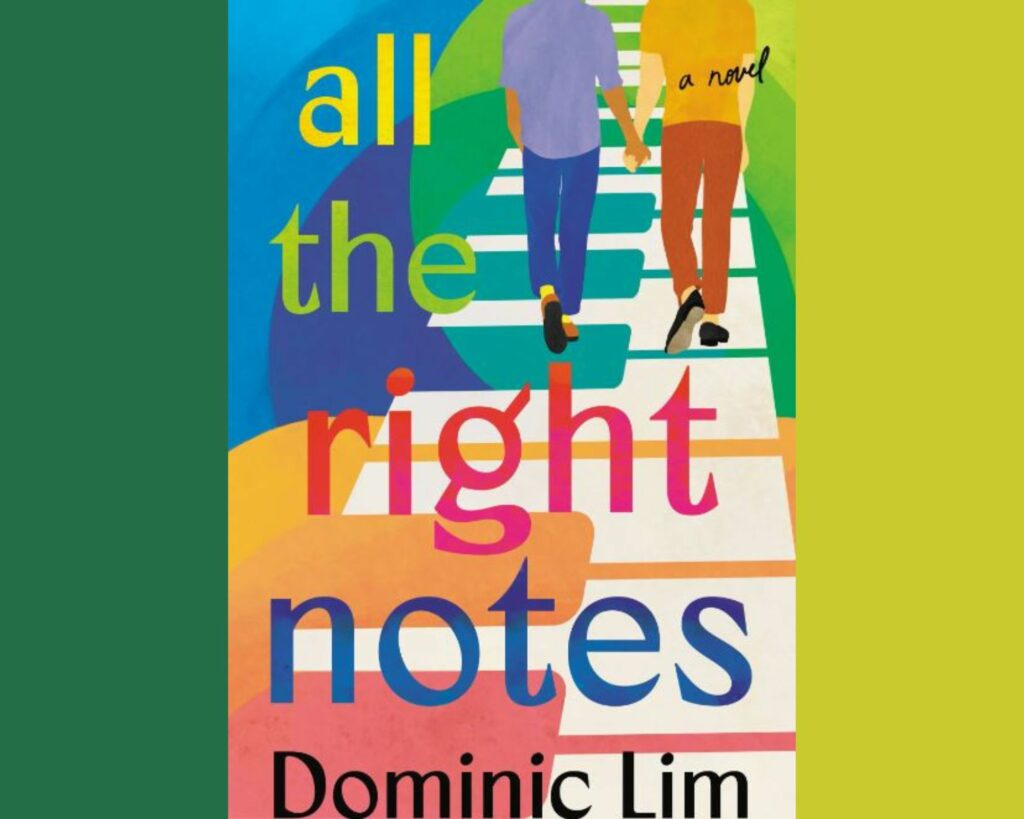 Emily's Picks 
This Pride month I'm looking ahead to all of the exciting new and soon-to-be-released queer books I can't wait to read! Here are two on the top of my TBR for June: 
Cat Sebastian is a perennial favorite for her thoughtful, adventurous, and heartfelt historical romances, and her newest We Could Be So Good promises to be another delight. I can't wait to read all about Nick and Andy falling for each other as they work together at a newspaper in 1950s New York City. And if you like this one—definitely read through her past books, many available through MaineCat! 
Dominic Lim's debut contemporary All The Right Notes sounds as though it will be full of music and romance in all the best ways. Quito is a piano prodigy who hasn't composed a song in years, and when his father asks him to perform in a charity show, he can't say no. Then his high school best friend Emmett (who is currently a movie star) joins as well, and sparks fly.  
And one more to add to your own TBR list, which I highly recommend—Witch King by Martha Wells! Well-known and loved for her Murderbot Diaries, her foray back into fantasy is packed full of adventure, found families, queer romance, and fascinating magical systems—along with intense battles, demons, dangerous colonizers, and rebellions. Definitely one to listen to on audio, as Eric Mok's narration adds new layers to the story, making for an unforgettable listen.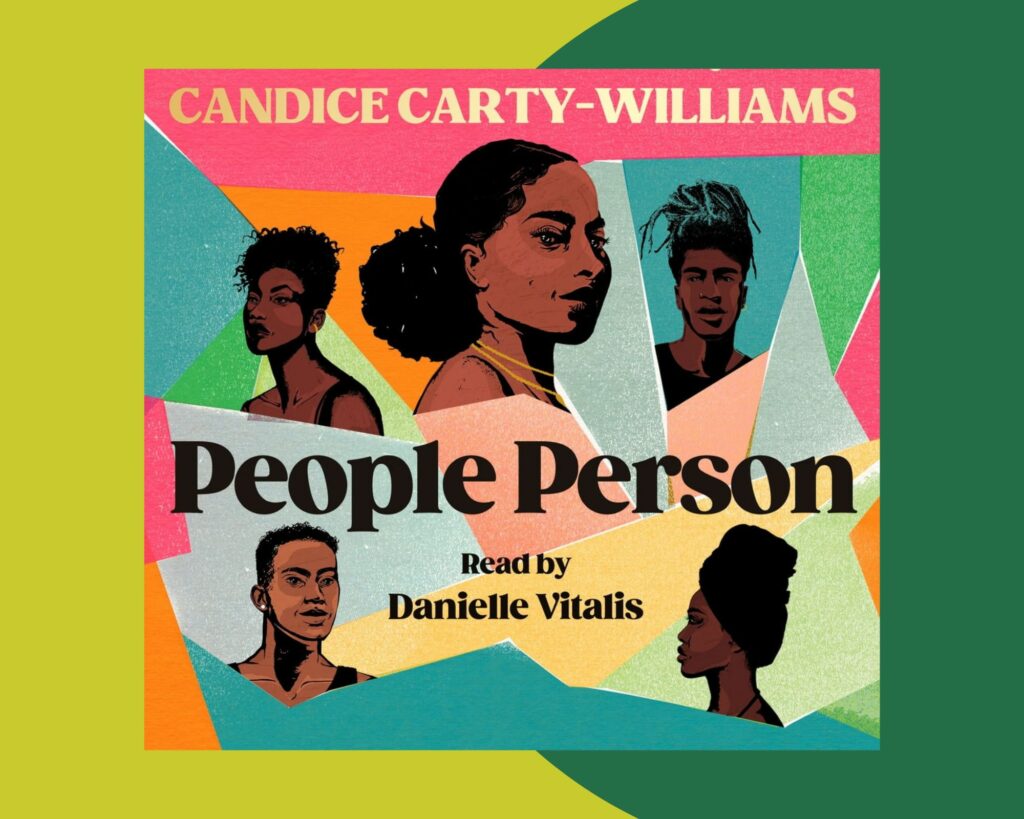 Becca's Picks 
One of my favorite warm weather activities is to walk the Back Cove Bay loop. Naturally, I love a good cloudLibrary audiobook for company. I decided People Person by Candice Carty-Williams would be my first walking partner. Five half-siblings living in Brixton meet for the first time as young people. Over fifteen years later, one of the siblings accidentally kills her violent partner, and she needs quick and confidential help. Her distant (and vastly different) siblings assemble to fix the situation. All goes well…until the body goes missing from under their noses. What exactly happened, and how will this surprise impact the siblings' tenuous ties?  
I loved this humorous and gut-wrenching novel about a complex emotional familial landscape. We see characters move through disappointment, personal epiphany, and unflinching (and sometimes flinching) support for each other. While the book ends on a peaceful note, its not-so-perfect resolution felt true to life. (Sometimes we love a "happily ever after," but that's not Candice Carty-Williams' style.) Also, a narrator can really make or break an audiobook, and actor Danielle Vitalis did not disappoint; her narration choices complemented the rich textual development of each character.  
If you love biting family sagas with quirky siblings like The Nest, Crazy Rich Asians, and Succession, you'll find a lot to love in People Person.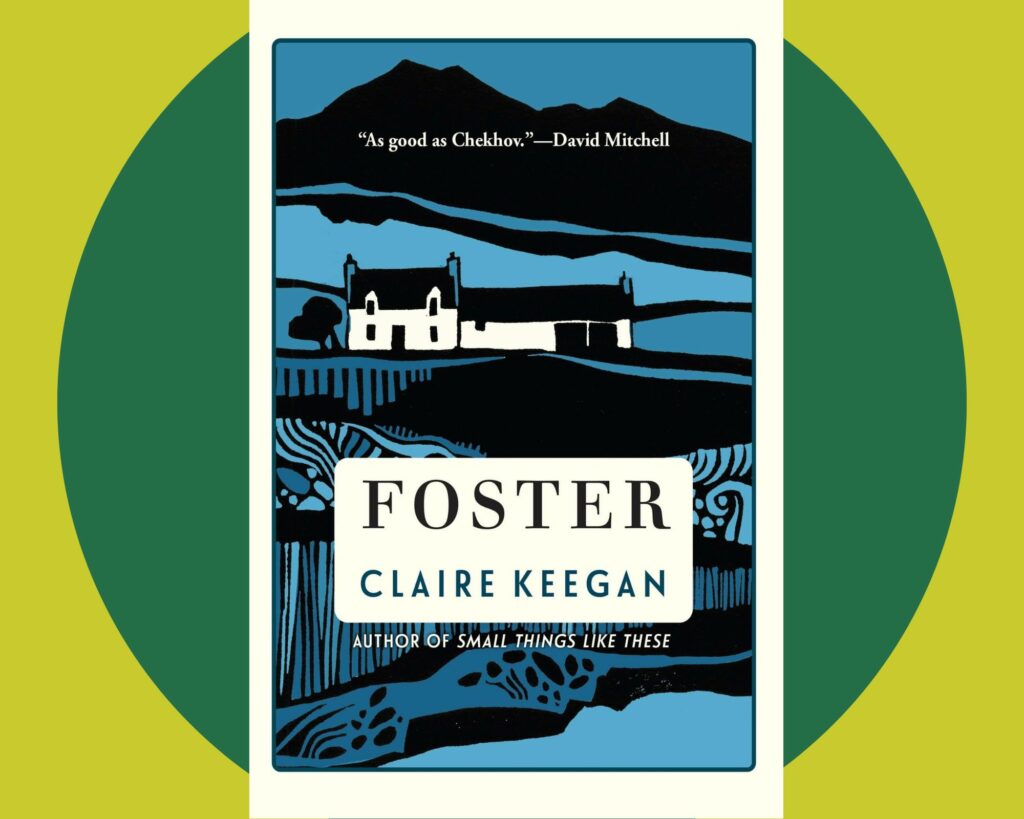 Eileen's Pick 
In the last weeks of this lovely Spring, I have found a book that warms me.  I am happily lost in its quintessentially Irish writing.  I marvel at the serendipity of finding something so satisfying. But why am I surprised? After all, intent never is a guarantee; happenstance, full of open-ended promise, is a surer bet.   
Claire Keegan's novella Foster, first published in 2010 in UK and finally in the United States in late 2022, is a winner.  It is short and can be read in one go.  In the space of 92 pages, it paints two worlds with strokes of grief and love in a palette that is as specifically Irish as it is universal.    
It gives good advice: "You don't ever have to say anything… Always remember that as a thing you need never do.  Many's the man lost much just because he missed a perfect opportunity to say nothing."  Heeding these words, the young heroine recognizes the perfect opportunity to say nothing when it arises.  
That recognition matters in life every bit as much as it matters in this small, perfect story.  I must remember that.   
---
Thanks for reading! Find a booklist of our June Staff Picks here.
Looking for help with more reading ideas? That is our very favorite thing! Try a book from one of our Staff Picks lists or our Your Next Great Read! service to get your own personal list of reading recommendations. You can also reach out to us at readersadvisory@portlib.org.
posted: , by Elizabeth
tags:
Library Collections
|
Recommended Reads
|
Adults
|
Seniors
|
Art & Culture
|
Readers Writers