Portland Public Library Eliminates Overdue Fines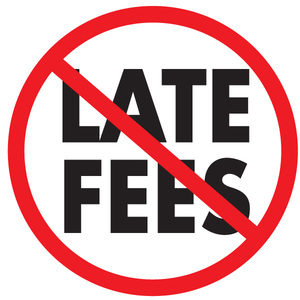 Portland, ME, Tuesday, August 11, 2020. Portland Public Library (PPL), joining a growing movement in public libraries across the country, will eliminate overdue fines for all patrons, effective September 1. Currently, the Library is not charging new overdue fines during the COVID-19 pandemic. Payment for lost/damaged items can be made at: https://catalog.portland.lib.me.us/patroninfo
Increasingly, research shows that while people are equal in returning books on time, they are not equal in their ability to pay overdue fees which can result in the loss of access to the library. Evidence shows that this disproportionately harms people of color and people from lower-income households. The Library leadership and Board of Trustees believe this policy change ensures that our public library is living up to its commitment to provide free and equal access to information, knowledge, independent learning, and the joys of reading for our diverse community.
PPL has explored eliminating fines for several years, looking for ways to replace the revenue generated, totaling nearly 2% of the annual budget. Oddly, the COVID crisis presented the opportunity, as the financial turmoil created by the pandemic forced the Library to reevaluate every line item in the budget. PPL will use a portion of the individual donations to its Annual Fund to help offset this loss of revenue. Coupled with the national dialogue about racial and social inequity, the Board saw the opportunity to join colleagues in many major urban library systems such as San Francisco, Nashville, and Chicago to remove this significant barrier to library access.
"Eliminating fines allows PPL to realize our long-term goal to best implement the core values of librarianship – the unfettered access to all the Library can offer," says Sarah Campbell, Executive Director of Portland Public Library. "We look forward to welcoming back those patrons who simply could not afford to clear their accounts. We hope that some long-lost items may make their way back as well. There is every reason to return them now."
Studies have shown that overdue fines are not an effective tool to encourage timely returns, but often serve the opposite function. Libraries that have eliminated fees report multiple positive outcomes:
Increased patron access to materials and services, particularly for low-income and marginalized patrons and their children
Record returns of borrowed materials
Reduction of the inequitable impact of overdue fines
Improved patron relationships with their library
Optimization of library staff time and increased staff efficiency
The Library is also eliminating fees for replacing lost library cards. Patrons who need a new card in order to access Library services can contact Lending Services at lending@portlib.org or 207-871-1700 ext. 730. While fines for overdue materials will no longer be collected or billed, some patrons may see outstanding fines on their accounts temporarily as Library staff works to update the system and clear accounts. The Library will still charge fees for items that are lost or damaged. Donations to help defray the costs of eliminating fines can be made at www.portlandlibrary.com/donate.
posted: , by Heather Wasklewicz
tags:
Adults
|
Teens
|
Parents & Teachers
|
Kids & Families
|
Discover Portland
|
News