PPL Downtown's Roof-Top Gulls Take Flight
As summer transitions and prepares to take flight into fall, so do our winged rooftop friends, the roof-top nesting Herring Gulls.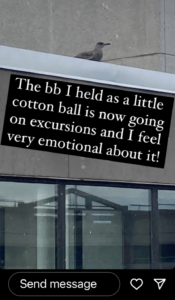 We are filled with a tinge of sadness and fond memories, forever archived in our Instagram grids and camera rolls.
But their departure means the birds have made it through their most vulnerable stages. And now, standing strong on tracking-banded legs, they have a chance of living their best Maine lives as sandwich-scavenging-fries-stealing-lobster-boat-swarming self-sufficient adults! 
Well, not exactly. Although anecdotal data collected from citizen scientists reports that these gulls favor Burger King fries over McDonalds, and they enjoy chicken nuggets the most, our Herring Gulls actually prefer fresh marine diets, and fast food parking lots are not their first dining choice.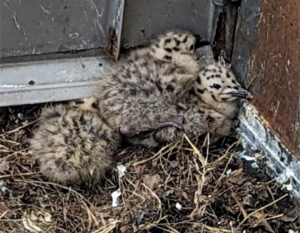 But Let's Back Up: Herring Gulls are the only species to nest on rooftops and every spring, around mid-May, the Downtown Library becomes a chosen nesting spot. With decent west-facing views from the 3rd floor, staff follow the fate of one or two delicate eggs in a corner-nook nest located on the solar-paneled roof, incubated by a dedicated adult. Here we are treated to front-row seats to witness the hatchlings grow and become mobile – a real-time drama series unfolds, chapter-by-chapter!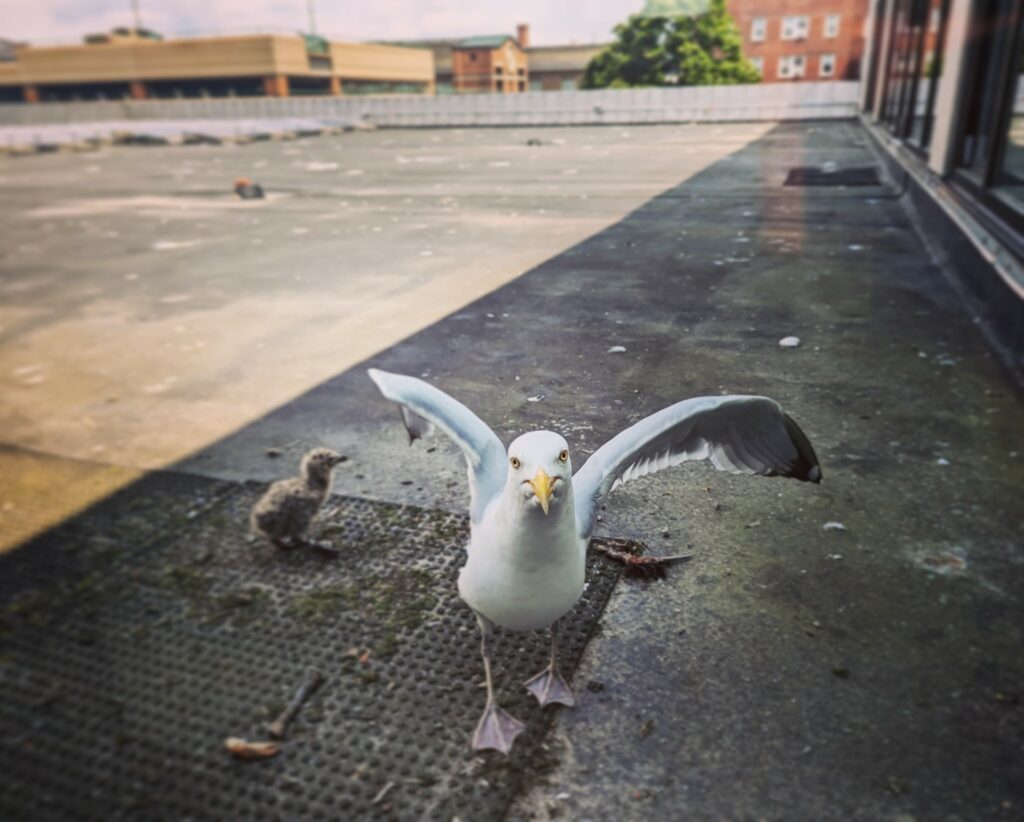 There are conditions that threaten their survival! From searing heat to torrential downpours and passing storms, watchful winged predators, and the unpredictability of city life…just to name a few. However, the rooftops are actually pretty safe spaces compared to island nesting spots. And the parents know what is best for their young – a nutritious marine diet of crabs, shells, fish, and also insects for added protein. The human flock has also protected and nurtured them in small ways by covering the high-foot traffic hallway windows to offer privacy during nesting, refilling bowls with fresh water, and we can't help but wonder if hanging out at the library may have contributed to their good energy?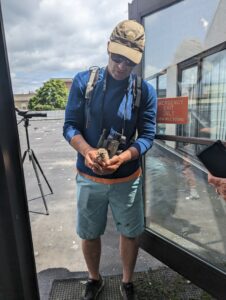 The Experts Know Best:  Dr. Noah Perlut, who studies and tracks these urban gull colonies, is an excellent local resource. We were thrilled when Dr. Perlut contacted us about accessing our rooftop babies for banding! To study the health of the colonies, Dr. Perlut must carefully tag the hatchlings with uniquely coded leg bands. Thanks to his efforts (and the citizen scientists who see the birds and report back on them*) we have an informed understanding of their behavior (aside from how cute they are!). To our surprise, we learned that gull colonies are actually declining.  According to a 2020 article in Yankee Magazine, they have experienced a 40% decline over the last decade and "scientists like Dr. Perlut are trying to find out how and why…"  

The Library & Beyond: Downtown Portland rooftops are home to over 300 colonies of herring gulls raising their hatchlings in this adopted man-made environment until the hatchlings fledge. Banding all those little legs is a lot of work! Lucky for us, Dr. Perlut allowed a few library helpers to observe and offer extra hands when he visited in mid-June. While it is always best not to handle baby birds and other wildlife, our staff was able to do so under Dr. Perlut's guidance. The id's help professional biologists and birdwatchers report sightings of these particular birds throughout their lives and their travels. Mature Gulls seen resting on our roof one week might be tracked to Cony Island, NY a few weeks later! 
It is an honor for us to come together and witness the nesting of the rooftop Herring Gulls.  Although their time with us is short, they bring something of a special joy to our library. And wherever their wings take them, we'll all be here, eagerly anticipating their return or delighting in new arrivals. Everyone is welcome here! Even those crab-dropping-insect-ingesting-fish-finding-occasional-chicken-nugget-scavenging-self-sufficient Herring Gulls!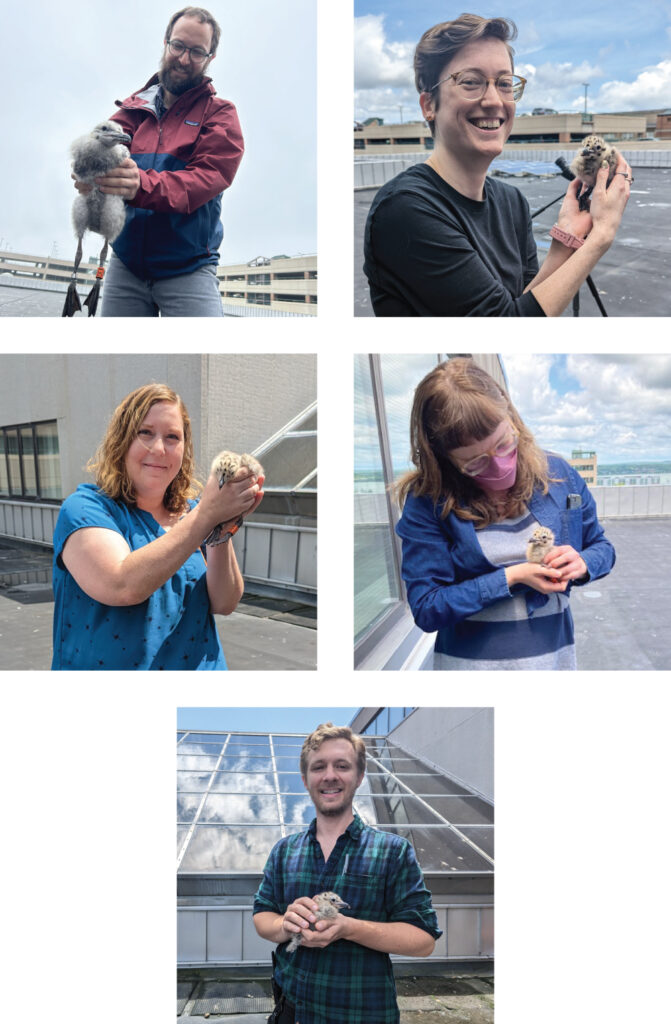 * The Perlut Lab primarily uses orange bands with black letters (but did deploy a few blue bands with white letters)–please report any banded gulls to nperlut@une.edu.
---
EXPLORE MORE AT PPL
To learn more about Dr. Noah Perlut's work, check out Sustainability Series: Portland's Rooftop Nesting Herring Gulls, in partnership with Southern Maine Conservation Collaborative, with a dynamic Q & A at the end.
To learn more about birds in Maine and beyond, check out our digital resource Birds of the World.
Learn how to be a citizen scientist and identify birds with our Family Science Backpacks.
Our Birding kit includes binoculars, bird call, bird call identification CD, clipboard case, and magnifying glass and is available at the Children's Desk in the Downtown Library.
posted: , by Heather Wasklewicz
tags:
About the Library
|
Adults
|
Teens
|
Discover Portland