PPL Names Sarah Campbell Next Executive Director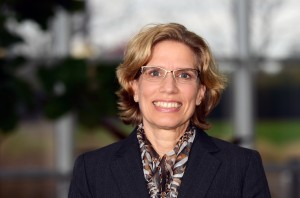 The Portland Public Library announced today that Sarah I. Campbell has been selected by the Library's Board of Trustees to serve as the Library's new Executive Director, effective July 11, 2015. Ms. Campbell, who is currently PPL's Associate Director, will succeed Stephen Podgajny, who announced in June 2014 his decision to retire after nine years of service as Executive Director.
"Sarah is a thoughtful and articulate leader whose passion for public libraries, and Portland Public Library in particular, is infectious," said Eric Altholz, PPL's Board President. "Sarah has a compelling vision for the future of the Library, and the Board is thrilled about this appointment."
Selected after a nine-month national search, Ms. Campbell holds a BA from Swarthmore College and an MLS from the University of Michigan's School of Information. She has served as PPL's Associate Director since April 2013, and prior to that served as PPL's Department Head for Lending Services, Technical Services, and Systems for 12 years. Ms. Campbell was the founding Director of Library and Learning Resources at York County Technical College (now York County Community College) for 3 years before coming to PPL. She also worked at the University of New England in Biddeford in its College of Professional and Continuing Studies. Ms. Campbell currently serves on the NetworkMaine Council which manages MSLN, the internet service network for Maine's schools and libraries, and serves as a delegate from the Americas Region on the OCLC Global Council which advises the largest non-profit library services cooperative in the world.
"Sarah is tremendously skilled at building partnerships, which is a critical focus at PPL," said Beth Bordowitz, the PPL Trustee who chaired the search committee. "Her national status in the library field and her grasp of emerging trends will ensure that the Library will remain at the forefront of how to best serve patrons in an increasingly digitized world. She also brings a commitment and passion to traditional library services and to preserving critical parts of Portland's history."
"I am very excited to work with PPL's talented staff to expand the Library's forward-looking programs and services and its growing number of partnerships with authors, leaders, businesses, and other non-profits," said Ms. Campbell. "We are dedicated to strengthening the community, to serving as a critical educational resource for our fellow citizens, and to telling Portland's amazing story. Portland is on the move – and PPL is on the move with it."
Ms. Campbell takes the helm as PPL prepares to celebrate its 150th birthday in 2017. Chartered in 1867, PPL is Maine's oldest and largest public library system and is the most visited cultural institution in Maine, serving 675,000 visitors annually at four branch locations and a mobile library. PPL serves as the Southern Maine Area Research and Resource Center, providing critical services to numerous other Maine libraries and their patrons. The Library has been recognized nationally for service innovation and has recently been selected to host a visit from Shakespeare's First Folio in 2016.
posted: , by Editor
tags:
Adults
|
Teens
|
Kids & Families
|
Seniors
|
News