Annual Book Sale!!
PPL is looking for volunteers to help out at our annual book sale! The sale will be taking place on Friday, June 8th from 5pm – 8pm and Saturday, June 9th from 9am – 3pm. If you are interested in helping out please complete this form.
*   *   *
Each June, the Library hosts a book sale to benefit key programs like author talks, teen discussion groups, and our city-wide Summer Reading program. Your purchases make a difference for thousands of young readers and help bring the community together. Thank you!
The 2018 sale will take place in a new location: PPL's collection center at 1000 Riverside Street. Just a five-minute drive from our Riverton Branch, our new sale location is accessible via main roads and has plenty of parking.
There will be a $10 preview on Friday, June 8 from 5-8pm, and the sale will be free to shop on Saturday, June 9 from 9am to 3pm. As always, items will be priced affordably from $1 to $4, so this is a great time to stock up for summer! All proceeds, including preview entry fees, directly support Library programs.
On Saturday, Maine Historical Society – our neighbors at the collection facility – will host a book sale with the same book pricing. Enjoy plenty of book shopping and then take a break at nearby Allagash Brewing, Foundation Brewing, or Battery Steele Brewing. Or for family fun, combine your trip to the book sale with a visit to Get Air or Spare Time Bowling. Check back for updates as we get closer to June.
Doing spring cleaning and have books to donate to our sale? Visit our Book Drop-off Day on Saturday, May 12 from 9am to noon or find out more here about general book donations.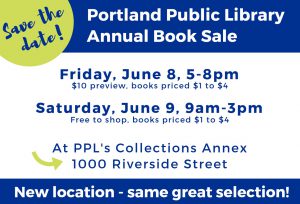 Our City of Readers Book Store
Located at the Main Library (5 Monument Square), the book store is generally open Monday-Saturday from 10am-4pm. The store is run entirely by volunteers, so do call the Main Library at 207-871-1700 to check that the store is open before you stop by. You can also visit the Book Store to pick up a PPL mug, journal, or other fun swag to show your library pride! As with book sales, proceeds from our store are critical to supporting our community programs.
Interested in becoming a Book Store volunteer? Fill out a volunteer application!