Looking to purchase some high-quality used books? When you visit PPL's City of Readers Book Store or stop in at our annual book sale, your purchase directly supports our Summer Reading program and other youth program offerings. It's a win-win!
Annual Book Sales
Each June, the Library hosts a book sale in the gym at the Maine Girls' Academy at 631 Stevens Avenue, Portland. All net proceeds from this three-day sale fund PPL's city-wide Summer Reading program, making a difference for more than a thousand young readers.
The 2017 sale will take place on Thursday, June 15 (5-8pm); Friday, June 16 (10am-7pm); and Saturday, June 17 (10am-3pm).
We are looking for volunteers to help us sort books prior to the sale as well as to help with a range of tasks during the sale itself. We have flexible volunteer shifts so lots of people can lend a hand! Please fill out this form to let us know of your interest and availability.
Our thanks to the Friends of Portland Public Library, who ran this highly successful sale for many years.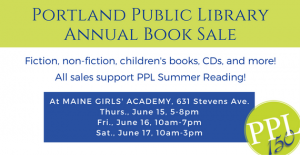 Our City of Readers Book Store
Located at the Main Library (5 Monument Square), the book store is generally open Monday-Saturday from 10am-4pm. The store is run entirely by volunteers, so do call the Main Library at 207-871-1700 to check that the store is open before you stop by. You can also visit the Book Store to pick up a PPL mug, journal, or other fun swag to show your library pride! As with book sales, proceeds from our store are critical to supporting our community programs.
Interested in becoming a Book Store volunteer? Fill out a volunteer application!